Data is everywhere. And chances are good that your business is using data daily, even if you don't realize it.
Data needed to understand individual customers as well as entire companies and industries. And when you have good, reliable data, you will come to better understand both your leads and your customers. This enables you to better serve them through your products and services.
So, keep reading if you want the answer to the question, what is data? We'll also be sure to look at various ways businesses can use data for good. Next, we'll cover the differences between obtaining data so you can decide which route is best for your business. Finally, we'll discuss the ways you can use information to potentially expand your business or grow your sales.
Are you ready? Then keep reading!
What is data?
The official definition of data is individual facts, statistics, or items of information.
Information itself can be divided into two categories: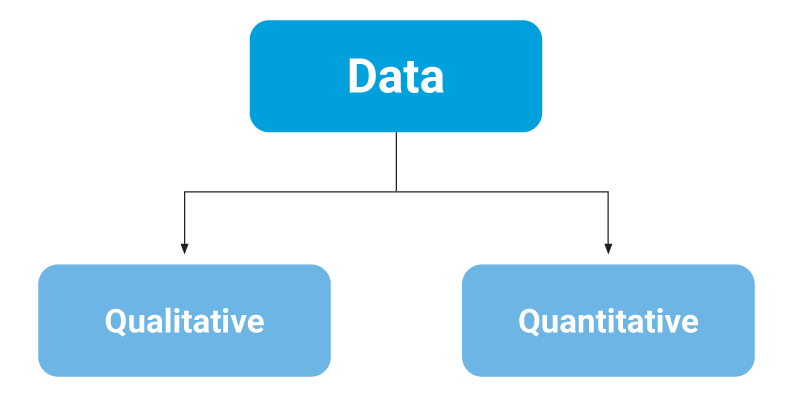 Qualitative: This data is divided into categories like gender, marital status, type of business, or job title.
Quantitative: This refers to a numerical value. Think in terms of age, number of children in a household, or number of purchases from a single customer.
Businesses tend to collect this information around potential or existing customers. It can be done online, such as with a submission form. An example might be signing up to receive an online newsletter or additional information about a company, product, or service.
Collecting data can also be done in person—think of a time you made a purchase in a store and they requested your name, birthday, and email address.
How a CRM can help you to organize your data
So, now you can begin to understand how vital of a role data can play in business. Without it, a business has no way to connect with leads or learn about them. And without that power, a business can't grow.
A business can also struggle to grow if they don't have a good system in place for data collection. And no, this system should not be a spreadsheet! There are a variety of software platforms that allow you to upload, store, and even sort lead information.
Referred to as Customer Relationship Management (CRM) software this is an online system designed to help you manage relationships with customers.
You might be wondering how.
A good CRM can help you to make better sense of the information or data you collect in regard to your leads and customers. The right CRM will also let you create separate profiles for each one of your unique leads or customers.
What is the benefit to doing this, you may ask? Creating a separate profile per customer makes it easy to store quantitative as well as qualitative data about him or her that can be viewed by anyone with access to your CRM. This is helpful because it means a customer can be helped by anyone on your team as opposed to needing to reach a specific person.
Why does this matter?
Imagine if a customer wants to reach their sales rep regarding making a purchase—but their rep is on vacation or out on maternity leave. With a well-kept CRM, a different sales representative could help the customer complete their purchase by utilizing information stored by their usual rep, ensuring the customer experience is seamless.
A CRM lets you collect personal details about leads and customers, too. Done through a series of interactions that form a connection, personal details may include things like pet names, favorite dinner spot, or their anniversary.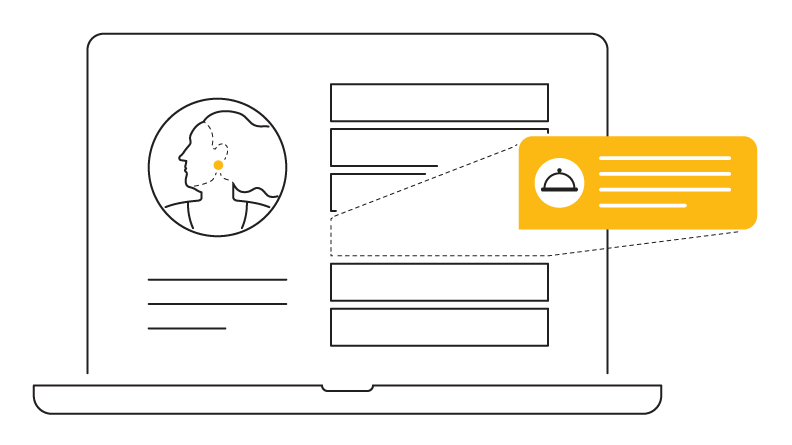 Using a CRM to collect and sort your data ensures your leads and customers have a personalized, streamlined experience no matter who within your company they speak with.
Categories for your data
Within your CRM you may want to sort your data into categories. This can help you determine where a lead is in your marketing funnel or discover your best customers. Here are some examples of how you might sort your data:
Males at or over 65 years of age with at least two purchases in the last year.
V.P. of Marketing in companies with 50-100 employees.
How to get good data
Now you are aware of what data is and how your company can benefit from it. So, let's talk about the ways you can obtain it. We talked about this a little bit above, but let's go into more detail, now.
There are two paths to getting new data which can be added to your CRM—you can collect data or you can purchase data.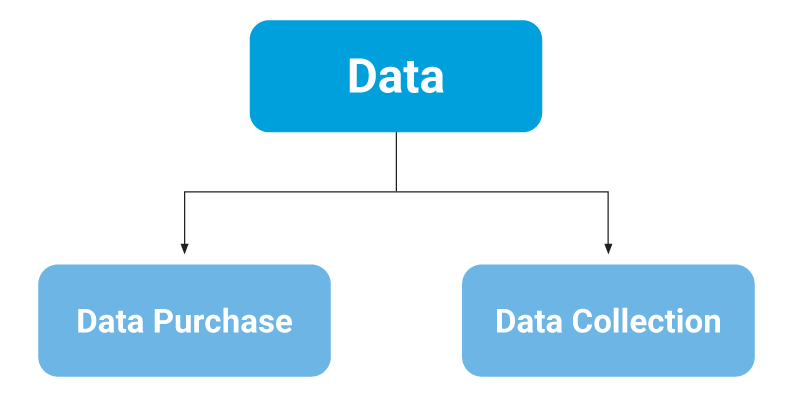 Data Purchase: This is the act of buying prospect information through a big data company. It offers a way for a company to quickly capture qualitative or quantitative information in bulk. Information collected by big data companies can be found through publicly available sources like phone books, press releases, websites, voter registration files, tax assessments, and bill processors.
Data Collection: Through a variety of sales and marketing efforts, customers may share their data with your organization. This is usually in exchange for something such as a newsletter or a free download. Data collected this way is part of a company's marketing funnel, which is designed to turn a lead into a valuable, loyal customer. 
More uses for data
It doesn't matter is you collect data in a more traditional way, purchase your data from a big data company, or some combination of the two. There are a variety of ways that you can use the information your company has on file to expand the organization, improve bottom lines, or increase overall growth.
Here are a few uses for your data that go well beyond the usual sales and marketing tactics.

Location Planning
For companies that are looking to open a brand-new location, data can help make the decision easier. Understanding details like the demographics of surrounding households, daytime population, competitive landscape, historical tenants, and available public services are all considerations a company may want to weigh before making a final decision.

Data Enrichment
Easily enrich contact and lead data with more complete information. For instance, you may have collected someone's full name and mailing address. Using data enrichment, you may be able to add additional details like phone numbers or number of people within a household.

Identity Verification
View both current and historical details about a business. Find information like prior business name, prior addresses, affiliated companies, mergers or acquisitions, duplicate records, building owners, and even tenants. This data service is similar to risk analysis in that it can help you better understand someone you may do business with.

Risk Analysis
Businesses like lenders can use data to evaluate risks associated with doing business with a particular customer, supplier, or partner. That's right! Great data can offer incredible insights into things like credit worthiness, payment history, owner net worth, bankruptcy filings, leans, judgements, years in business, size of business, and so much more.

Audience Segmentation
Better understanding the characteristics of your best customers helps you build personas and/or segment your audience members. Why is this important? Doing so lets you to bring a more targeted approach to your sales and marketing tactics.
It's true that the uses for data go beyond basic sales and marketing—even though that's a popular purpose. And as you can see, both collected and purchased data have a unique place in today's competitive landscape.
We hope we've answered the question, "what is data?" and even given you additional information for how your company can use it to grow. At Data Axle™ USA we look forward to helping you create the perfect list of businesses or consumers, clean up your existing list, explore the uses of our industry-leading databases, and so much more.
No matter what your needs are as you look to expand or grow your small or mid-sized business, a helpful marketing partner is ready to answer all of your questions and assist you on your data journey!