UCC or uniform commercial code, at its most simple, is a record that someone is using collateral (ie: property, livestock, inventory, equipment) in order to secure a loan.
A lender files a UCC filing to document the lien. The person who borrowed against their collateral isn't allowed to sell their collateral until the lending debt has been paid. And should the borrower not make the required payment against their lien item, a lender who submitted a UCC filing could be eligible to claim collateral.
You might be wondering how to use UCC data to identify prospects for your business.
That's what we're going to discuss below.
Businesses That Can Benefit from UCC Data
UCC data can make a lot of information available to help you with your business prospecting.
Things like contact details, location, phone number, email address, industry, SIC code, and even sales volume are included in UCC filings meaning you can use Uniform Commercial Code data to build your contact lists and to prepare optimized communication programs.
Merchant cash advance providers, business cash advance providers, and financial services or lending agencies are among the providers that can benefit the most from Uniform Commercial Code data. But that's not where the list ends! Accounting firms, advertising agencies, and even consultants have found use in having access to UCC lists.
And UCC data lists are filled with valuable information you need to find new customers. Use one to help you:
Identify businesses in need of capital: Find the right prospects to target with your lending or cash advance services.
Research and prequalify prospective customers: Access detailed profiles so you can make confident business decisions.
Beat the competition to the door: Data Axle™ USA updates our UCC filings monthly, so you can access accurate information, quickly.
Ways to Use UCC Data
Now that you understand what Uniform Commercial Code data is—and what types of businesses will benefit the most from using it—it's time to gain a better understanding of "how" to use it.
As it turns out, how to use UCC data to identify prospects for your business is filled with nearly endless possibilities.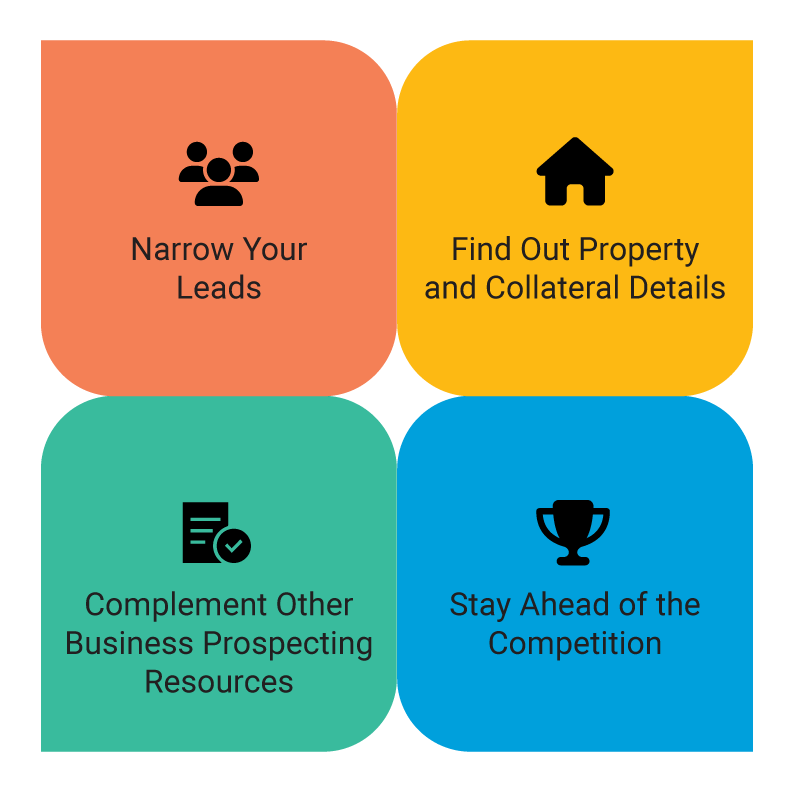 Narrow Your Leads
Because UCC data is so accurate, you can more effectively segment narrow markets with your alternative financing solutions.
When you segment your prospect list, you organize your audience into categories so that you can more easily target their unique traits. And customer segmentation can also lead to reduced overall sales and marketing costs.
Segmenting with UCC data helps you move past the more traditional forms of segmentation like demographic, firmographic, and geographic data that most businesses use to zero in on their prospects.
Uniform Commercial Code data will help you to expand on basic firmographic and geographic information, offering helpful insights as to the types of financial circumstances that led a borrower to their filing.
Once you have information like that, you can segment with your UCC data and offer personalized messages that speak to the heart of the companies in your targeted industries.
Find Out Property and Collateral Details
Another way to use UCC data to identify new potential prospects is through the property and collateral details that were filed. The data that can become available from a UCC filing on a company's property and asset dealings is thorough to say the least. And having it at your fingertips may even make it possible to:
Determine if personal property is under lien
Discover if any assets are available for attachment of seizure
Identify claims against personal property or fixtures
Reveal the financial relationships with other entities
Determine the disposition, location, and ownership of collateral
Complement Other Business Prospecting Resources
Data pulled from UCC filings plays well with others. Whether you have access to bankruptcy lists, business credit reports, or a business database, you can use Uniform Commercial Code data to add important property and finance information to your other resources.
This gives you a clear and complete view of the viability of your prospects as a client for services you're offering.
Stay Ahead of the Competition
Many businesses overlook UCC data. So, when you want to be ahead of your biggest competitors, don't ignore this valuable resource.
Instead, try to integrate UCC filings into your alternative financing marketing strategies, so you can outpace the competition. With regular updates to source data, you will know when a business is in need of capital that you can provide before most other providers.
Getting in at the right time is often the best way to gain new business in this marketplace.
Choosing a UCC data provider
Choosing your UCC data provider doesn't need to be difficult, although it may seem daunting at first. Be sure to take the following three important characteristics into consideration when you start looking for a UCC data provider for your business.

High Quality Information
The UCC leads you buy must be accurate, otherwise, you won't reach your intended audience. A reliable and credible provider of UCC leads will invest a significant amount of time and money to ensure their records are always the most up-to-date.

Trustworthy
Your UCC leads provider should respect all privacy laws that exist and be completely transparent when it comes to how they gather their data.

Well-Reviewed
Nothing beats a solid review—except a LOT of solid reviews. So, before you invest in UCC leads with a data provider, be sure to do your research on sites like ResellerRatings where real people can leave honest feedback about their experience working with the company you're considering.
Marketing to your UCC list
Timeliness is of utmost importance when it comes to connecting with your UCC list. And if you don't have the resources to make fast connections yourself, utilize turnkey marketing services like those offered by Data Axle USA. Not only do we provide the most up-to-date UCC data list. We can also be sure you get your offering in their hands quickly with services like:

Direct Mail
Choose from high-quality products including postcards, brochures, flyers, or a letter to share your message.

Email Marketing
Quickly and easily connect with potential customers with one-of-a- professional-looking, effective email marketing campaigns.

Online Advertising
Create an ad and easily get it in front of a targeted list of potential customers!
Do you need help with identifying new prospects via a UCC data list? At Data Axle USA it's our business to help UCC leads find YOU when they are in need of what you offer. Reach out to use today so we can help you build a list of ucc leads and get started with finding the perfect prospects. Our records include debtor name and address, secured party name and address, filing number, and more. We can even help you segment your list of businesses by specific criteria like:
Firmographic information

Geographic information

Presence of UCC filings