You have customers signing up for your list. But they're only partially filling out their contact information—or maybe the information they entered is incorrect.
It can be a frustrating situation for any business owner—especially when you're eyeing growth. After all, how can you grow your business when you can't connect with your customers?
Consider using data enhancement services. Data enhancement is a way to ensure that your business has the most up-to-date information you need to reach your customers. And in doing so you have the power to save time and money.
How?
Imagine you're mailing your existing list of 1,000 prospects a postcard. But you haven't checked the names, addresses, and ZIP Codes on your list for accuracy in over a year.
If each direct mail piece costs you $1.00 total to produce and mail, but 10% of your list is undeliverable, you're out $100 in your marketing budget! And that's just on the surface.
A new report suggests that returned mail can cost businesses up to $25 per returned item due to the time required to correct the mistake, the cost to recreate and re-send the piece, and additional postage. According to the USPS, 23.6% of all mail is addressed incorrectly because the quality of stored U.S. addresses decay at a rate of 17% per year, costing an estimated $20 BILLION annually!
Curious to learn more about data enhancement and why you should implement it as part of your overall marketing strategy?
We've got all the answers.
Creating a customer data file
Prior to enhancing your list, you first need to have one. Here are two paths a business can follow to collect and create a consumer data file.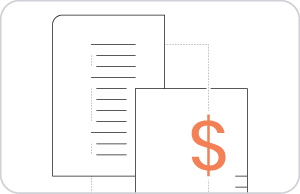 Purchase
This refers to buying a list of contacts from a big data company. Offering opportunities for an organization to quickly capture qualitative or quantitative data in bulk, many business owners follow this path to business growth. While there are many data companies in existence, only a very select few provide good, quality, up-to-date data. Always do your research before finalizing a purchase for a customer data file.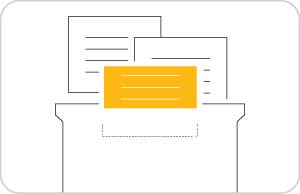 Collect
Using sales and marketing tactics, prospects may share their data with your company in exchange for something. For instance, a prospect may share her name and email address in exchange for 10% off her first purchase in your online store.
Why consumer data requires updating
Sure, there are consumers who will use the same email address or have the same postal address for a good portion of their lives. And this cohort could make up the majority of your list. But there are multiple reasons why someone's data could change. And some of them you've never thought about!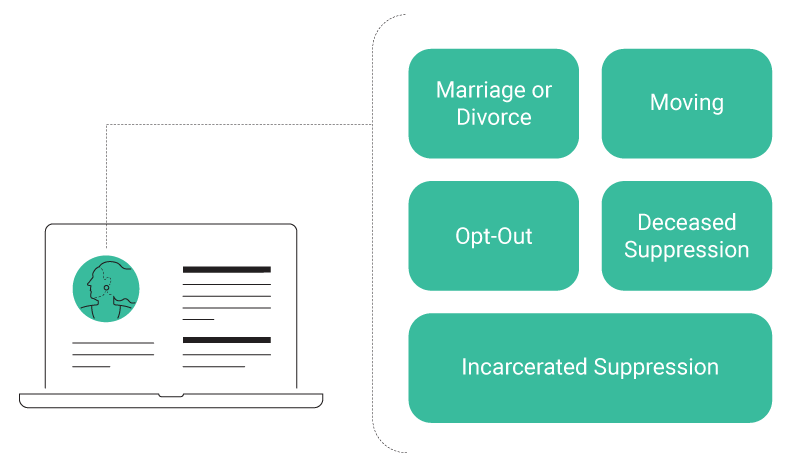 Marriage or Divorce
It's estimated that about 50,000 people change their names every year. Add to that roughly 1.68 million marriages occur each year while around 750,000 divorces happen, all of which can ultimately results in a change in home address or even email address.
Moving
From upsizing to downsizing to job changes to wanting a change in scenery, the reasons why a person can (and does) move are many. In fact, the average American moves 11.7 times over their lifespan. According to USPS, 1 in 7 people change their address each year. And while it's possible for them to fill out a National Change of Address File, some don't while others simply fall off the list after 12 months.
Opt-Out
Just as with requesting to opt-out of email lists or telemarketing lists, citizens have the right to opt-out of receiving junk mail. And while someone may have signed up to receive information from you in the past doesn't mean they'll chose to continue wanting it forevermore.
Deceased Suppression
It's not fun to talk about, but it's fair to say that response rates for mail sent to deceased consumers is low. With roughly 3 million deaths in the United States every year (with leading causes including cancer and heart disease) filtering these names and emails from your list can make room for improved campaign statistics.
Incarcerated Suppression
While total incarcerations have dropped steadily since 2019, there are still nearly 2 million incarcerated Americans. While they may eventually return to checking the email or living at the address you have on file for them, filtering their name is a better bet for your long-term ROI.
Ways to enhance your list
Now that you understand why your list requires a data refresh, let's talk about what that looks like. There's no one-size-fits-all option when it comes to enhancing your data. Each company will need to decide what type of enhancement will work best—and this depends on their overall goals.

Postal Processing
Keep your customer files accurate and deliverable. Using the latest generation of USPS® change-of-address software and proprietary change-of-address database for bulk address verification, you can stay on top of NCOA's.

Data Suppression/Data Hygiene
Filter unwanted prospects and current customers from your marketing lists so that you can maximize your results. Plus, easily flag records on the DMA Do Not Call list, Do Not Mail suppression, Moved Away list, Inmate suppression, Deceased list, and more.

Data Enhancement
Get the most up-to-date information so that you can reach customers effectively by adding email addresses, important demographic or firmographic information, and updating out of date records. The more you know about your customers, the better your engagement results.

Merge/Purge & De-duplication
Don't double your efforts or juggle multiple contact lists. Whether you want to remove duplicates from your database or combine separate files, merge/purge services will leave you with the highest data quality so you can market more efficiently.
It's undeniable that building a mailing list or email list is important for businesses who are eying growth. But while there is endless information about how to create these lists in the first place, few information exists about how to maintain them, ultimately maintaining the health of your business.
Needless to say, if your data isn't clean, it could be seriously costing your business. At Data Axle USA we make it easy to build or enhance your customer data file. We recommend enhancing your list at least every six to twelve months to maintain a healthy list.
The quality of data you receive from Data Axle USA is important. We realize that accurate, quality information is a key component of your business's growth. So, we invest millions every year and dedicate over 300 full-time researchers to ensure our business and consumer records are kept up to date. In other words, when you purchase our mailing and email lists, you can expect to get the highest data quality for your sales, marketing, research, and reference needs.
We make over 24 million calls each year to gather and verify valuable information and ensure your data is current, accurate, and relevant. Additionally, our consumer database goes through a rebuild every month, setting the standard for data quality, while our comprehensive demographic and lifestyle attributes give you the power to create the perfect mailing list for your needs.