Direct Mail Campaign & Mailing Lists
The Secret to Direct Mail Success
Your Sales and Marketing Goals Are Within Reach
Direct mail campaigns can serve a lot of purposes—which is why it's so important to know what you want to accomplish before you get started. The good news is that whether you're a new business looking to expand brand awareness or you're an established organization hoping to find new customers, direct mail campaigns can connect you to your audience. Advertise everything from a discounted offer to a new location using quality products like postcards, brochures, flyers, or even a letter.
Learn more when you call 800.835.5856.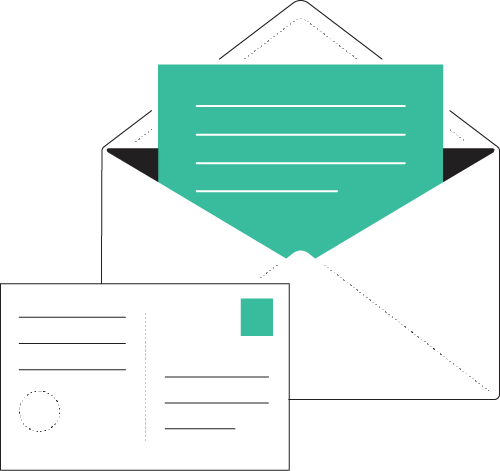 Professional Results Made Easy
Did you know we offer a team of marketing experts that can easily help you connect with new and existing customers Our direct mail service provides you with successful direct mail marketing strategies that lead to:
New Customers
Select from our extensive consumer or business databases to create a hyper-targeted mailing list. With 315 million consumers and 15 million U.S. businesses, you're sure to find exactly who you need.
Professional Results
Your mail piece needs to have an intriguing design complete with contact information presented in an eye-catching way. So, our designers will create the perfect direct mail piece to ensure it stands out from the crowd and gets your message noticed.
Save Time & Money
No more wasting postage money on bad addresses. With our continuously-updated database, we will ensure your mail is delivered to its intended recipient so your ROI is as high as possible.
The Perfect Message
Whether it's a coupon, product availability, a change in location, or a service introduction, we can help craft your message the right way—and make people care.
Postal Protect™ Laminate
With laminate post protection, you can be confident in knowing that your direct mail will look pristine even after it has gone through the mail distribution process.
Competitive Pricing
Know what you are paying from the very start. Our costs are competitive, we have no hidden fees, and our team will work with your budget to offer you the best design, print, and postage packages possible.
Reach more customers with multichannel marketing
Direct mail is a great way to reach customers—but it's only one option. Let's discuss how it can help you increase audience awareness regarding your product or service.