How would you categorize the people in your life? It's likely that there are a few different groups and while there may be some overlap, relationships are mostly kept separate.
You have a family group. Friend groups. Work colleges. Maybe teammates. Perhaps a medical team.
And you interact with all of these groups differently. You may be more relaxed with one group and more formal with another. Or maybe you more readily share your dark sense of humor with one group over another.
In business, this is called customer segmentation. When you segment customers, you organize your audience into categories so that you can more easily target their unique traits, needs, and even pain points. Because while you may think that your audience members are all the same, nothing could be further from the truth.
In fact, the secret to growing your business and increasing your overall sales is using a regularly cleaned segmented list of customers.
Knowing who to sell to using customer segments
Prior to opening their doors (literal and virtual) business owners visualize what their ideal customer looks like. Called an avatar or a persona, this customer has everything from a name and age to a job title, hobbies and interests, and specific pain points.

It is only in creating this avatar that a business knows who it is selling to, providing a foundation for their marketing.
But over time, a business can attract many different personality types. Perhaps ones they never even imagined! In continuing to market to only that original avatar, a business may lose hundreds or even thousands of customers over time. Customers that they could have kept if only they had used segments.
Holding on to customers isn't the only benefit of customer segmentation, though.
Customer segmentation and business growth
Different people will have different needs. And while everyone who purchases your product or service may do so due to a similar pain point, understanding the variances in those pain points can help you evolve your offering.
In doing so, you may attract an even bigger audience.
By continuing to segment customers as you grow, you can look for trends within your audiences. Seek groups with higher purchase potential or above-average conversion rates. Zero in on segments that love your existing offer and send more specific marketing to segments that don't, asking how you can improve.
Customer segmentation can also lead to reduced overall sales and marketing costs as well as improved retention. After all, if you're sending a highly-targeted message to a very specific segment of people, they're more likely to take notice.
On the other hand, if you send a highly targeted message to your entire audience, it's likely that many of them won't pay the least bit of attention.
How to segment customers by category
By now you are starting to understand the importance of segmenting your audience. But you might be asking yourself how to do it.
While there are countless opportunities to segment customers, you might consider segmenting by: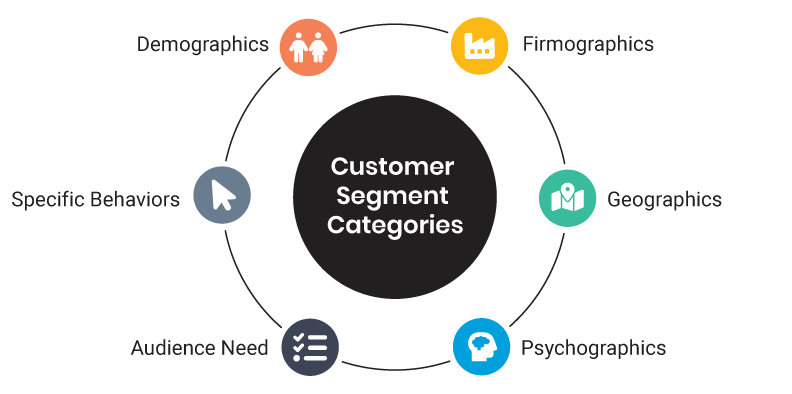 Demographics
Age, gender, estimated income, head of household, households with pets, home owners versus renters, occupation
Firmographics
Industry, size, overall performance, location, number of employees
Geographics
ZIP Code, neighborhood, county, state
Psychographics
Values, interests, personality traits
Audience Need
Specific desires regarding your product or service, delivery method
Specific Behaviors
Higher-than-average click rate, purchase behavior, purchase frequency, website activity, device type
A guide to segmenting your list for the first time
Before you can decide on segments for your audience, you first need to consider the goals of your business. From there you can segment customers into groups, using targeted marketing to reach them. Chances are that if you have an existing customer list, you're already collecting information you need to create segments.
Here's what to do from there:

Review your goals
Make a list of what data will help you sell to your email lists the most efficiently. You can base this list on your ICA (Ideal Customer Avatar) or Persona. Then make note of what data you're already collecting versus what data you want to collect moving forward.

Create your segments
Remember—you're not tied to these segments forever! But everyone has to start somewhere. Use your goals as outlined above to get creative with your customer buckets based on information you already have on hand. For instance, even if you're only collecting email addresses right now (no name or additional identifiers) you can sort your lists by open rates or clicks.

Target your segments
You won't have the right marketing for every segment immediately. But part of the fun of marketing is trying new things with your content and seeing what sticks. Change up your subject lines, your graphics, or even the frequency of contact. Treat everything as an experiment. Be open to trying new tactics and re-working your segments based on reaction.

Update your collection tool
From asking about gender to ZIP Code, to hobbies and interests, it's important to gain as many insights as you can from those giving you their information. Send an email a survey with basic questions that will help you deepen your segmentation. Or collect more information from your sign ups on your webpage. As new goals arise for your business, change up the information you collect.

Analyze, analyze, analyze
From open rates to click rates to actual purchases, it's important to analyze and review the behavior of your customer segments. Knowing what works in your marketing—and what doesn't—is key to increasing your overall sales.
Keeping customer segments organized
Now that you know what customer segmenting is and how to go about getting started, you might be wondering: How do I keep track of all of these new segments?
The answer: a CRM software system.
CRM stands for Customer Relationship Management.
Technically you could input your customer data into a spreadsheet and call it a CRM system. And, in fact, that is what many a small business does. However, as the business grows it becomes more and more difficult to organize and manage your leads—not to mention your varying segments.
When you invest in a CRM software program, you can get help managing your leads in a more effective manner.
A CRM will keep all of your existing customer and potential customer data in a single space. Use it to track things like how often a lead reaches out or how closely they match your avatar or persona. You can then utilize this information to help you create more and more targeted segments of customers.
CRM software can also help you manage your marketing efforts and even increase productivity within your company. Keep track of who you contacted, how, and when, in addition to what purchases have been made (and when). Studying this information may lead to new insights about your audience and help you further develop your offerings.
Feeling overwhelmed by the task of segmenting your list? At Data Axle USA we can help you create a highly targeted list of business or consumer prospects from our industry-leading databases. Zero in on your ideal customer when you choose from over 175 search selections including estimated income, head of household, gender, state, carrier route, interests and hobbies, and much more.
The quality of data you receive from Data Axle USA is important. We realize that accurate, quality information is a key component of your business's growth. So, we invest millions every year and dedicate over 300 full-time researchers to ensure our business and consumer records are kept up to date. In other words, when you purchase our mailing and email lists, you can expect to get the highest data quality for your sales, marketing, research, and reference needs.