When you're new to marketing, there are a lot of new marketing terms and acronyms that get thrown around. Sometimes it can feel like the industry has a language entirely its own.
One acronym used frequently is CRM.
But what is a crm?
Do you need one?
How can it help your business?
We're taking the mystery out of this term and, hopefully, giving you insights that will lead to better customer relationships and more growth in your business than you thought was possible!
Breaking down, what is a crm?
How do you keep track of customer information? Even in today's tech-driven world, many businesses rely on old school methods of tracking their customers including spreadsheets or random notes.
The problem?
This creates far more chances for human error. Which can wreak havoc on your sales and marketing goals!
What's a business to do, then?
Enter CRM software.
In simple terms, a CRM is what's known as Customer Relationship Management software. This tool can help you organize your customer's information, ultimately taking them from a number or a sale to a real human being who supports your business!
Why a CRM matters
Using CRM software, your business can house everything from customer details (name, email address, mailing address, phone numbers) to sales touchpoints (social media, phone calls, emails, and chats) to personalized information (birthday, names of partners, children, or pets).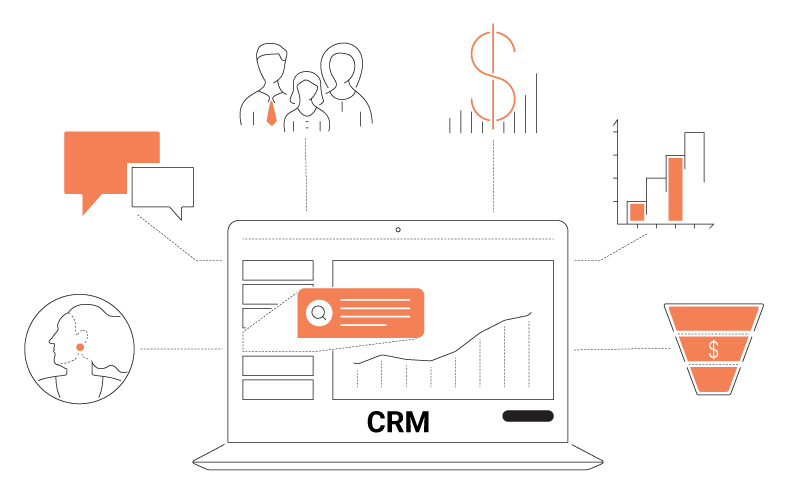 And that would all be extremely helpful on its own, but CRM software also provides the power of in-depth reporting features, like:
Sales year over year
Revenue forecasts
Deal pipelines and their progress
CRM terms to know
When you first start researching a good CRM for your business, it will be important to understand the language of the software. That way, you can be sure you pick a CRM that will work the way you need it to.
Activity: These are actions taken by either your individual customers or your sales team within the CRM. Emails, phone calls, direct mail, face-to-face-interactions, and much more count as CRM activities.
Company: When you sell to multiple businesses, it's important to know the contacts within that business—because often, there are several. However, most businesses will put "company" over "contact" in their CRM hierarchy for clearer organization.
Contact: This is an individual that has interacted with your business. To begin, most contacts contain very little information—name, phone number, and/or mailing address may be included.
Deal: Simply put, this is what's known as a potential sale. It is sometimes referred to as a sales opportunity.
Deal Stage: What are the steps of your sales process? These are referred to in a CRM as "stages" and there can be as many or as few as are needed for your unique business.
Lead: This is an individual who has expressed interest in your product or service. Maybe they've purchased in the past (and you want them to again) or maybe they've been interactive with your business and you're courting them as a potential customer.
Source: Where did your lead come from? Whether it was a referral, an event, or a walk-in, keeping track of the source of your customers may help you become more effective in finding prospects. 
Enhance the experience of your customers
Now that you know the answer to the question, what is a crm, let's talk about how to use CRM software to benefit your business.
To build a business, you need dedicated customers.
And when you want dedicated, loyal customers, it's important to make each interaction for each customer special in its own right.
How?
By showing potential customers that you view them as an individual. And THAT is where the strength of CRM software lies.
From personalized birthday messages to content catered to their likes and needs, a CRM will do the heavy lifting taking customers from "sale" to "person."
Here are a few more ways CRM software can enhance your customer's overall experience:

360 view
Sure, a CRM can house your customer's address, phone number, and email. But it can also link your customers to other contacts within your database that work in the same industry or for the same company. You can also add birthdays, anniversaries, important business facts, language (s) spoken, etc. By having this information readily available, it's easy to personalize your communication with every email, phone call, or face-to-face interaction.

Segmentation
We've talked about the importance of segmentation for your email lists. A CRM makes it easy to group customers and prospects into different categories, ensuring communication with them is tailored and on pointe.

Customer Retention
It takes a lot of time to acquire customers. Naturally, you want to do everything you can to keep them. And a CRM can help. Use yours to keep up with tasks, follow-ups, and deliverables, so you never miss a deadline or meeting. A CRM can also alert you of customers you haven't reached out to in a while that need to be on your radar.
Benefits beyond customer service
By now it's clear that in having a CRM, you're more likely to enhance the sales experience of your customers. So, you may be wondering…what's in having a CRM for YOU?

Increased Productivity
Automating dull but necessary sales and marketing tasks is a prime benefit of CRM software. Use your CRM to log activity, create deals, report, and so much more. Use the added time to really be with prospective customers and see the difference in your bottom line.

Meaningful Team Collaborations
Employees and managers can't be "in the know" about every customer, every time. This is especially true once a customer base begins to grow. So, whether someone on the team is on vacation, busy on a call, or out to lunch, CRM software makes it possible for all team members to quickly come to understand a prospective buyer if faced with a sales opportunity, boosting efficiency and potentially revenue.

Deeper insights
A business is only as strong as its team. So, use your CRM to measure performance. From big picture to tiny details, CRM software will tell you everything you want to know about a sale—and how your team manages them.
Forming a CRM strategy
Now you're convinced that having a CRM will be good for your business. After all, it will help keep your customers happy and your business operations running smoothly.
But wait! Before you dive into making the purchase, it's important to decide on a CRM strategy. After all, without well-defined goals, CRM software has overwhelmed many businesses. And they stop using it, deciding it's too much trouble.
However, deciding on your goals up front makes it easier to understand and learn the specific tools that will accommodate those goals. Whereas not having firm goals may result in you or your team trying to learn too much at once, resulting in frustration.
Sit down with your team to better understand what goals you should set for your business. Be specific. It's noble to want to enhance the experience of your customers, but how will you do that? Why do you want to?
Next, if you don't already have an idea of your ICA (Ideal Customer Avatar) this is a great time to define one. Doing so can help you determine what type of information you want to know about your customers that can potentially benefit your sales and marketing goals.
Third, become clear about how to report within your CRM software. It's one thing for your team to understand why this software is important to the business. But it's entirely different for everyone to input information the same way or in a way that will be clear for the greatest majority. Before opening up the CRM to your team, you should be able to tell them what information about a customer is worth collecting, how often they need to update that information, and even language regarding if a prospect is cold, warm, hot, or no longer being considered.
Then, you'll want to decide who on the team will have access to your CRM software. For most businesses, this includes managers and sales teams. From there, implement your existing contacts and integrate any additional tools that may prove useful to improving the overall experience of your customers.
If you ever found yourself wondering, what is a crm, we hope to have answered this question thoroughly! There are so many reasons to implement a CRM within your business regardless of the size or type of business you have. Not only can it house your customer data, a good CRM will help you find gaps within processes, and create new opportunities for growing your business.