When you first begin your journey in marketing in business, you hear a lot of new acronyms. Undoubtedly, it can seem like marketing has a language entirely its own! So, if you've ever sat in a meeting or completed a call with a marketing team only to find yourself asking, "CTR? SEO? CTA? What do these marketing terms even mean?!" You're in the right place.
With that in mind, there are far too many marketing terms to cover in a single blog. So, today we're going to cover 19 of the more common marketing acronyms and terms that every industry pro needs to know in order to be successful.  Because the better you understand these terms, the more successful you can be as a marketer.
BR (Bounce Rate)
There are two common types of bounce rates new marketers should know about:
Email bounce rate: Was your email successfully delivered to the inbox of its intended recipient? If not, it "bounced." Higher bounce rates often mean that your list is out-of-date or you're acquiring a lot of false emails. That said, not all bounces are bad. A "hard" bounce means the email address is unavailable permanently. A "soft" bounce means the email address is unavailable temporarily.
Have an out-of-date email list? Discover data enhancement services by Data Axle™ USA.
Website bounce rate: This is the percentage of individuals that visit a single page of your website but exit without clicking anything or browsing additional pages. Oftentimes if a website bounce rate is high, the conversion rate is low. And this is something that should be remedied quickly.
CAN-SPAM (Controlling the Assault of Non-Solicited Pornography and Marketing)
This regularly used marketing acronym is a U.S. law that was passed in 2003 and relates to the rules of connecting with users through email. Exactly why a business is required to have the "unsubscribe" link easily accessible in every email sent, it gives those receiving your messages the right to stop contact with you. If you are purchasing lists of emails for your business, be sure to partner with a big data company that follows CAN-SPAM rules and regulations.
CASL (Canadian Anti-Spam Legislation)
In online business, you can connect with customers anywhere. And if you're connecting with customers in Canada, this is one marketing acronym to remain aware of. Covering "commercial electronic messages" this law refers to more than email. Covering instant messenger, text, and even automated cell phone messages sent to phones and computers, CASL requires you to acquire explicit consent before sending someone a message.
CMS (Content Management System)
When marketing in business it's important to create content that will be consumed by your target audience. A CMS or content management system is simply a software that can help you to create, manage, or change the content that appears on your website without any specialized knowledge, such as coding. This content may include web pages, images, and other basic elements that make up your website.
If you hire an agency to create your website for you, they may have their own CMS that you can log into to control your content. There are also options for building your own infrastructure, like Weebly and Wix.
CPA (Cost Per Action)
Every marketing team has a budget. And every marketing action comes equipped with a cost of some sort—be it time or money. But specifically, a CPA refers to how much your company is paying to obtain a conversion which is a term expounded upon below. Note that sometimes CPA is also referred to as "cost per acquisition" though this is not the widely accepted definition.
CPC (Cost Per Click)
When you run online advertisements, this is one of those marketing terms you can't ignore. It refers to the amount of money you pay in exchange for a lead to click on your ad. To get this number you must divide the total cost of your clicks by the total number of clicks you receive.
Note that when you're creating an online advertising campaign you will need to set a maximum bid—the max amount you're willing to pay in exchange for that click—referred to as a max CPC.
CPI (Cost Per Impression)
Users who fit a specific buyer persona and may potentially view your ad (like when it appears on a site they're visiting) is an impression. Your cost per impression is how much you spend as potential customers view an ad you've placed on a website. Note that views are different from clicks, explained above.
CPL (Cost Per Lead)
Are your marketing campaigns proving effective when it comes to obtaining new leads? This is the number that will tell you yes or no. In order to find this number, you need to take your total marketing spend and divide it by the total number of new leads obtained with that spend.
CR (Conversion Rate)
Frequently used marketing terms like "conversion rate" are something every marketer needs to know. Conversion rates tell you how many people are taking the action you want them to—aka, how many people are converting? Popular conversion examples include submitting a form, entering an email in exchange for download, or even making a purchase.
Learn more about conversion rates
CRM (Customer Relationship Management)
As far as marketing terms go, this one is very important. CRM software will help you retain customer information including things like name, phone number, email address, and birthday.  But Customer Relationship Management is so much more than knowing the facts. CRM is also the process through which a business tracks their interactions with a customer. Things like phone calls made, emails sent, and even products or services that were purchased, when.
The goal of a CRM is to have information about your customer readily available, making it easy to interact with them and share information with them that is tailored to their needs.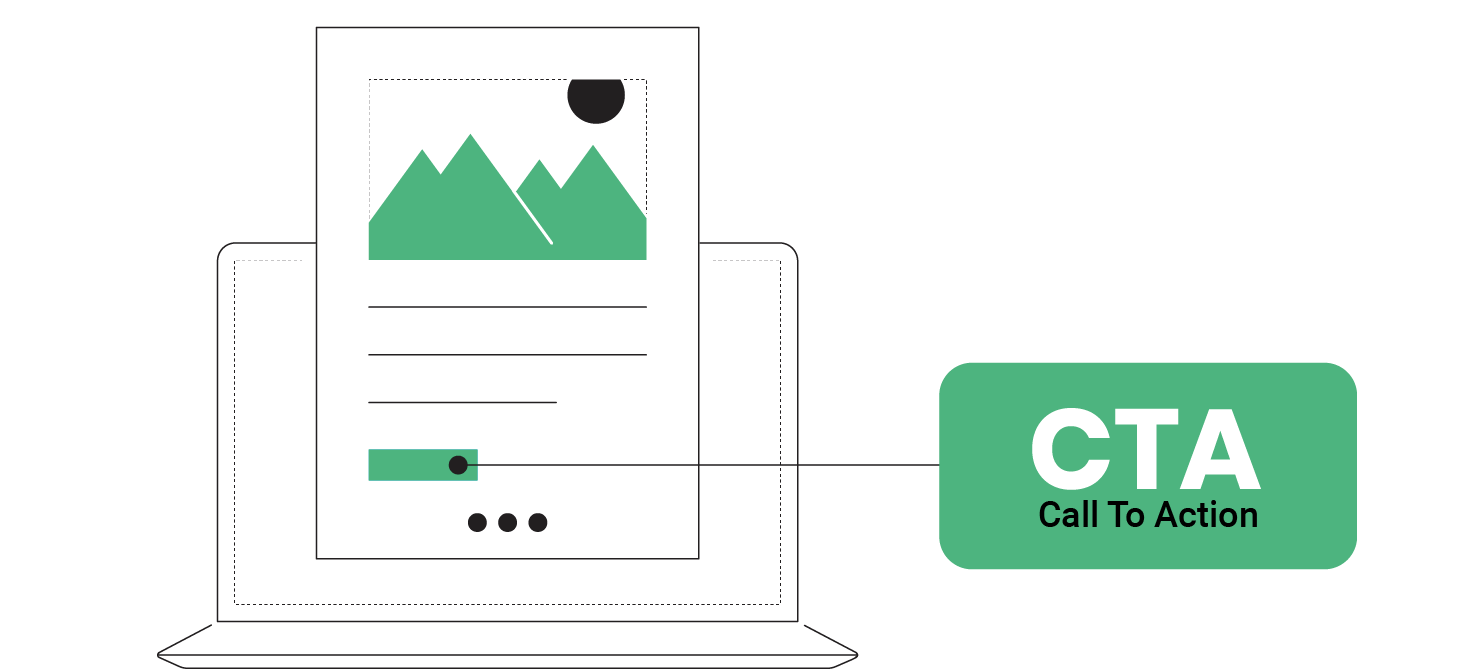 CTA (Call To Action)
Be it a button, a link, or even a clickable image, your call to action encourages users to do something specific. From replying to an email to downloading a free workbook to visiting your sales page, calls to action are used in various types of marketing: email, websites, eBooks, social media, and even within a blog.
CTR (Clickthrough Rate)
This refers to the number of clicks generated per number of impressions (users that see your ad, email campaign, etc.) received. The click through rate formula is as follows: clicks/impressions=CTR.
Learn more about click through rates
DM (Direct Message)
These private messages were popularized on the social media platform Twitter and refer to sending one-to-one communication with an individual through social media. Now the term is used loosely to describe communicating privately on nearly any social media channel including Facebook and Instagram.
ESP (Email Service Provider)
While the modern definition of this has been somewhat muddied, at its most basic ESP means simply the service through which you're able to send an email campaign to your list of leads.
GA (Google Analytics)
When a marketer wants to review statistics pertaining to website traffic as well as the sources of that traffic, they usually refer to the Google service, Google Analytics. The perfect tool for coming to understand an audience and how they interact with your product or service, this is one skill setthat every marketer should keep in their back pocket.
KPI (Key Performance Indicator)
Valuable in the world of marketing terms, this refers to a measurement that companies will use in an effort to evaluate their marketing success. Marketers will set their own KPIs prior to running a campaign in an effort to track progress and success. Some examples of KPIs that a marketer may use include Cost Per Lead, Conversion Rates, or even Total Revenue.
PPC (Pay Per Click)
Another marketing acronym you'll want to know if you plan on running online advertisements, PPC refers to what you'll pay in exchange for a click on your specific advertisement. Ads that appear for a user depend on keywords you use and bid on for your online ad.
RSS (Rich Site Summary)
This one pops up a lot for marketers and with good reason. It refers to a simplistic way for someone in marketing to remain up-to-date on new content from websites that you enjoy visiting through subscribing. Content might include blogs, social media feeds, or even a newscast.
SEO (Search Engine Optimization)
This is what you try to improve when you want your website to rank higher in organic searches through sites like Google or Bing. While there are many opportunities that exist to attempt improving your SEO, know that search engine algorithms rely on things like title tags, meta descriptions, and keywords (just to name a few!) to determine the overall ranking of your site in their search results.
Don't forget that if you ever need help with marketing in business, the experts at Data Axle USA can help you. We offer various marketing services to help ensure that you appear in front of your target audience in all the right ways. In addition to our lists of emails, we offer both business lists and consumers lists. Plus, check out our turnkey professional marketing solutions.