The digital equivalent of junk mail, spam is something that anyone with an inbox has seen at some point or another. But as you begin to learn the ins and out of marketing for business, you might have some questions about:
What is spam, really?
How do email addresses decide what is spam and what isn't?
How do I know if I'm sending spam email?
The answers to these questions—and more—are answered below.
An overview of spam email
First, let's talk about what spam is—and what it isn't.
By most definitions, spam or junk mail is an unsolicited message that is sent in bulk .
In other words, the person receiving the email message did not personally request the information that the message contains. It also happens to be a message that was sent to dozens of others at the same time.
For instance, have you ever received an email from an organization—but you can't remember how you got onto their list? Perhaps the message relates to you and maybe it doesn't. Either way, if you did not sign up to receive this message it may be considered spam email by this definition.
That said, the true definition of spam varies from person to person—and business to business. Moreover, with email marketing changing constantly and rapidly, this more traditional definition of spam has been somewhat outgrown in the industry.
How spam email fits in today's marketing picture
While spam in email is often vilified in marketing, the truth is that it continues to be a popular way to build new connections with prospective customers. And with over 7 billion email accounts in existence and 95% of consumers checking their email daily, this is one form of communication that won't be disappearing anytime soon. So, mastering its uses as a marketer is critical.
Think of spam email as direct mail for inboxes. It's likely you receive a number of unsolicited direct mail pieces every single week. From magazines to brochures to letters to special offers, direct mail comes in a variety of types.
Occasionally you recognize the sender. Other times not.
Sometimes you drop direct mail right into the recycle bin. Other times, it piques your curiosity and you read it in full or act on the call to action.
The same missives apply to these types of messages being sent by email. You probably delete a number of messages from businesses in your inbox every day. But occasionally you read a subject line that interests you, so you click—whether you recognize the sender as someone you gave your email address to or not.
Unlike with direct mail, there are a variety of schemes, including phishing, that email users remain alert for. That is why you should always take care to create clear, concise messages for your user, whether you purchased their email from a reputable data company or they signed up for your list of their own volition.
Filters to sort spam email
Unlike our mailboxes, technology is capable of filtering messages that come our way. Most email providers offer multiple folders for its users including an inbox and a spam or junk folder.
Email providers protect your main inbox using powerful filters and anti-spam software. Using A.I. this technology filters any and all email messages that come through its system.
In reviewing subject lines, the email content, and the sender itself, these filters which are designed by Internet Service Providers (ISPs) ultimately decide where your message will end up. Should anything seem speculative, the message is sent to a spam folder.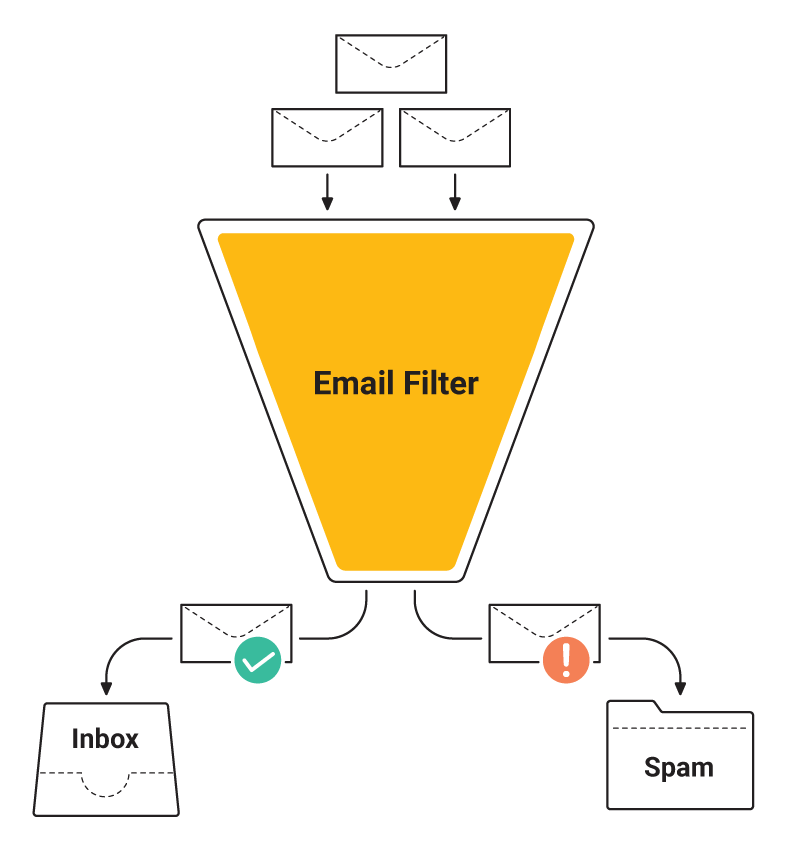 That is why, even when you've signed up to receive messages from a company, they can still end up in spam. On the other hand, if you add a company you love to your email contacts, your email platform's filters will begin sending those messages to your inbox instead.
In addition to email platforms that come equipped with spam email filters, some users have an email address specifically dedicated to spam. So, when they sign up for rewards programs or need to include an email to receive a special offer, it's automatically sent somewhere other than their main inbox.
Users also have the power to flag a message that comes into their main inbox as spam.
In other words, both users and email providers have the power to determine what they consider to be spam—which is why the actual definition varies.
The truth about all of the emails you're sending
So now that you know what is spam, how do you know if you yourself are sending spam email?
For a long time, the golden rule of email marketing was to only send your email messages to subscribers who had opted in to your list. These are people who voluntarily gave you their email address indicating that they want to hear from you.
However, email has changed substantially since it became available to the general public in the 90's. As have the marketing tactics businesses use when working with people's email addresses.
Also, it is so easy for a user to opt-out of receiving messages from a brand they don't want to hear from. Therefore, it's becoming more commonplace to buy lists of emails as a way to find and connect with new potential customers.
As with direct mail, some users on your responsibly purchased email list will engage with your message while others won't. By remaining engaged with your email list and continuing to improve your marketing with email efforts, you'll likely receive similar results with voluntary or purchased emails—that is, a mixture!
So how do you ensure your email list was purchased responsibly?
Buying lists of emails
Buying a good email list that won't be flagged by spam filters isn't a difficult task. That is, as long as the company you purchase from is reputable.
When you first begin your search for a trusted list building partner, you should always research their general reputation using sites like ResellerRatings or Google. It's also important that a big data company can help you create a highly targeted list. To do this, they should offer a variety of search selects, like ZIP Code, square footage of a business, C-Suite employees, households with children, households with pets, and even interests or hobbies along with dozens of others.
Search selects are the only way you can be sure you're creating an email list of U.S. Businesses or U.S. Consumers that are actually potentially interested in your specific products or services. This also means that once you being using your purchased email list for marketing purposes, it's far more likely you're connecting with individuals who may be interested in working with you—not people who see your message as spam email.
Using lists from a reputable big data company also decreases the likelihood that you'll be blacklisted. While it's true that using blacklisted emails can cause serious damage to your email marketing program, a reputable data partner that is dedicated to transparency and ethics regarding the collection of information is key so you don't get stuck with blacklisted emails.
You also shouldn't be afraid to inquire about a big data company's Satisfaction Guarantee. In truth, data is constantly changing. So, no matter what big data company you purchase your email lists from, you'll likely run into undeliverable addresses or out-of-date contact names. This is normal.
The difference is that a reputable data provider, in acknowledgement of this, offer ways to make it right—usually a satisfaction guarantee— with their customers. You should never purchase a list of emails from a company that doesn't stand behind its product.
Every year, Data Axle USA assists thousands of businesses deploy about 25 billion emails. Spending millions annually to collect and verify data, we ensure the information you're purchasing is up-to-date.