Digital marketing continues to change but one thing is certain: emailing customers and potential customers remains among the most popular and cost-effective channels for initial contact. But that doesn't mean it's easy to reach a consumer's inbox. With the rise in marketing email, Internet Search Providers or ISPs are working harder than ever before to set up filters and are going so far as to block messages that don't meet specific criteria.
Add to it that today's deliverability landscape presents an array of challenges from technical to legal and it's enough to discourage almost any business owner from sending emails.
So, with all of that to tackle, you might find yourself wondering—is it worthwhile to use email marketing?
And to that end, is it worthwhile to buy an email list?
Absolutely! Keep reading for more details.
The correct way to purchase an email list
Buying an email list—a good one—is a more sophisticated process than merely paying for and downloading a list of emails from a website. A trusted list building partner can help you determine targeted search selects, like ZIP Code or C-Suite employees, so you can easily create an email list of U.S. Businesses or U.S. Consumers interested in your specific products or services. So, when you use your list and begin emailing your marketing campaigns to those on it, it's far more likely you're connecting with individuals who may be interested in working with you.
As when building your email list organically, highly targeted email addresses that are purchased can also be effective—when done correctly. Some concerns list purchasers sometimes have that tie to blacklisting may include, "Are valid email addresses even for sale?" as well as, "Can I email these addresses without being flagged as spam?"
Along with many others.
Blacklisting situations can often be avoided by doing some simple research around the company you're purchasing an email list from.
Also, by taking responsibility to remain up-to-date on the latest email marketing practices and policies, you can help avoid email marketing snafus.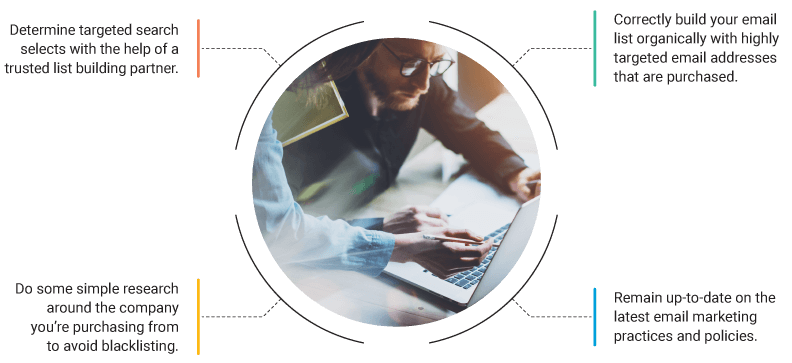 Dispelling old school email list buying myths
When you want every email marketing campaign to make it to the inbox of its intended recipient, you may doubt that buying an email list is the way to go. In fact, you've likely heard or read all the reasons why doing so can hurt your business.
This can be true, especially when you work with companies that sell bad data.
However, when you work with an experienced digital marketing partner who knows how to promptly address and overcome the challenges associated with email marketing and email lists, you can achieve maximum ROI for your email marketing campaigns.
Given how fast data can change, it's important to partner with a company that strives to stay on top of the most up-to-the-minute business and consumer information. It's when you don't that you may find yourself face-to-face with a number of issues, potentially harming both your existing and future email marketing campaigns.
A reputable big data company may also provide data enhancement services that can help keep your email list healthy. Services like email append, for example, allows you to add missing email addresses to your existing list of customers and prospects, ensuring you can connect with them more efficiently. Bad email addresses are flagged so you know to not waste money or resources on marketing to it. Additionally, email suppression services can help you discover emails on your list that match the Global Suppression File of undeliverable addresses.
Truths about blacklisted emails
One of the biggest fears tied to buying an email list is that by using them, you may face being blacklisted. And over the last several years, ISPs have begun to enlist the help of blacklists to determine which incoming emails should be blocked in order to protect users from irrelevant, untargeted, or malicious messages.
It's true that using blacklisted emails can cause serious damage to your email marketing program.
In fact, a single listing on a popular blacklist may well impede your ability to successfully deploy email to approximately 70% of ISPs worldwide.
When you are the one collecting email addresses organically via a sign-up form or an opt-in offer, doing so feels comfortable. At least you know individuals are truly interested in your company and what you have to say.
On the other hand, when you buy lists of emails from a big data company, you can't be sure the same sentiment rings true…right?
Not necessarily!
What to look for in a big data company
If you want to find and target new prospects through email, a reputable data company can help you grow your email list. But what makes a big data company "reputable?" Here are a few things to look for:

Data Quality: Good and accurate information is the solid foundation laid by industry-leading data companies. A key component to the growth of companies that purchase information, reputable data companies invest heavily in quality data to ensure their records are up-to-date.

Adherence to basic marketing principals: Privacy policies exist to protect consumers. Partner with a data company dedicated to transparency and ethics regarding the collection of information so you don't get stuck with blacklisted emails.

Satisfaction Guarantee: Data is constantly changing. So, no matter what big data company you purchase information from, you'll run into undeliverable addresses, out-of-date contact names and disconnected phone numbers. Reputable data providers, in acknowledgement of this, offer ways to make it right—usually a satisfaction guarantee— with their customers.
Improve your email marketing
Business owners can wear many hats. Each one comes with its own set of challenges and marketing is certainly no different. And for individuals who have little to no interest in email marketing—be it advertising or analytics—this task can seem monumental. Especially when you're wanting to connect with potential customers via email but you're not well-versed in the legal side of doing so.
It's possible to remove the task of marketing from your plate altogether. In fact, you may be able to utilize marketing services from the same company you purchase your email list from, ensuring an all-in-one service from start to send.
From help creating the perfect list of emails to designing an eye-catching marketing email template to hold your message to sending and tracking, outsourcing your email marketing efforts proves to be the perfect path for some business owners.
No matter what needs you have concerning buying email lists, maintaining the health of your existing email list, or outsourcing your email marketing know that Data Axle ™ USA is here to help you succeed. Every year, Data Axle USA assists thousands of businesses deploy about 25 billion emails. Spending millions annually to collect and verify data, we ensure the information you're purchasing is up-to-date.