You've heard about the importance of marketing for business. But there are so many different things to know about marketing in order to do it well.
One question that gets asked frequently around marketing is: what is content marketing?
By definition, content marketing is, "… a strategic marketing approach focused on creating and distributing valuable, relevant, and consistent content to attract and retain a clearly defined audience and, ultimately, to drive profitable customer action."
As it turns out, marketing is so much more than data and analytics, advertisements and sales pitches. It's also about providing valuable information in the form of content to your audience.
That's because content marketing is so much more than content. It's something people actually want to consume as opposed to feeling forced to consume.
Notice we use the word, "consume." That's because content marketing isn't only written. It can come in a variety of forms.
By offering content marketing—without an underlying sales pitch—you offer your ideal audience value. As a result, when they have questions about products or services you offer, you'll hopefully come to their mind.
In researching answers that you provide through content you've shared, you build yourself as a trustworthy authority in their mind. And when it comes time to make a purchase, they'll hopefully want to make it with you!
Even with all of this in mind, you may still be asking yourself—so, what is content marketing, exactly?
It's broken down further below.
Types of content marketing
There are dozens of ways businesses create and use content marketing—far too many to cover in a single blog. However, in going through several of the more popular forms you'll hopefully come to a better understanding of what this type of marketing is and how it can be used to provide value for your audience.
1. Website: Today's business card, a website can potentially tell customers everything they want to know about a business. From how the company got started to the staff that run it, websites contain content that may prove incredibly valuable for ideal customers who, in today's oversaturated markets, are looking for a connection to the businesses they purchase from. Written content as well as visuals on a website should be thoughtful and lean into telling a story for your audience. It's one of the most accessible forms of free marketing for businesses—use it wisely.
2. Infographics: You've likely seen these, though you may not have known what it was called. An infographic leans into images and charts as a way to explain something.
Check out this infographic regarding 5 Prospecting Strategies to Use Right Now.
Read this infographic regarding how quickly data changes in an hour.
Minimal text is involved, instead offering the brain information or data in the form of illustration. While often favoring quantitative information, an infographic is versatile in that it can also break down qualitative information as needed to explain processes or define complicated or specific ideas.
3. Blogging: Another form of written content, blogs tend to be written in a casual or conversational tone. Consisting of a few hundred up to a few thousand words, it's a single page individuals can scroll to consume information about a specific topic. For instance, this page that you are currently reading is a blog on the topic of content A blog is different from a website in that it is updated more frequently and often allows for engagement from your audience in the form of comments or feedback. Another great example of free marketing, blogs allow you to put any information you know out into the world.
4. Online courses: If you're wanting to know what is content marketing that isn't written, courses are an excellent example. A way to teach a lot of information in an organized format which can be accessed by phone, tablet, or computer, an online course usually includes a combination of pre-recorded video, written transcripts or a workbook, as well as images, and links to examples of what is being explained.
5. Social media: An excellent source of free marketing, there are a variety of platforms that make it possible to share valuable information with your target audience, no matter what type of content you enjoy creating. A site like Facebook makes it possible to share entire blogs as well as images and video. Meanwhile, a platform like Instagram is known for sharing images and has recently added new video and recording capabilities to help you share your message.
6. Podcasts: If you're between writing content and video recording content, there is a newer alternative—podcasting. This form of content records only your voice. Often individuals record multiple sound files as a series which they then make available weekly over an extended period of time. Podcasts may also boast multiple seasons—similar to a television show—if the host has a lot of information or knowledge to share.
7. Quizzes: Designed as a way to test the knowledge of your audience about a certain topic, a quiz makes for an excellent engagement tool for your audience. A form of content marketing that allows for an infinite number of participants, they can help you gain valuable insights into your audience in a fun or playful way that doesn't feel overwhelming to them as some other, longer forms of content marketing might.
Some additional forms of content marketing include:
Case studies
White papers
eBooks
Online workshops and masterclasses
Video
Slide shares
Applications
Brochures
Product demos
Keep in mind that this list is not exhaustive. They key of content marketing is that it's usually free for your audience to obtain.
Why you should use content marketing
Of course, even more important than explaining to you what is content marketing is explaining to you why this marketing tool is so important to your business.
Traditionally, a marketing funnel consists of four stages: Awareness, Interest, Consideration, and Purchase.
There are longer, more complicated versions of this funnel, but the concepts generally remain the same with those being:
Lead generation: In the world of marketing, lead generation is the process by which you capture the interest of potential buyers.
Lead nurturing: When you develop or continue to build a relationship with your buyer, no matter what stage of your funnel they are in (maybe they're brand new to your brand, maybe they have already purchased from you).
Sales: Also known as purchases, this is the stage of the marketing funnel that many organizations are focused on as they seek to obtain revenue goals.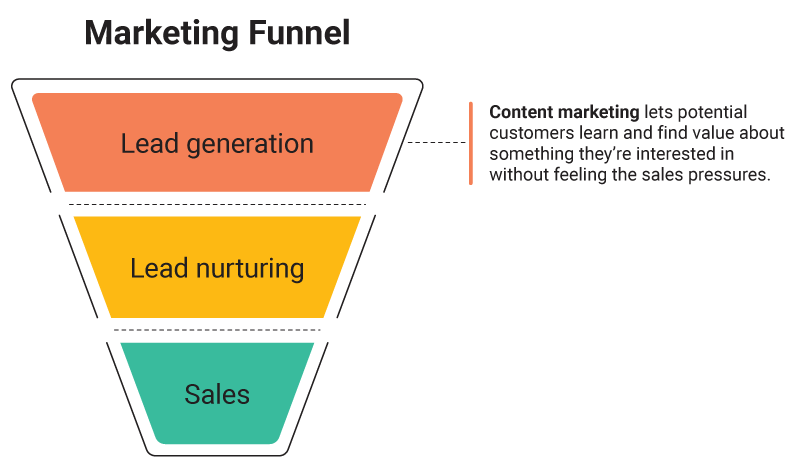 At the top of the marketing funnel, that is in the lead generation stage, content marketing shines. Informational or educational, perhaps even fun to digest, potential customers can learn and find value about something they're interested in without feeling the sales pressures that appears further down the funnel.
Moreover, content marketing is a way to help you form a bond of trust with your potential customers—oftentimes before you even know their names.
There are dozens of opportunities for you to get started with content marketing. The only way to learn more and get good at the skill is to dive in—which is exactly what we encourage you to do.