You want to reach out to customers on your email lists. There are a variety of ways in which to make connections thanks to technology. And one option utilized by many businesses is email. Fully automated email marketing means that with a simple click, you can reach hundreds or even thousands of customers at once.
Nonetheless, marketing to your email lists has its own unique set of obstacles. Because it seems like every day our inboxes receive more and more messages. So how can you make yours stand out?
Send email at the perfect time
"There is no perfect time to…"
You've likely heard this in reference to multiple things life throws your way. But would it surprise you to know that there IS actually a perfect time to do some things?
For example, when it comes to email marketing, data can make a strong case for the perfect time of day to send communication to your customers. While it's not an exact science (and facts can vary from business to business) the below information serves as a positive starting point.
The "Just Because" Email Send Time
A good marketer knows that email marketing doesn't live and die by sales emails. Using them too often can decrease your email open rate quickly. Instead, sending communication to your email mailing list for no reason other than to inform, educate, tell stories, or say "hello" is a big part of email marketing.
Here is what insightful or lighthearted email marketing content might look like:
Vulnerable moments
Important life lessons
Funny or "has this happened to you?" stories
Cat videos (or whatever makes sense)
For most businesses, this type of email marketing can be done as often as resources allow—weekly or even daily! Checking in with your email lists often helps you to gauge their current state or otherwise engage with you. Use insights you glean to further tailor future content to meet your audience where they are.
Yet the question still on your mind might be, "When is the best time to SEND this type of email?"
In referring only to the numbers, many research studies indicate that higher click-through rates occur mid-morning, around 10:00 AM CST and again later in the evening, around 6:00 PM CST.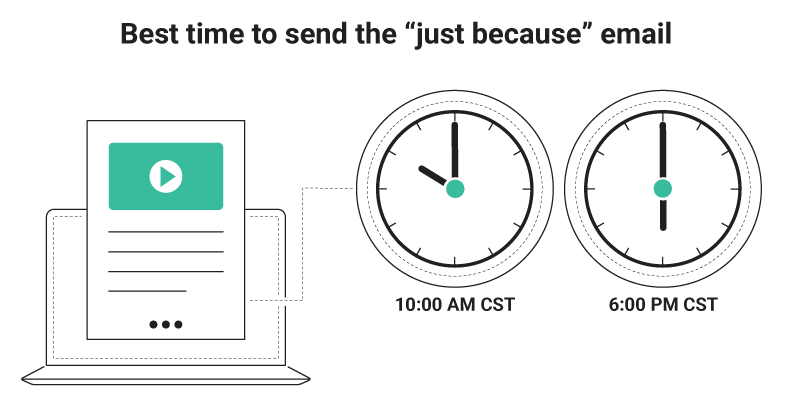 An email marketer could make a reasonable assumption that people open and read email within specific pockets of time, like when they:
First log into the computer at work
Hit a mid-morning slump and need a break from tasks
Wrap up at the office
Arrive home
Finish eating dinner
When it comes to sending general communication to your email list, open rates are often a KPI that marketers refer to. So, to achieve higher ones, it would make sense to send earlier or later in the day.
Mid-week including Tuesday and Wednesday have also long been referred to as ideal days to send any email communication. Additionally, new research suggests that the lowest rates of unsubscribes occur early in the week. So, if you're looking to build your email list, and you're sending general communication often, keep this in mind.
The "Sale" Email Send Time
Occasionally you'll want to connect with customers on your email mailing lists in an effort to sell your product or services. And this free form of marketing is a great way to meet sales and marketing goals as well as increase your revenue.
While general email communication has its place in the marketing cycle, it's the sales email that boasts high stakes. But if yours aren't performing the way you need them to, it could be wise to read up on some insider tips for how to get better at marketing with email.
Once you've determined through a/b testing several strategies that there still seems to be a lull in your sales, you should consider the time of day you're sending communication to your email lists.
Contrary to what you might be thinking, the best time to send a sales email is NOT the earlier midmorning timeframe discussed!
A variety of research indicates that reaching you audience over their lunch break is the ideal time to send sales-themed messages. Not only does this time offer a slightly above average open rate, but click through rates tend to spike at this time as well.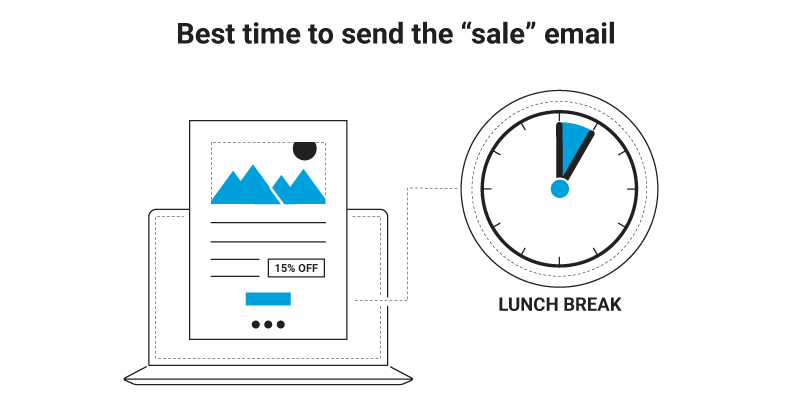 If your audience is spread across multiple time zones, consider sending the message out late morning Central Time to hit as many lunch hours as possible.
The thought behind this timeframe is that for many people, lunch is their own time. And because of smart phones, the majority of your customers will have access to their private email accounts whether eating at their desk or in a restaurant.
If they receive an email for a product or service they've been thinking about purchasing and you make it easy for your customers to purchase from their phones, you may be able to partake in these successful statistics.
Adjusting Your Time Schedule
There are a variety of statistics about email marketing, all of which offer different answers and suggestions. It's important to test these time schedules we laid out for you—and others—in order to build a firm case around what works best for your specific target audience.
Keep in mind too, that depending on your goals for your email marketing, success might mean something totally different than an open rate as outlined above. Here are some additional email metrics that you should keep in mind when setting KPI's for your email marketing.
Bounce Rate (Email): Was your email successfully delivered to the inbox of its intended recipient? If not, it "bounced." Higher bounce rates often mean that your email lists are out-of-date or you're acquiring a lot of false emails. That said, not all bounces are bad. A "hard" bounce means the email address is unavailable permanently. A "soft" bounce means the email address is unavailable temporarily.
CR (Conversion Rate): This is a number that tells you how many people are taking the action you want them to—aka, how many people are converting? Find out more about conversion rates.
CTR (Clickthrough Rate): This acronym refers to the number of clicks generated per number of impressions (users that see your ad, email campaign, etc.) received. The click through rate formula is as follows: clicks/impressions=CTR. Find out more about click through rates.
CTOR (Click To Open Rate): Another popular email marketing acronym, this term refers to how many customers opened your email versus how many of those same customers clicked on links within your message. To get this number, follow this formula: CTR/Open Rate x 100%.
Open Rate: How many customers opened the email that you sent? This is also referred to as your open rate. The average email open rate hovers around 20% for most businesses.
As a general rule of thumb, continue testing the time and day you send your email until you reach your goals. Consider segmenting your email list by time zones in which various customers live in order to really come to understand what works best for your audience.
Do you wish you were utilizing email marketing more often? At Data Axle™ USA we're the extra set of hands you've been searching for! Team up with our team of creative experts who have your email needs covered from start to send. Not only can we help you build an email list, we'll also help you craft the perfect email message and design a beautiful template and graphics, as well as deploy your email message to your list of contacts and track it.
Find out more about putting together your next email campaign with Data Axle USA.