You want to improve your average email open rate. That's because you know that it's possible to generate an excellent ROI when marketing by email. So where are you going wrong with your email marketing campaigns?
The key to email marketing success is a great strategy. If you don't already have an email marketing strategy in place start here.
Otherwise, there are a variety of strategies you can implement to improve your email open rate. And below, we're sharing eight effective strategies that you can put into practice ultimately increasing the likelihood you'll reach your email marketing goals.
1. Set a schedule
People who sign up for your list want to hear from you—plain and simple. It's on you to maintain that communication. Decide how much time you or your team has to dedicate to email marketing. Then create a cadence and stick to it.
Whether it's once a week or once a day, ensure your message is consistently being shared. Once your audience realizes how often they'll hear from you, as well as what time of day they can expect your message to arrive, they may demonstrate more interest in the content you send ultimately increasing your average email open rate.
2. Use A/B tests
Your audience may surprise you with content they like to receive—and content they don't want. So, when you're looking to boost your average email open rate, implement A/B testing as part of your email marketing efforts. From subject lines to templates to finding out whether your audience prefers a button or a link call to action (CTA), these tests help you zero in on customer behaviors that might not be readily known.
Remember that when you perform an A/B test you only want to change one element of your email at a time. For instance, test two different subject lines but leave everything else the same.
3. Modify your email marketing for mobile
Mobile devices account for over 60% of email opens. So, if your communication isn't set up for mobile, there's a good chance you're unknowingly decreasing you email open rates. Great mobile communication includes: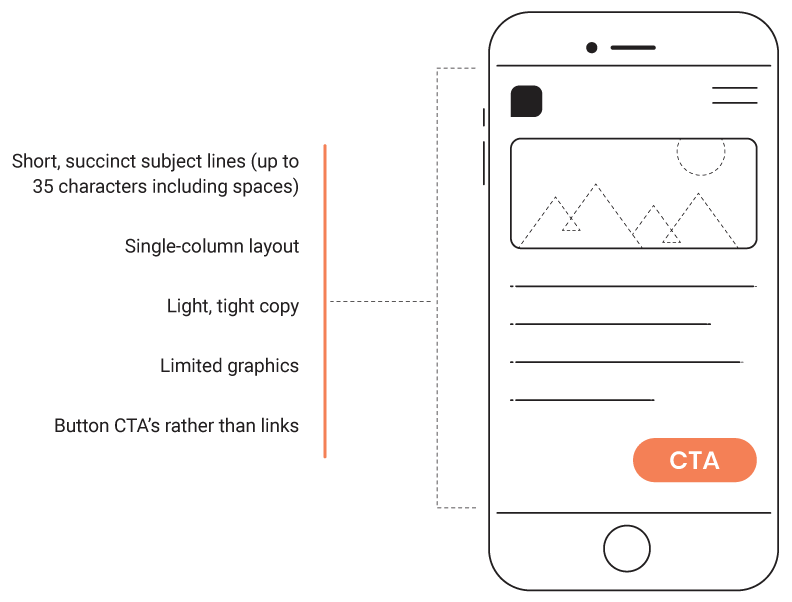 4. Align your content
Does your content naturally segway into your offer—or does your offer come out of left field? Is your subject line click-bait or does it align with the content inside your email?
From what you write as your subject line down to how your craft your CTA, all email content should flow from one sentence to the next. This makes it easy for your reader to digest. If instead your reader feels tricked, confused, or overwhelmed by your copy, it's unlikely they will read your email marketing communication all the way through.
More importantly, they'll be wary of opening future communications from you potentially decreasing future email open rates.
5. Use thoughtful design
Your email isn't only about the written content. Every design element, from your template to your logo to your CTA button color will affect your reader. Does your audience prefer stock images or illustrations? If you don't know, check out the "A/B Testing" section above.
Placement of your elements should also be taken into consideration. What deserves to appear above the fold? That is, the area a customer can see upon opening your email without having to scroll? Are you using images to break up your content, to improve the experience of your reader or both?
Ensure you're using design elements with purpose when you're looking to increase average email open rates.
6. Simplify your ask
People like easy. So, the best approach to increase your email open rates may be a direct one. Rather than sending readers to your website to get started on something (subscription renewal, bill pay, etc.) try introducing the option more directly by linking straight to a purchase form.
You can also introduce things like autofill to your forms, allowing customers to quickly submit their personal information.
7. Personalize, personalize, personalize
No one wants to be a number on your email marketing list. So even if you have hundreds or thousands of email list contacts, it's important to make everyone feel seen.
Personalization doesn't start and cease with using their name, though.
There are many ways you can lean into personalizing your marketing communication. List segmentation is an excellent way to tailor content to your audience. You can also turn to social proof as a way to showcase existing customers and add heart to your email marketing experience.
8. Scrub your email list
As time goes on you will always have prospects that lose interest and stop reading your communication. This is normal. Sometimes low email marketing engagement has more to do with overall email list maintenance than the content itself.
There are multiple ways to ensure your list is up to date with readers who will value your communication. In addition to a basic scrub campaign, you can also try:
A low email open rate can feel disheartening. But the good news is that there are always ways to improve that number, especially if you remain dedicated to experimenting with your email marketing. Review your current email marketing process and determine what items on this list you haven't tried yet—or haven't tried in a while. Then, set up a plan to implement them one at a time and use metrics for marketing to measure your results.
Don't forget that if you need help building your email list, designing an eye-catching template, or tracking results from an email marketing campaign, Data Axle™ USA can help. We're your trusted marketing partner from start to send. Connect with us today!