It's time to celebrate and honor America's Independence Day. This 4th of July let's be sure to celebrate loud and proud—while remembering our business roots.
That's right!
Amidst the outstanding fireworks, sizzling barbecues, and lively parades, there's a treasure trove of stats and figures. Together, let's unravel some exciting revelations about this beloved holiday—and benefit your business in the process.
Fireworks Frenzy
Hear that boom? It's the sound of Americans celebrating with fireworks. And there are a lot of them. In fact, the American Pyrotechnics Association reports that Americans spent over $1.9 billion on fireworks in 2021. No doubt it was money well spent, bringing communities together to share and enjoy dazzling displays.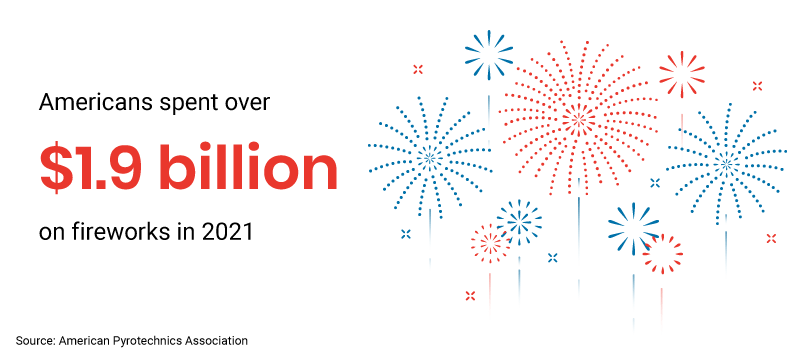 Speaking of fireworks, some cities go above and beyond to create unforgettable shows!
New York City's Macy's Fourth of July Fireworks captures the heart of the city with synchronized fireworks launched from barges along the East River.
Washington D.C.'s fireworks display is a majestic patriotic treat, with the Washington Monument and U.S. Capitol as backdrops.
Boston's annual Boston Pops Fireworks Spectacular, featuring live music performed by the Boston Pops Orchestra, is a cherished event that draws in large crowds.
Patriotic Parades
March along to the beat of the drums and wave the ol' red, white, and blue. Parades are a staple of July 4th celebrations. Around 15,000 Independence Day parades happen across the nation.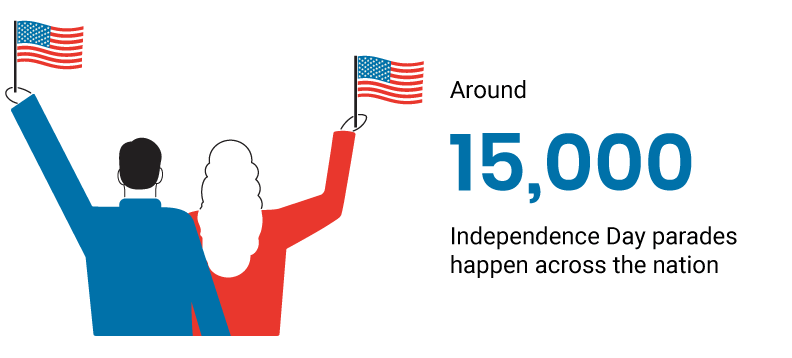 Some of the largest and most famous parades include the National Independence Day Parade in Washington, D.C., the Bristol Fourth of July Parade in Rhode Island, and Gatlinburg's Midnight Independence Day Parade.
Grilling Galore
Summertime is hot, hot, hot and so are the mouth-watering barbecues. The National Hot Dog and Sausage Council estimates that over 150 million hot dogs are eaten on the 4th of July alone.
That's not the only barbeque fact we've cooked up! According to the Hearth, Patio & Barbecue Association, 68% of Americans plan to start up their grills on Independence Day. It's the top grilling day of the year!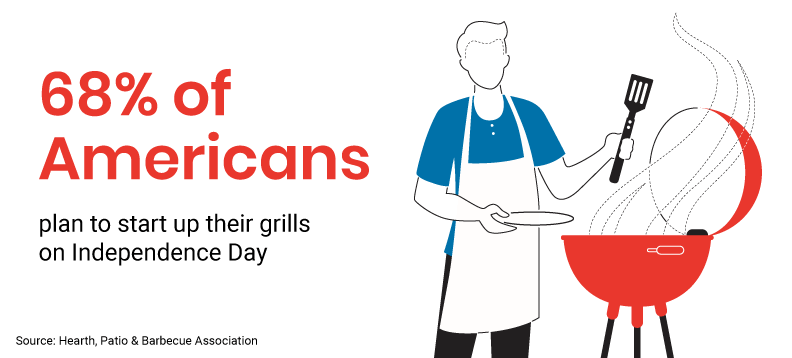 But wait, there's more! According to WalletHub, consumers spent an estimated $6.7 billion on picnic provisions. Furthermore, the Beer Institute estimates that Americans spend around $1 billion on beer for the 4th of July celebrations, making it one of the top beer-drinking holidays in the country.
Cheers!
Flag-waving Facts
Feeling patriotic? You're not alone! The American flag is a symbol of pride, and there are some impressive stats attached to it. Annually, over 150 million American flags are sold and displayed.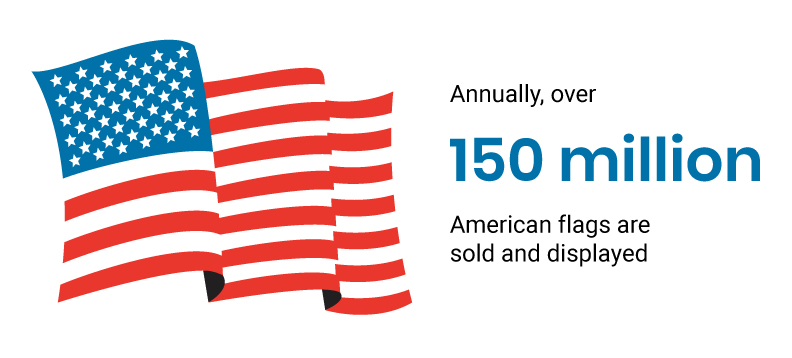 Did you know that there have been 27 versions of the American Flag? It all started with the original 1777 design with 13 stars and 13 stripes for the American colonies, but with the addition of states, we currently stand with 50 stars and 13 stripes.
Also, it's not commonly known that the design was created by a 17-year-old high school student named Robert G. Heft of Lancaster, Ohio, in 1958.
Economic Impact
Not only is the 4th of July a time to celebrate, but it significantly impacts the American economy. From pyrotechnics to retail sales, to travel and tourism, the 4th of July is a significant economic event. American consumers spend billions of dollars each year to celebrate.
To help small businesses make the most of the economic impact, here are three valuable tips to help you leverage the patriotic occasion for increased sales and customer engagement.
Boost Your Sales:

The 4th of July presents a prime opportunity for small businesses to increase sales. Unique products, personalized experiences, or special promotions can attract customers who want a distinctive celebration. Customers love supporting their local businesses during this holiday, and you could be their go-to spot for all their festive needs.

Join the Fun:

This holiday is all about community, so don't be afraid to get involved! Participating in parades and festivals or sponsoring community events is a great way to make connections with your customers and show off your patriotic spirit (while boosting brand awareness and strengthening customer relationships).

Make Bold Moves:

Collaboration is key during the 4th of July season. Think about forming partnerships with other local businesses to offer joint promotions or cross-promote each other's products and services. By working together, you can reach a wider audience and all benefit from the added exposure and sales.
As we prepare to celebrate the 4th of July, we hope these interesting facts and stats provided a glimpse into the various aspects of this beloved holiday.
If nothing else, they undoubtedly showcase the enthusiasm and patriotism that Americans display during this annual event and remind us of the importance of appreciating our nation's history and values.
This Independence Day, as you enjoy the fireworks, parades, and barbecues, take a moment to reflect on the figures behind the festivities.