Despite the fact that digital methods of communication have changed significantly over the past two decades, email is still going strong. In fact, data suggests that 81% of small and medium-sized businesses still rely on email as their primary customer acquisition channel while 80% continue to use email as their primary resource for customer retention. Needless to say, knowing how to create an email campaign is critical to the success of your business.
And because virtually every business has an email address, regardless of their firmographics or demographics, email remains one of the best ways to reach your target audience. This is true whether you are reaching out to new leads, potential prospects, or you're connecting with existing customers.
What is an email campaign?
An email campaign is an effective content marketing strategy that involves sending a series of related emails to leads, prospects, and customers. These emails will provide contacts on your email list information regarding your business and perhaps even your offerings, ultimately encouraging readers to take some form of action.
This action could be something big such as making a purchase; however, it can be (and more often should be) something simple like signing up to receive news and special offers. When an email campaign is effective, it will turn leads into prospects and prospects into lifelong customers.
What is the difference between a lead, a prospect, and a customer?
It's important to know the difference as mixing up these groups in your email campaigns can make your marketing less effective. Consider segmenting your email list by the following groups to see an increase in your open rates.
A lead is a contact that is considered to be an unqualified contact. What this means is a lead is cold. They are at the beginning of the sales funnel and do not have a good awareness of your products and services.
A prospect (aka: a qualified lead) has moved through your sales funnel and has had the chance to get to know your offering. He or she has also determined whether it is right for them.
A customer is a prospect that has decided to purchase.
Why create an email campaign?
The purpose behind creating an email campaign is to reach your target audience in a way that is reliable, sustainable, and effective. Most importantly, it is about developing a relationship with your contacts. Email campaigns have an extensive reach, plus they allow you to:
Promote products and services
Educate
Inspire
Send out industry news
Move contacts through the sales funnel
But in order to create an effective email campaign, you must first have an email list. This list will have targeted contacts on it that are a viable audience for your products and services.
How do you create an email list?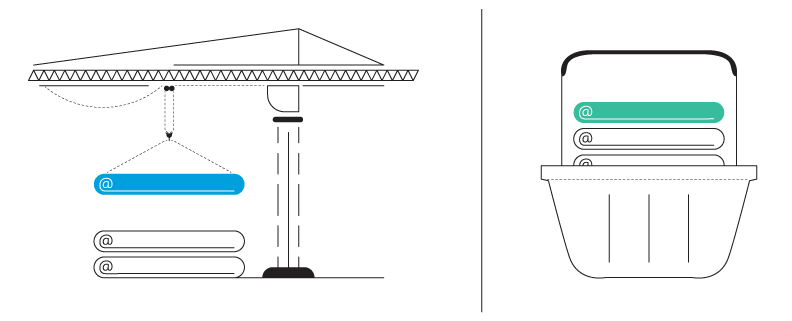 There are two ways to create an email list:
Building a list from scratch by scouring blogs, websites, and social media for contact information can be effective, but they also take a lot of outstanding time and effort to build. Some business owners choose to attract leads through other means like newsletter sign-ups or offering workshops. But for most business owners, the return on investment from such lists is overshadowed by the amount of time spent building it.
Alternatively, businesses can purchase a business email list. This gives businesses hundreds or even thousands of leads ready for a targeted email campaign almost instantly, as opposed to the hours spent curating a list on their own.
Acquiring an email list
You may have heard or read all the reasons why purchasing a list of emails can ultimately harm your business. These fears aren't unfounded, but the "worst" tends to happen more so when you work with companies that sell bad data.
However, when you work with an experienced digital marketing partner who knows how to promptly address and overcome the challenges associated with purchasing email lists, problems like blacklisting don't occur as often.
Partnering with a company that strives to stay on top of the most up-to-the-minute business and consumer information is critical to your email marketing success. And, with a purchased targeted email list, you also get:
Full ownership of the list
Expanded reach
A highly targeted audience
All the information you need to customize your emails
Increased ROI
Better retention rates
Stronger relationships
Easy scalability
Email campaign best practices
Keep in mind that effective email marketing isn't up to how many potential prospects are on your list. Rather, it comes down to how you choose to market to them. When you want to improve readership, clicks, and conversion rates for your email marketing campaigns, there are many ways to go about it, such as:
Creating a targeted message that describes a problem faced by your email audience and how you can solve it.
Creating the perfect schedule for the delivery of each email in your email campaign.
Directing your emails to key decision makers as opposed to team members with limited influence or purchase power.
Keeping your business records up-to-date so you have the most recent business email addresses available to you.
Using multi-channel marketing such as an email campaign combined with direct mail marketing.
Want even more ideas about using email to help with marketing your business and increasing your revenue in today's crowded marketplace?
Choosing an email marketing list provider
Because data changes so quickly, it's important to partner with a company that works hard to stay on top of the most recent business contact information. When you don't, you could find yourself face-to-face with issues, potentially harming both your existing and future email marketing campaigns.
A reputable email marketing list provider, like Data Axle™ USA may also provide data enhancement services that can help keep your existing email lists healthy. This service is perfect for businesses who already have a healthy start on their list of email contacts.
In addition to great, up-to-date data, Data Axle USA gives you:
Dozens of firmographic and demographic selections for refining your perfect list of leads.
The ability to view and analyze your email campaign results online so you can see how effective they were and adjust your next campaign accordingly.
Full and free support from communicative experts who can help you learn how to make the best use of your email list.
Mobile optimization for your emails so they look great whether they are read on a desktop, laptop, tablet or mobile phone.
An email campaign builder that makes it easy to create visually appealing and compliant email campaign templates.
The ability to add missing email addresses to your existing list so you can more easily connect with your target audience.
A full email maintenance service that allows you to send your email list in to be updated so that unusable email addresses are removed, information is corrected and new email addresses are added.
Accuracy for your email campaign
While 100% accuracy is the goal of Data Axle USA, this is virtually impossible to achieve because the business landscape is constantly changing. Businesses open, close, change location, merge, and rebrand. CEOs come and go.
Needless to say, it's totally normal to receive a small amount of outdated information. But what isn't common in our industry is this:
We offer a 100% satisfaction guarantee! You'll receive a full refund for any portion of your list that's undeliverable, out of date, or disconnected. Plus, if the percentage of bad data exceeds 8%, you'll get $0.40 for every bad record beyond that percentage.
It's why so many small and medium sized businesses choose to work with us over any of our competitors. We believe in doing data right—because we don't succeed unless you do.
Grow your email list and grow your business
Contact Data Axle USA and discover how we can help you acquire a targeted email list or develop a winning email campaign that truly sets you apart from your competition.