Email marketing is a powerful digital strategy that businesses use to engage with their customers, build brand awareness, and drive conversions. Through this approach, targeted messages and promotional content are sent via email to subscribers.
It's a permission-based marketing at its finest, promoting personalized communication, nurturing customer loyalty, and even establishing relationships.
In addition to serving as a cost-effective means of communication, email marketing enables precise targeting and segmentation. This allows businesses to tailor their messages to specific groups within their subscriber base. And when content is more relevant and engaging, that increases the chances of creating more meaningful customer interactions.
Don't miss these 33 email marketing statistics for even more reasons why you should use this powerful tool.
General Email Marketing Statistics
The State of Email report from Litmus shares that email is believed to be one of the most effective marketing channels with 79% of marketers placing it in their top three channels.
By 2025, it's thought that the number of emails sent daily will reach over 375B according to Statista.
According to Campaign Monitor, around 64% of small businesses claim to use email marketing as a way to promote themselves.
By 2027, the global market for email marketing software is estimated to reach $17.9 billion according to an article on Medium.
According to Marketing Dive, 55% of consumers claim that email is their preferred digital channel for communication.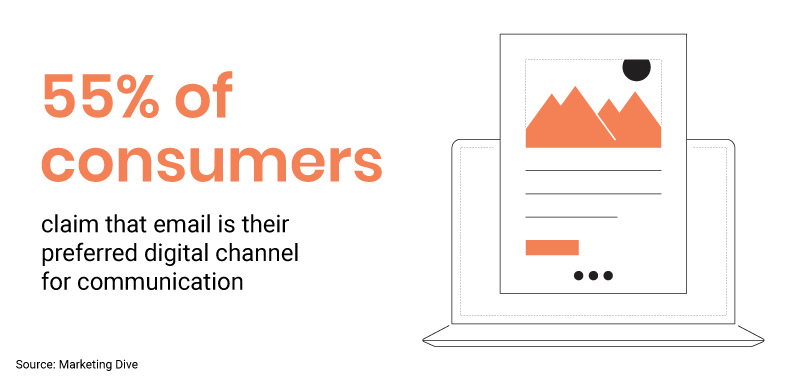 FitSmallBusiness claims that searches for "email marketing" have increased by nearly 50% since 2018.
A study from Statista shares that the number of global e-mail users is set to grow to 4.73 billion users in 2026.
Email Marketing Statistics: Campaigns and Objectives
Newsletters are the most popular form of email marketing with around 88% of professionals sending them according to Statista.
Hubspot shares that 35% of marketers send their customers 3-5 emails each week.
Omnisend shares that a sequence of three abandoned cart emails can result in nearly 70% more orders than only sending a single abandoned cart email.
Wordstream shares that 35% of marketers claim that Tuesdays were the most preferred weekday for sending out e-mail marketing.
Around 64% of marketers say that product awareness and promotions were the key objectives of their email campaigns in 2022 according to Statistia.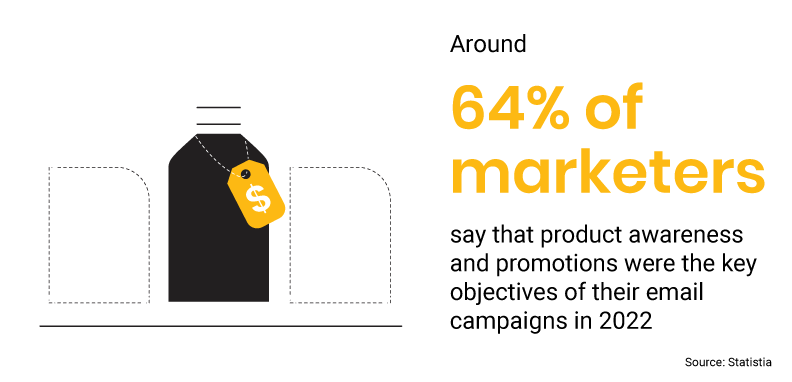 Shopify states that over 80% of small and medium-sized businesses still rely on email as their main channel for acquiring new customers.
According to Oberlo the average email open rates sit just under 20% while the average open rate for welcome emails is nearly 70%!
Retention is the #2 goal of email marketing campaigns according to Statista.
Email Marketing Statistics: Content
Unlayer claims that Including videos in emails can boost a company's click-through rates by 300%.
The ideal subject line is about six to ten words according to Retention Science.
Emails that contain graphics perform nearly 10% better than emails that do not contain graphics.
Over 70% of users will delete messages that don't open within five seconds—this lag is usually due to oversized graphics according to Kinsta.
Email Marketing Statistics: ROI
According to Constant Contact, companies make an average of $36 for every U.S. dollar they spend on their email marketing.
Campaign Monitor shares that professional marketers have found a 760% increase in revenue from building email lists and using email campaigns.
HubSpot found that 64% of B2B marketers confirmed that their email marketing strategy helped them to meet their business goals in 2021.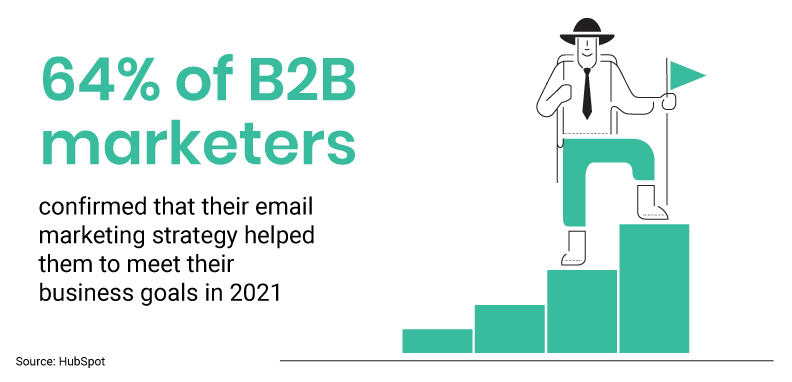 Automated emails drive 320% more revenue compared to non-automated emails according to Campaign Monitor.
Litmus shares that only 30% of brands believe they can adequately measure their email marketing return on investment.
Email Marketing Statistics: Customer-Specific
According to Media Post, about 63% of people say they open email in an effort to find discounts.
According to SwiftREM, sales emails with 200-250 words tend to have the highest response rate of 19%.
Nearly 100% of email users will check their inbox every day with some users checking their inbox up to 20 times a day according to Hubspot.
Just over 90% of women in the United States use email compared to 89% of men according to Statista.
BlueCore shares that over 70% of Baby Boomers feel email is the most personalized channel for receiving communication from brands they follow.
Email Marketing Statistics: Segmenting and Personalization
Using proper email targeting, marketers can drive 3x more revenue per email of broadcast emails according to ClickZ.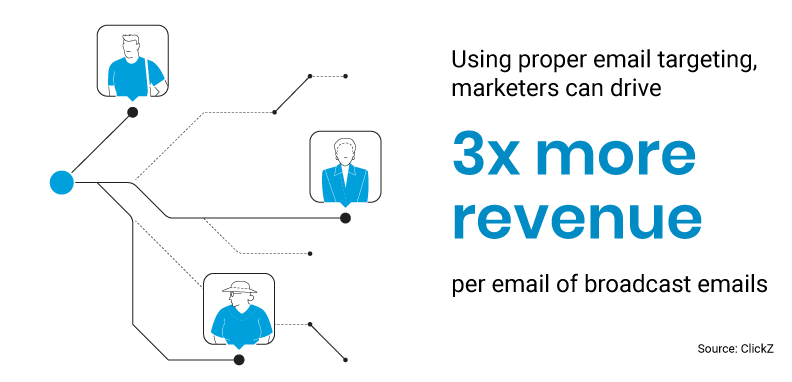 Campaign Monitor shares that emails that use personalized subject lines can increase open rates by over 25%.
A study from Mailchimp found that segmented email campaigns had over 100% clicks compared to non-segmented emails on the global spectrum.
80% of users are more likely to buy from brands that are willing to customize their email experience according to Litmus. 
Final Thoughts
When used correctly, email marketing can provide valuable insights and analytics. Businesses like yours can track open rates, click-through rates, and conversion metrics, which ultimately helps to refine your marketing strategies over time.
Email marketing can help your business stay top-of-mind with customers. By reinforcing brand identity and driving traffic to websites or physical stores, email remains a worthwhile tool for fostering customer relationships, driving sales, and achieving long-term success in your business.