You already know that in business, you sell to a lead also known as a prospect or a prospective customer.
And in digging into this topic a little deeper, you'll learn that there are actually two distinct categories of prospective customers: B2B and B2C.
B2C stands for "Business to Consumer" and refers to businesses that sell to individuals. For example, a bookstore sells books to individuals or a perfume shop may sell oils to individuals.
Then there is B2B which stands for "Business to Business." As you may have already guessed, this refers to selling products or services to other businesses. For instance, a paper supply company that sells reams to an office supply company.
The marketing tactics to sell to these two different types of customers can overlap. That said, B2B marketing tends to be much more simple and straightforward—though this doesn't mean it's easy.
Below, we'll be going more into depth on b2b lead generation and lists, why b2b lead generation is important, how to build a targeted b2b list, as well as several b2b lead generation strategies you can try in the coming weeks and months.
What is a B2B list?
Referring to an index of potential customers, a B2B list is vital for any company looking to sell to other businesses. On it, you'll find organizations that are potentially in need of what you sell. This list may also include a direct contact at the business you're wanting to sell to such as the Chief Financial Officer or an Office Manager.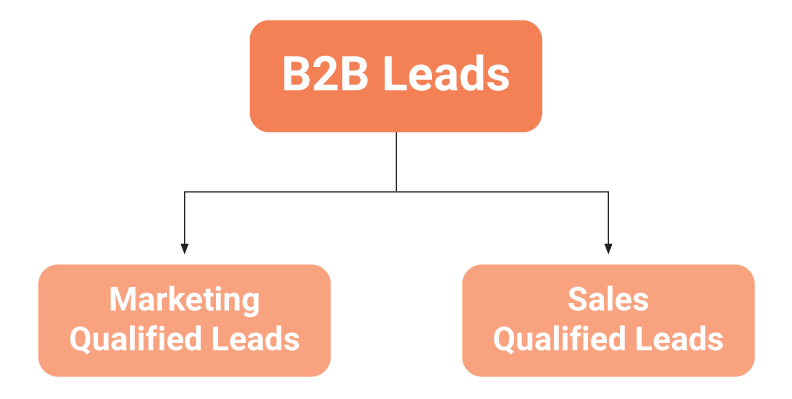 Breaking it down even further there are two different kinds of B2B leads you will find on your B2B list:
Marketing Qualified Leads
These are businesses that could potentially turn into customers. Either they have shown interest in your product by signing up for something like your email list or they're highly targeted leads you receive on a purchased list.
Sales Qualified Leads
These businesses have actually shown interest in purchasing and meet specific criteria you set forth regarding customers such as ability to pay or ability to make purchase decisions.
What is the B2B list building process?
Now you know what a B2B list is, but how do you create one? In general, there are two approaches.
First, you could build the list yourself. On the one hand, you can search business websites for contact information and reach out either by phone, email, or direct mail. On the other hand, you can interact with B2B leads through things like conferences, social media posts, or advertisements and encourage them to come to you through your marketing efforts. Building a b2b list yourself requires you to have a complete "marketing funnel."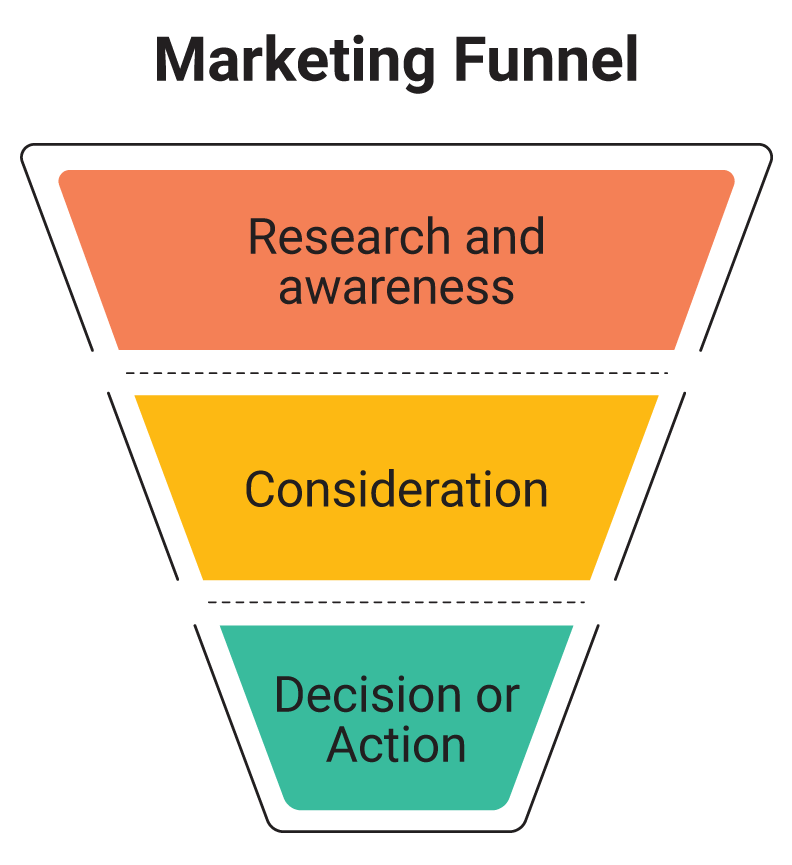 All marketing funnels contain at least three stages:
Research and awareness
This is the "top" of your funnel where you will have a mixture of marketing qualified leads (mql's) and sales qualified leads (sql's) coming to you via your paid or organic marketing efforts. You have not yet determined which of these leads meet the criteria to become a customer and are instead focused on broad education regarding how your product or service solves a specific problem. Blogs and case studies are popular marketing tools used in this phase of the marketing funnel.
Consideration
This is the "middle" of your funnel and while still a combination of marketing qualified leads and sales qualified leads, there are less mql's than in the top of the funnel. Leads here know exactly what their problem is and are fairly educated on the product or service that would provide a solution. In this stage, a lead is evaluating you as well as your competitors, trying to determine the best fit not only in terms of a solution, but also things like price, customer service, and availability.
Decision or Action
This is the bottom of your funnel—the smallest part. Here, only the serious potential purchasers remain. They meet the criteria you've laid out for serious buyers, but the work isn't finished. You may need to have multiple meetings and check-ins with them, continue answering any lingering questions, and generally remain patient.
The second option which is much faster and easier than building a b2b list yourself is purchasing a highly targeted list from a big data company like Data Axle™ USA.
Why is B2B list building important?
The quality of leads found on your b2b list matters. Because without quality b2b leads you are unable to sell your products or services to businesses—or stay in business yourself.
There is some argument over how businesses should build their lists with it being suggested that purchasing a list from a big data company, as opposed to creating it yourself, is wrong. In truth, both approaches can (and maybe even SHOULD) be incorporated into your overall marketing efforts.
The importance of building your own b2b list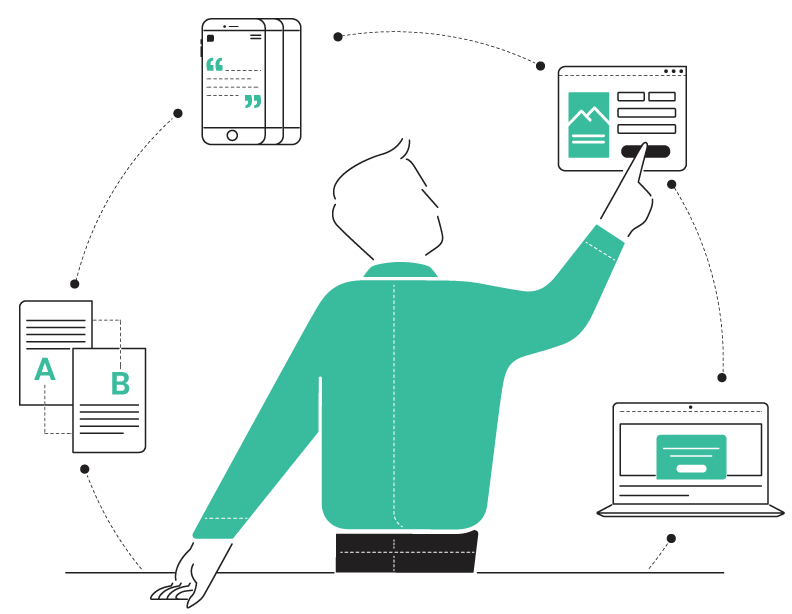 For long-term (but slow building) success, building a marketing funnel is completely necessary. While there are various ways to go about doing so, some of the more popular b2b lead generation strategies that you can implement (some with minimal effort) include:
A/B Testing
This is the act of making a very minor change to something your customers see—like your homepage or an email—and splitting your list between the two, to see which performs better. Consider a/b testing the subject line of your next email. Try sending the exact same email to half your audience with a subject line sans emoji. The other half of your audience gets the email with a subject line that includes an emoji. Which one generates more opens?
Social proof
Leads don't trust you yet—and why should they? Offer case studies or testimonials on your website and on social media channels from an existing b2b customer that has seen success with you. Most customers who have had a positive experience are happy to recount that for you and give you the benefit of drawing in more leads.
Lead magnets
This is free content that offers value to your b2b customer. In exchange, they will often give you their contact information for your b2b list. Don't make the mistake of creating surface-level content your b2b lead can find anywhere. Instead focus on more in-depth b2b content. Trying to sell your software to financial institutions? Consider offering a free demo. Want to sell graphic design services to medical institutions? Offer a free 15-minute landing page review.
Homepage tweaks
Do you offer a way for potential b2b customers to hear from you? If it's buried in the "contact us" tab of your site, you're not doing yourself any favors. Try adding a sign-up modal to your site that pops up when someone visits your page. Use it to encourage potential b2b customers to sign up to learn more about your products or services (or to distribute a lead magnet) and create a list of b2b mql's in the process.
The importance of buying a b2b list
For short-term (and often quicker) sales, purchasing a b2b list has proven successful for thousands of companies. Consider this handful of satisfied customers.
"Our firm has been reselling lists for nearly thirty years, and Data Axle is the ONLY resource we use today. The quality of their data is unmatched and provides us with the utmost confidence that our client's campaigns will be a success. In addition to unparalleled accuracy, they offer a personalized and collaborative approach that I've yet to see from another data company. So, do yourself (and especially your clients) a favor and use Data Axle for your next project. You'll wonder how you ever managed without them."
– csssteve, ResellerRatings
"We have worked with this company once before and have never been disappointed. As part of our post-Covid rebound, we felt it appropriate to update our database and get new mailing and email lists that were accurate. It's incredible, the data files and permission-based information (important to us) they are able to provide! Thank you!"
– bobbaker56562, ResellerRatings
"Working with Data Axle was an amazing experience. They were willing to listen to my accommodations and were quick to respond to any questions. This was a simple process from beginning to end. Can't wait to work with Data Axle again!"
– christoperanderson-15634, ResellerRatings
"I spent a bit of time looking for the right vendor for my company's needs and I'm so glad I found DataAxle USA. The data is rich and will really help us in our prospecting but over and above the product, the support was stellar. I'll most certainly be keeping DataAxle USA at the top of my list for when we need any further data in the future."
– ryanbrown-9532, ResellerRatings
Get the most out of your b2b list
No matter what type of b2b list you have, you can only get the most out of it when you use it regularly and keep it updated through practices like scrubbing and segmenting.
Above all, you can get the most out of your b2b list when you remember that you are connecting with people rather than the business itself!
Earning sales will rely on building relationships with the contacts on your B2B list. With this in mind, a few tips:
Keep your contact with your leads as conversational
Always think about each contact as an account that has already given you money—treat them accordingly
Don't be afraid to use available technology to move leads and prospects through the sales funnel
Whether you want help building the perfect list of b2b leads or you want to be better about staying in touch with your b2b list via direct mail, online advertising, or even email campaigns, Data Axle USA can help. Get started today.