You already know that marketing is key to growing your business.
And if you've been reading this blog regularly, you're aware that we teach businesses to use multiple marketing channels to spread their message.
If you're newer to marketing, you might have even heard terms like "multi-channel marketing" or "omni-channel marketing" to describe this practice.
Sometimes interchangeably!
Yet, they're different.
So, to ensure you're going into the next quarter confident about how to make your marketing work for you, we're going to use this space to discuss multi-channel marketing, omni-channel marketing, and how they're different.
Then, we're going to share 7 fun winter marketing campaign ideas that you can utilize to grow your business.
Don't miss these 7 fall marketing campaign ideas!
What is a marketing channel?
Before we get into the difference between channels, you might be wondering…what IS a channel?
In marketing a "channel" is a medium that your business can use to increase brand awareness or promote your product or service.
Your website might be a channel.
The sticker you include in the product package you send a new customer is a channel.
Even a brick-and-mortar store is a channel.
There are also contact channels. Email, online advertising, and even phone calls are "contact channels" to communicate with and connect with your customer.
What is multi-channel marketing?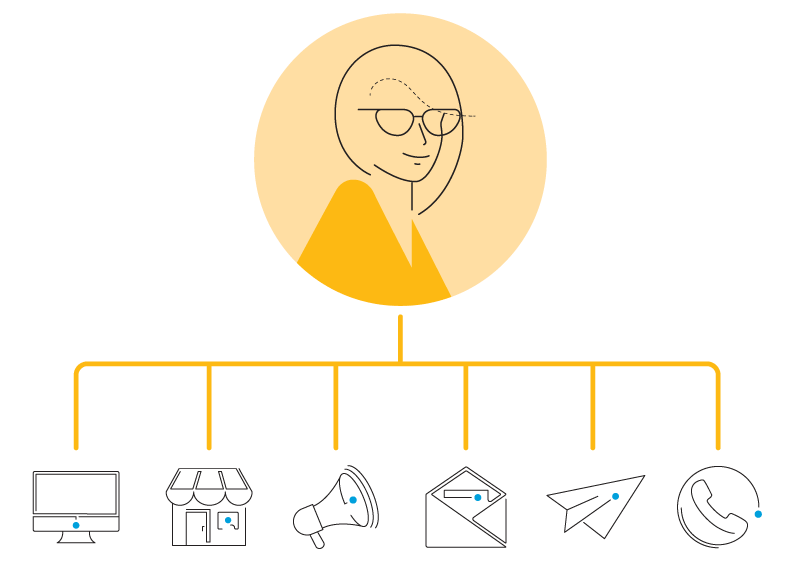 With multi-channel marketing, you're essentially using multi (or multiple) channels to market and communicate with your prospects or existing customers. Your goal is to take your customers from Point A to Point B.
These channels don't need to be coordinated, but there is still likely to be a strategy involved in your messaging.
For instance, you have an upcoming winter sale happening. You send out an email, a direct mail piece, and use online display advertising to share a promo code for your winter sale.
Your message may differ slightly, though it all makes clear you're having a winter sale and that there is a promo code to use when shopping.
Your customer then has the choice of how they want to enter communication with you: Call the number on your direct mail piece, click the link in your email to start shopping, or click the ad to start shopping with the promo code.
What is omni-channel marketing?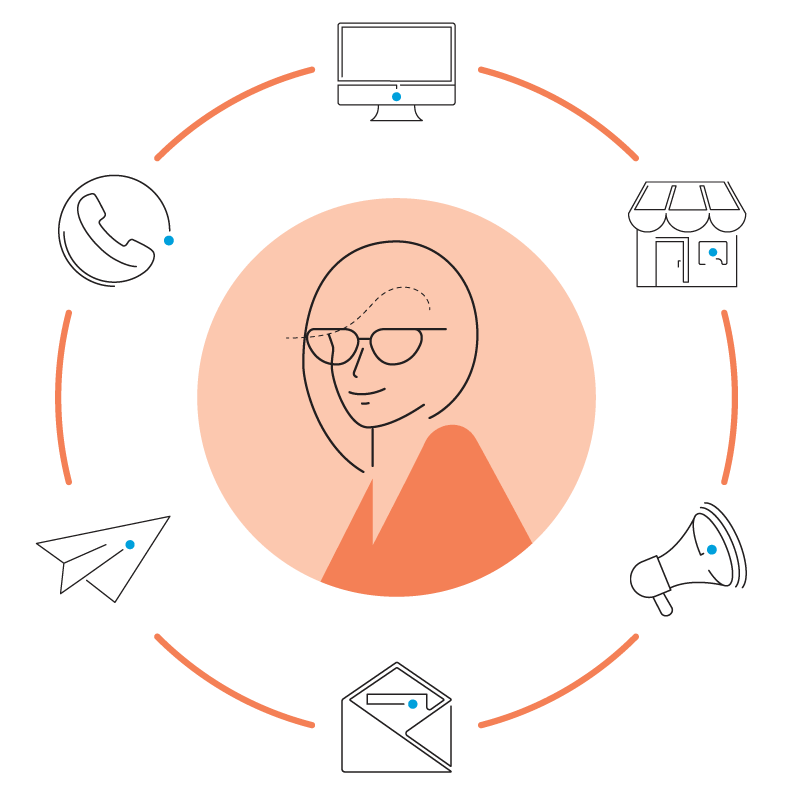 With omni-channel marketing, you're also using multiple channels to market and communicate with your prospects or existing customers.
But these channels are integrated, making it easy for your customer to pick up right where they left off. The intent here is more about getting your prospect to engage with your marketing or content, seamlessly connecting them from one channel to the next.
With this type of marketing, your business might send an email announcing an all-new service offering. A prospect who received that email may see a discount code for this service on their Facebook feed or view a customer testimonial on TikTok.
Is multi-channel marketing or omni-channel marketing better for your business?
When sending campaigns, businesses tend to gravitate toward multi-channel marketing. These campaigns take less planning and less marketing dollars—which companies see as a win/win.
Meanwhile, omni-channel marketing takes more thought and care. It has to take into consideration the journey of your customer as well as all the different ways you might be able to communicate with them. Not to mention what type of communication will work best, where!
So, on the surface multi-channel marketing is the way to go. Especially, if you are newer to marketing or even newer to marketing on multiple channels at once. The truth is, your audience may not want or even require an immersive marketing experience in order to see the value in your product or service. Instead, seeing your brand on their Facebook feed and then seeing an online display ad as they shop online could be all they need to become curious and make a purchase.
Multi-channel marketing also gives you an opportunity to observe how traffic performs regarding the same message on different channels. And this can lead to valuable insights about how your audience prefers to connect with your brand, paving the way to more successful marketing.
But don't discount omni-channel marketing yet! Unlike multi-channel marketing, omni-channel marketing has the power to create a much more personalized user experience. And according to Slideshare, companies that provide a tailored experience have customers that are about 80% more likely to buy from them.
Omni-channel will require you to put forth a lot of effort and be much more creative and thoughtful with your message and how it's positioned across multiple assets. However, when done well, it can do wonders on your chances of sales success!
7 Winter Marketing Campaign Ideas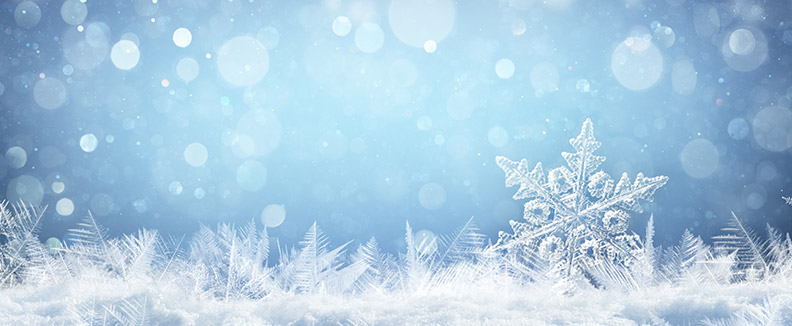 Whether you go forward with a multi-channel marketing campaign or an omni-channel campaign, Data Axle USA wants you to be successful. We're especially fond of finding marketing success by way of seasonally appropriate marketing campaigns.
With any marketing campaign, you'll want your CTA to encourage a lead to take a next step. Maybe it's visiting your website or calling your sales team or even replying directly to an email.
With that in mind, here are seven fun winter marketing campaign ideas that your business can utilize in Q4 or Q1!
1. X Shopping Days: Your customers likely have a love/hate relationship with being reminded about how many days they have left to shop this holiday season. Still, using a countdown can promote urgency, something every business trying to sell things will benefit from.
2. Holiday Magic: No matter what holiday(s) your client-base celebrates, leaning into those meaningful traditions with your marketing is a great way to stir up some good will!
3. Staycation: Whether your customers are cooped up at home due to snow and school breaks they or prefer to not pay hiked holiday travel prices, reminding them of all the fun things they can do from the comfort of their home with your product or service (ie: learn to cook, create something new) is a great way to inspire curiosity with your next campaign.
4. Let It Snow: Not all of your customers may get snow—but chances are they know what it is. And more than that, snow in the winter is nostalgic. It's also a great focus for your upcoming winter marketing campaign.
5. Looking Ahead: Whether you're sending a campaign around the New Year or you're getting customers excited about everything that awaits them in the spring, looking ahead offers a feeling of excitement to your customer list.
6. Resolution Reminder: Only 46% of people are successful with staying true to their New Year resolutions six months in. So using your marketing to tie your product or service back to a resolution your ideal customer may have had the perfect way to market yourself and encourage sales.
7. Cold Slump: Winter weather isn't always a favorite—is your product or service a remedy? Tap into ways your product or service can help bring someone out of their cold slump using your marketing.
No matter which one of these winter marketing campaign ideas you choose to implement in Q4/Q1, you're sure to impress your list of prospects.