Marketing automation is becoming increasingly important for businesses that want to grow. This is because it enables organizations to streamline their marketing processes and reach their target audience more effectively.
When you automate repetitive tasks and increase their efficiency, your marketing team can focus on higher-level strategy and creative work that can drive growth.
One of the key benefits of marketing automation is the ability to personalize communications with customers and prospects. This allows businesses to create tailored campaigns and messaging that resonate with their target audience, which can lead to increased engagement and conversions.
Additionally, marketing automation helps businesses scale their marketing efforts.
How?
As a business grows, it can be difficult to maintain the same level of individualized attention to each customer. But with marketing automation, businesses can automate much of their outreach, freeing up time and resources to focus on other areas of the business.
This can help businesses to continue to reach and engage with their target audience even as they grow, which is crucial for long-term success and growth.
Learn more about the importance of marketing automation by reading these interesting statistics.
20 Interesting marketing automation statistics
Marketing Automation Overview
According to Hubspot, about 72% of the most successful companies utilize marketing automation.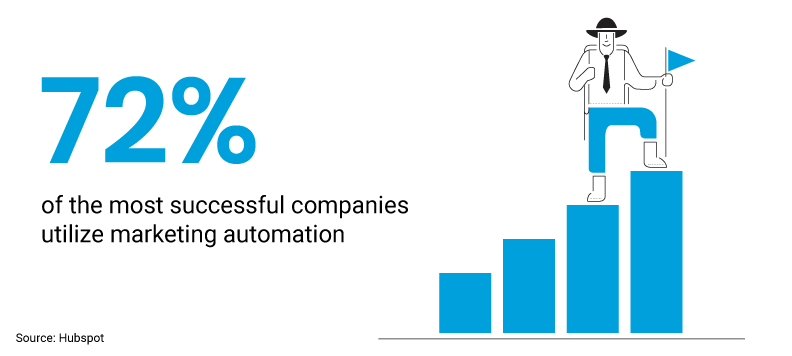 On a similar note, Startup Bonsai shares that only 18% of unsuccessful use marketing automation.
Around 35% of businesses decide to use automation to streamline their marketing and sales services according to Oracle.
Statista states that marketing automation is the number one most effective digital marketing technique, beating out content marketing per global marketing professionals.
About half of organizations currently using automation only started using a marketing automation platform for the first time within the last four years according to NapoleonCat.
Invespcro states that 80% of marketing automation users see improved lead generation while about 77% see increased conversions.
Marketing Automation Channels
Email is the most frequently automated marketing channel. 65% of marketers leverage email automation according to Ascend2.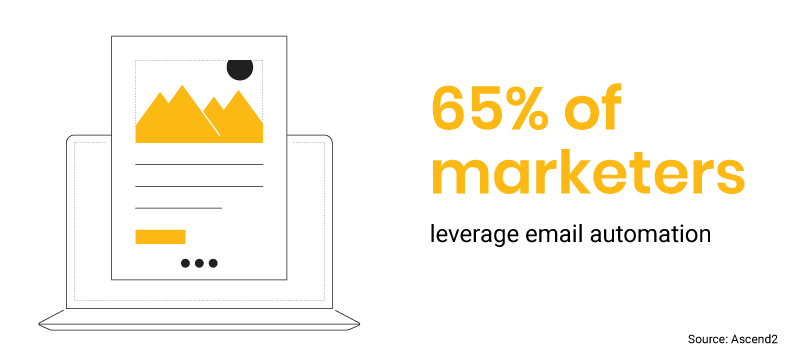 Around 47% of SMBs use marketing automation software to manage their social media channels.
Review 42 shares that it's estimated that about 80% of all advertising will be automated by the end of 2023.
Chatbots Life shares that the use of chatbots has been shown to help save up to 30% of customer support costs.
48% of marketers automate content according to Hubspot.
The DMA reports that 75% of email revenue is generated from triggered personalized campaigns, rather than one-size-fits-all campaigns.
Marketing Automation Benefit
Pedalix shares that 49% of companies said the main advantage of marketing automation is that it saves time on repetitive tasks and enables personalized marketing communications.
58% of marketers use marketing automation for upselling according to Moosend.
43% of marketers say the biggest benefit of marketing automation is improving the customer experience according to Startup Bonsai.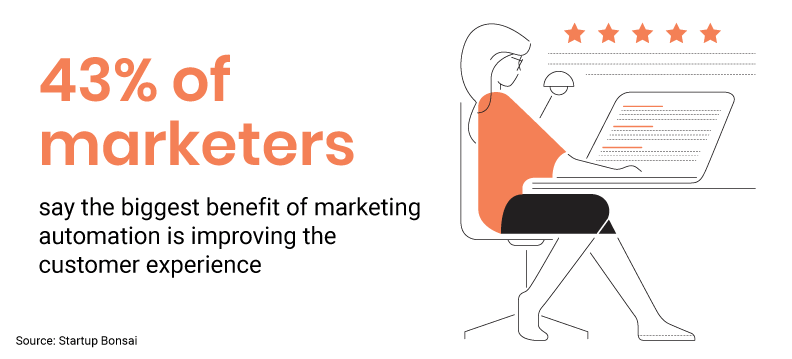 According to Oracle, 8 in 10 marketing automation users see an increase in the number of leads.
Marketing Automation Challenges
The number one challenge in choosing between different marketing automation vendors, according to VentureBeat, is finding the differences in functionality.
Another top challenge to creating quality automation, according to MarTechChallenge, is building quality automation (16%).
Automizy shares additional challenges marketers face when using marketing automation: creating integrations (14%) and content creation (10%).
SpotlerUK shares that for 67% of businesses, the main challenge to adopting marketing automation is integrating data from different sources and systems.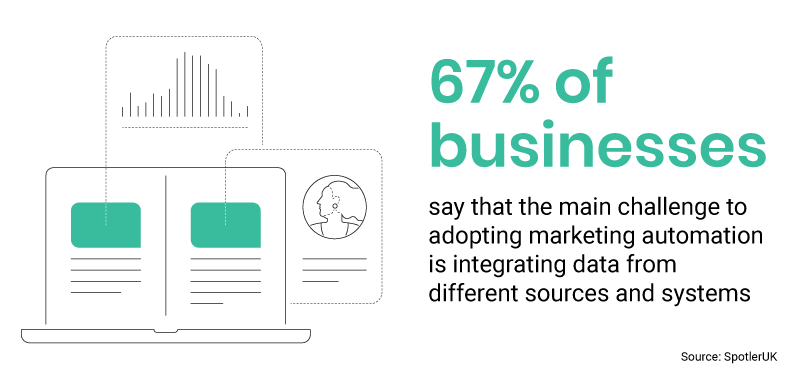 Final Thoughts
The importance of marketing automation to any business's success can't be overlooked. It should be made a priority for organizations that are looking to scale without sacrificing customer service in today's competitive marketplace. Investing in marketing automation software will pay off in the long run and will lead to a sustainable business growth.