When you want to grow your business, you often imagine an increased revenue stream.
One way to get there is by increasing your prices.
Another way is to encourage more items purchased per sale. For instance, a retailer may teach its sales representatives to sell entire outfits including accessories rather than a single blouse or one pair of pants.
And a third way is to increase your number of customers.
Lead generation is important for every business, no matter its size. Below is a guide that will walk you through lead generation more thoroughly, including:
What does lead generation mean?
What is lead generation marketing?
How you can generate leads for your business
So, what does lead generation mean?
A lead is an individual that may be interested in the products or services your business sells. And to generate leads, means to get more leads for your business or to increase the number of leads in your pipeline.
In doing so, you give yourself a greater chance of finding prospects who will be interested in what you offer.
The three types of leads a business may work with include: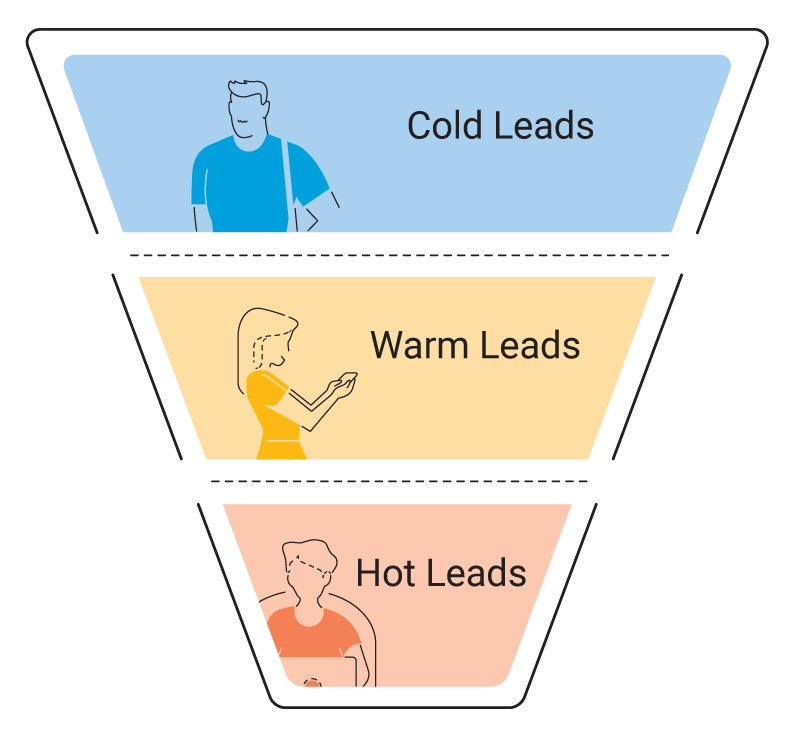 Cold leads: This is the type of lead you work with when you purchase a mailing list for marketing purposes. They have likely never heard of you, nor did they request more information from you regarding your products and services.
Warm leads: When someone signs up to hear from you or gives you their contact information in exchange for a freebie (such as your newsletter) that is a warm lead. They may not be the right fit for what you sell, but in continuing to market to them their interest (or lack of) will make itself clear.
Hot leads: Also called BoFu (bottom of funnel) leads, these are people who are qualified to buy from you, have the resources to do so, and have demonstrated an interest in moving forward with the purchase process.
Okay, and what is lead generation marketing?
Simply put, lead generation marketing is a program you implement to increase the number of leads your business generates.
That said, it has been established that 68% of businesses have not properly identified their sales funnel. In other words, they are not clear on the journey their customers take prior to purchasing their product or service. Which, as you can imagine, makes it nearly impossible to create a good marketing program!
What to do?
Establishing a sales funnel will help you better understand how you can nurture leads, saving you time and money while building up your pipeline of qualified leads in the process.
While coming up with your sales funnel and marketing program undoubtedly take time and effort, keep in mind is that a good lead generation marketing program acts like an additional sales person. This enables your real sales team to focus more on selling than on prospecting as a good program can take care of a lot of prospecting needs!
How to generate leads for your business
There are multiple valuable lead generation techniques that your company can rely on to capture new interest for your business—and they live online.
Blogs, social media posts, online advertising or advertising with social media are all great examples of content marketing that you can use to generate leads for your business online.
Content marketing, if you need a refresher, is a way to give your potential customers valuable information in a consumable form such as written, images, or video.
Consider that content marketing generates 3x more leads than traditional marketing and costs 62% less.
Some forms of content you can use to increase lead generation for your business include:

Your website
You may not realize it, but your website is the most simplified form of content marketing that exists for your business. Not only that, but it acts at the perfect platform for capturing new leads. Use a lead magnet such as a newsletter sign up or a free download to collect lead information and grow your list.

Online advertising
Easily create pitches around your product or service and put them in front of a targeted list of potential customers. Online display ads ultimately generate new leads for your business quickly and with limited effort.

Blogging
These are most often written as a form of education for your audience. Varying from a few hundred up to a few thousand words, blogs are a single scrollable page that individuals can read all at once without having to click or navigate to a different space. Be sure to give leads a way to make themselves known to you if they like your blog. A sign-up that offers your newest blog sent straight to their inbox each week is a great example.

Email marketing
Quickly and inexpensively connect with potential customers through professional-looking, effective campaigns. Connect with a list of email leads with a special offer, promote and upcoming sale, or send a nourish campaign to tell your list you care.

Social media ads
This is one of today's fastest forms of communication, boasting billions of users every single day. Easily connect with your potential customers or share big news about your company all while promoting your upcoming event with social media ads.
How to improve your content marketing
Now that you know some digital content-based channels you can use to generate new leads for your business, it's time to go a bit more in-depth regarding the use of those channels.
That's because the key to generating leads for your business via a marketing program necessitates a thoughtful approach, including marketing with:
1. Consistency
Content marketing can help you connect with your audience, answer their questions, build trust, establish long-term relationships, improve your conversion rates, and (the whole point of this blog!) generate leads.
But that's not all. Today's leads want high-quality, highly-consistent content from the brands they follow. And, in fact, the consistency of your brand message is proven to increase your revenue by as much as 23%.
Think of your favorite big brands: Coca-Cola, Amazon, Apple, Disney, and Nike are all examples. You'll notice that in every marketing effort they utilize, consistency is so well established that their brand name needn't be visible for a lead to recognize who they are. From their voice to their style to their color palate, big brands maintain consistency throughout every single touchpoint along their customer's journey.
In doing so, they automatically build trust and credibility, all while strengthening their reputation as industry leaders.
2. Personalization
It was discovered that 90% of consumers within the U.S. like the idea of personalized content. There are a few ways to personalize things like email marketing and direct mail marketing (even when contacting a cold list!) such as adding the recipient's name to the subject line or greeting.
However, personalization doesn't start and stop with someone's name. You can also personalize content by segmenting your audience. By segmenting your customers, you organize your audience into categories so that you can more easily target their unique traits, needs, and even pain points.
3. Value
Ever felt pushed to make a purchase? If you weren't ready, it likely gave you negative feelings toward the salesperson, or worse, the brand!
Content gives you an opportunity to build trust and relationships with your leads without making them feel pushed to purchase. There are so many ways to establish value through your content. From a video tutorial to case studies, from infographics to online workshops to podcasts, and even your website and social media channels, you can create content that your leads may value.
And when leads like what they see, hear, or read without feeling pressured to buy, it can inspire additional actions like an actual purchase.
Whether you started reading this blog wondering what does lead generation mean? Or even what is lead generation marketing? We hope you've found the answers you were looking for and are prepared to begin generating leads for your business on your own.
If you need a quality list of leads to get you started, be sure to contact the trusted partners at Data Axle™ USA. We realize that accurate, quality information is a key component of your business's growth. So, we invest millions every year and dedicate over 300 full-time researchers to ensure our business and consumer records are kept up to date. In other words, when you purchase our mailing and email lists, you can expect to get the highest data quality for your sales, marketing, research, and reference needs.