Direct mail marketing can be an incredibly effective strategy for businesses of all sizes. While digital marketing has become increasingly popular in recent years, traditional services including direct mail remains formidable.
Consider that similar to email marketing, direct mail marketing allows you to target your message to a specific audience. By carefully selecting the recipients of your mailings, you can ensure that your message reaches people who are most likely to be interested in what you have to offer. This can be particularly useful if you have a niche business or if you want to reach a specific geographic area.
Direct mail marketing can be highly personalized. When you include the recipient's name and other relevant details, you can make your message feel more personal and relevant which can help to build trust and credibility with your target audience.
This medium can also be more memorable than digital marketing. While email and social media ads can be easily ignored or deleted, a physical piece of mail can be held and examined, which can help to create a lasting impression. This is especially true if you use high-quality paper, unique designs, or other creative touches in your mailings.
But that's not all. Don't miss these 20 direct mail statistics for even more reasons why you should give this medium a try.
Direct Mail Statistics: The Benefits
A study by the U.S.P.S. found that direct mail makes an impact with 75% of people saying they remember receiving a direct mail piece.
A 2021 study by the Direct Marketing Association states that 73% of consumers say they prefer direct mail for brand communication because it's more tangible than digital ads.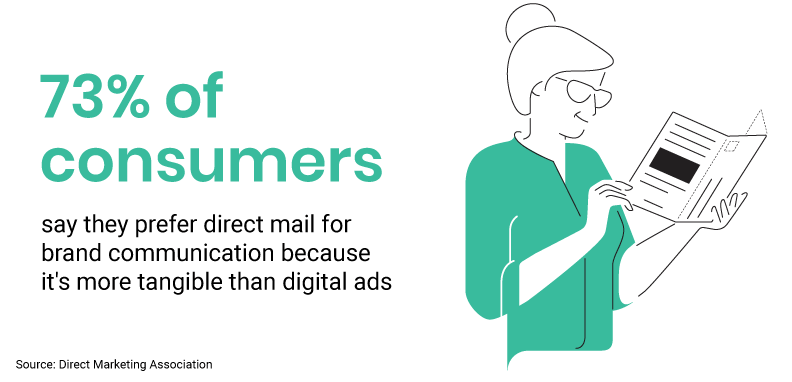 The average American family receives about 454 pieces of marketing correspondence over the course of a year according to the U.S.P.S.
Direct Mail Statistics: Personalization and Response Rates
According to a 2021 study by the DMA the response rate for direct mail was 5.3% for prospect lists, one of the highest response rates across all marketing mediums.
Direct mail has an impressive open rate of 42.2% according to the Print & Mail Communications Association.
About 60% of direct mail recipients saying that the mail they receive is "usually interesting" according to a study by U.S.P.S.
The DMA shares that direct mail is responsible for getting 39% of customers to try a brand for the first time.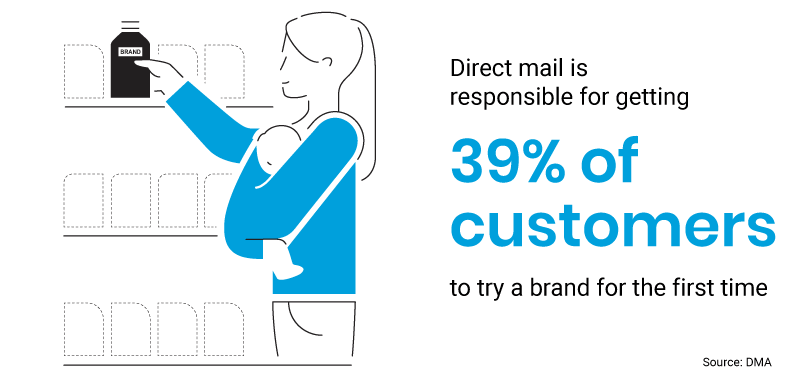 A survey found that 65% of Gen Y and 57% of Gen Z respondents were excited to receive direct mail according to Statista.
Around 70% of consumers

say that direct mail is more personal than online interactions according to a report by Small Business Trends.

Nerd Wallet shares that adding a name to your direct mail can increase your response rates by 135%

.
Direct Mail Statistics: Your Return on Investment
Direct mail can have a high return on investment (ROI), with an average ROI of $42 for every $1 spent on direct mail campaigns according to the Direct Mail Association.
Small Business Trends discovered that 62% of people who responded to direct mail also made a purchase.
According to the DMA, oversized envelopes receive the highest response rate in mailing campaigns.
Advertisers spend around $167 per person on direct mail which data revealed an average return on investment to be $2,095 worth of goods sold according to Nerd Wallet.
A survey from Marketing Charts found that 59% of marketers reported good or very good ROI from direct mail marketing campaigns.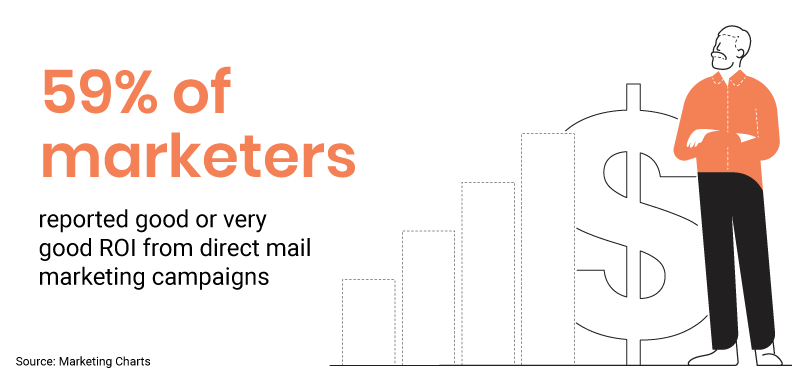 Direct Mail Statistics: Multi-Channel Marketing
A 49% increase in sales and a 125% in inquiries has happened for businesses whose customers get both an email and a catalog according to HBR.
Direct mail helped improve the lift of online campaigns by 62% according to Royal Mail Group.
Around 60% of catalog recipients will visit the website of the company that sent them the catalog according to the U.S.P.S.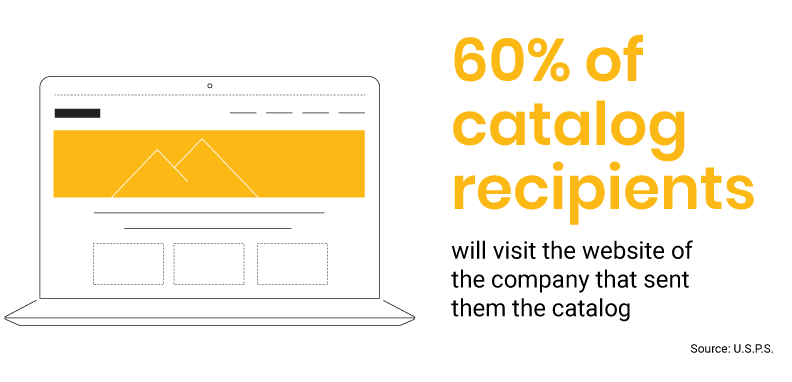 Only about 11% of marketers utilize one medium at a time according to the DMA.
If mail is included in a multi-channel marketing campaign, it has a 12% higher ROI than those that did not include mail according to Royal Mail Brand Science.
Final Thoughts
The importance of direct mail within any business's marketing campaigns can't be overlooked. The next time you plan out a marketing campaign, be sure that a postcard, letter, or brochure is included in the mix and see what kind of response it generates.