Raise your hand if you enjoy finding the unexpected in your mailbox—at home OR at work.
While email marketing is a fast, easy, and inexpensive way to keep in touch with your leads, direct mail still holds key place in today's market.
That's because no matter where your b2b prospects work from—an office, a classroom, a laboratory, or a big box store—a direct mail piece done well is hard to ignore.
Campaigns including direct mail are 27% more likely to deliver top-ranking sales performance, and 40% more likely to deliver top-ranking acquisition levels, versus campaigns without mail.
But in order to make direct mail work for your business, you first need to understand these 9 direct mail best practices for B2B.
1. Send to the right direct mail prospects
When businesses prepare a direct mail piece, their intention is usually to send it out to their entire mailing list. But this can be expensive—and it usually results in a poor return on investment (ROI). Instead of throwing your net wide, ensure you're communicating with exactly the right prospects. How? Try segmenting your direct mail list.
For instance, say you're a medical supply company looking to sell new surgical equipment. You likely have businesses on your list that don't perform surgery such as small clinics. They should not be included in your direct mail piece.
You also have leads on your list that may not be decision makers. Ensure your b2b direct mail piece is being sent to someone like the Chief Medical Officer, the Chief Clinical Officer, or another department head to ensure your message falls into the hands of a decision-maker.
2. Use copy that inspires action
A good design is critical to making your direct mail prospects take notice of your piece. But good copy is a critical component as well.
Avoid passive verbs including was, were, has been, and can be. They weaken your message.
Instead, consider using words that will inspire action among your leads. Some great examples include learn, discover, explore, and attract.
3. Create a clear CTA
What do you want your recipient to do? When it comes to direct mail, you want to make it clear to your recipient how to take action. And you want that action to take minimal effort.
Include a phone number to call in large, bold, colorful type. Need them to visit a website? Keep the URL short and sweet.
4. Use Emotional Drivers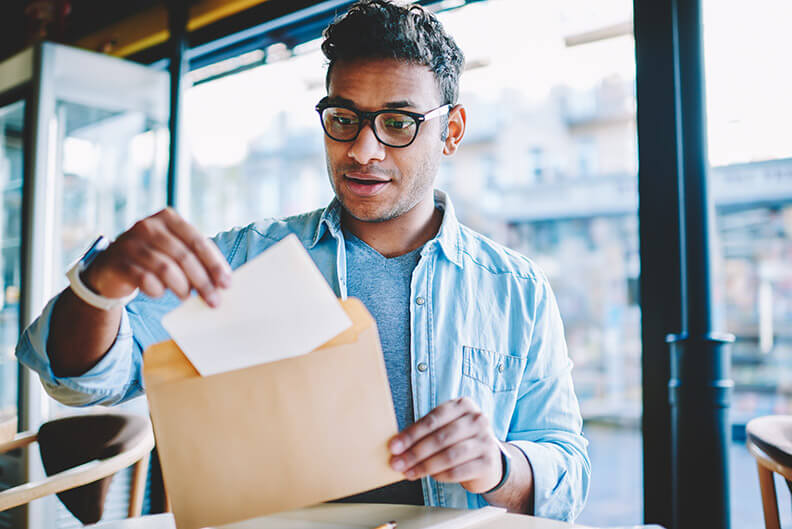 With that in mind, think of the last ad that drew an emotional reaction from you. Did it take long to call to mind?
Whereas when we ask you to think of the last ad you saw in general—you may have trouble recalling what it was.
Emotion is a powerful marketing tool when used effectively. And understanding the emotion you want leads to feel upon reading your b2b direct mail piece is at the crux of sending an effective campaign.
5. Share Social Proof
Why should your direct mail prospects trust you?
Because you say so?
Studies show that 92% of B2B buyers are more likely to purchase after reading a trusted review. And reviews can also increase b2b conversion rates by 270%.
Remember that although we're humans, we still carry a pack mentality. This keeps us interested in and easily influenced by the things those around us think, feel, and speak.
When it comes to direct mail, it's likely only one person within a company is receiving it. So, the easiest way to influence that "pack mentality" mindset in your b2b direct mail piece is through social proof. Include a testimonial near your call to action or add the logos of popular businesses that have worked with you to the bottom of your mailer.
6. Talk Benefits Over Features
Direct mail gives you limited space to get your point across. So, don't rely on sharing the benefits of your product. This forces your b2b leads to take an extra step and determine the benefits of your product for themselves.
Instead, lead with the benefits. Successful direct mail pieces make it immediately clear how the business will benefit.
7. Add Digital Elements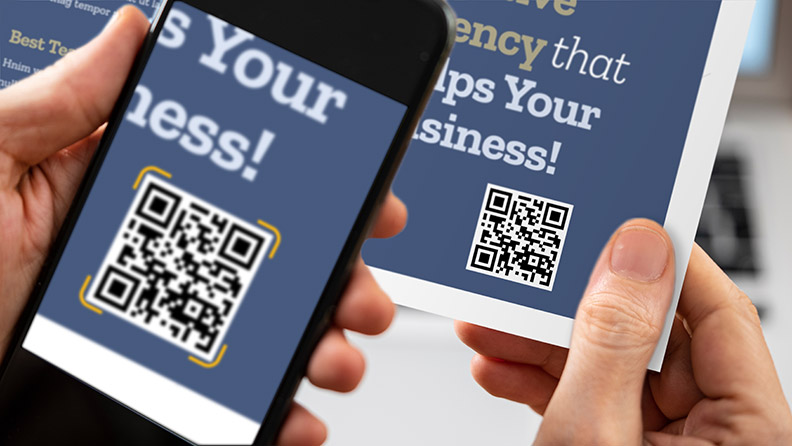 It's true that today's world has gone digital. And while direct mail is undoubtedly a marketing superstar in its own right, combining it with a digital element can increase your response rate by 63%.
From a unique QR code to a chip that can be inserted into someone's smartphone to a website URL, combining direct mail with a digital asset is a unique way to capture attention among your b2b prospects.
8. Try personalizing your direct mail piece
What's in a name?
A lot, it turns out.
Personalization is an under-utilized but still very important tactic in today's ad world. People want to feel like more than a sale—and ultimately b2b selling does come down to connecting with a person, not a company.
Keeping this in mind as you design your b2b direct mail piece can make all the difference in your ROI.
9. Use Unique Creative
Boring or ill-thought-out direct mail pieces will always fall flat. And why shouldn't they? Today's technology allows for the creation of fun, unique pieces that stand out from the melee.
While these pieces may cost a bit more to create, they can also increase your ROI. So, don't be afraid to talk to your creative department about adding texture, using special folds, or trying out a bold new image or illustration.
Direct mail campaigns can serve a lot of purposes. That's why, in addition to the 9 b2b direct mail practices listed above, it's important for you to know what you want to accomplish before you get started.
Whether you're a new business looking to expand brand awareness or you're an established organization hoping to find new b2b prospects, a direct mail campaign is designed to connect you to your audience and help you earn more revenue.
Today's direct mail can come in a variety of shapes and sizes, too. Use quality products like postcards, brochures, flyers, or even a letter. And don't forget about the importance of sustainability. Recycled paper, chemical-free paper and even tree-free paper are more environmentally friendly ways to share your message via direct mail this year.
Not already using direct mail as part of your marketing efforts? In addition to attracting new leads, direct mail can help your brand build awareness and improve communication by reinforcing messages you may have shared digitally through email, social media, or advertising.
At Data Axle™ USA we're here to help you with all of your direct mail needs. From building your own b2b mailing list from our U.S. Business database to creating unique marketing campaigns, to deploying them and tracking their success, a helpful marketing partner is ready to assist you.