"Marketing" is one of those buzzwords that gets thrown around a lot—especially when it comes to finding customers or growing a business. But what is marketing in business, really?
What does it actually mean?
Why should you care?
According to the dictionary, marketing is "the action or business of promoting and selling products or services, including market research and advertising."
To break it down further, marketing is a way to let the world know who you are and what you offer.
Using marketing, you attract an audience which you hope will turn into loyal customers and ultimately sales.
So, whether you're looking into performing marketing for small businesses or for large businesses, the outcome should be the same: informing people about your product or service and encouraging business or consumer prospects to buy from you as opposed to your competitors.
>> Don't already have prospects? You can buy a targeted mailing list of business or consumer prospects.
Marketing: a short history
Marketing in business as we understand it today got its start in the 1960's. Popular cable shows like Mad Men reflect the world of marketing and advertising in its infancy. As the world became oversaturated with specific products and services, companies began dedicating entire departments to wooing audiences into purchasing their product or service over a competitor.
A new marketing and advertising trend began in the 90s with the introduction of branding and brand awareness. At this time, companies began to recognize the power of a singular, well-made product versus multiple average products.
It was in the late 90s and early 2000s that internet marketing first began to appear. And that has, of course, morphed into many of the marketing and advertising options available when you want to perform marketing for a small business today.
Understanding the 4 ps of marketing
Despite how far marketing for business has come in the last sixty years, the 4 ps of marketing remain a staple in today's world. So, if you want to truly understand the heart of marketing, you need to first memorize the 4 ps of marketing.
Neil Borden popularized the the 4 ps of marketing beginning with an article he published in 1964 called, "The Concept of the Marketing Mix." Big businesses quickly took note of Borden's tactics but whether you're marketing for a small business or a large one, the 4 ps of marketing are a great place to begin your marketing and advertising journey.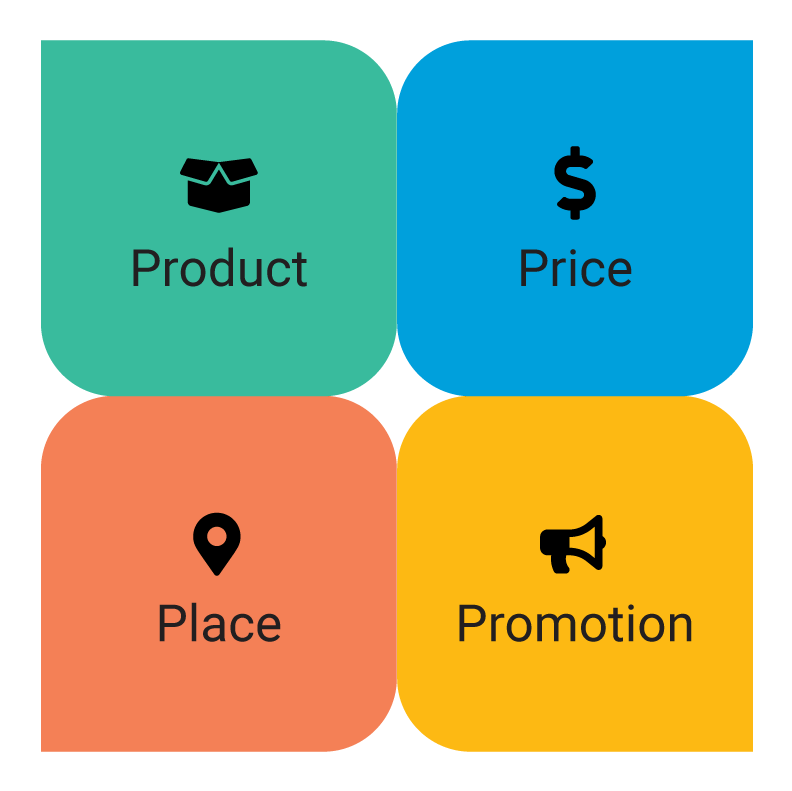 Product: What is your company selling? From art supplies to winter coats to chewing gum to dental services to a music lesson, the product can be described as what a business makes available to the consumer. Your marketing should serve to help make your product stand out.
Price: What do you charge for your product or service? This is a difficult concept for a lot of companies when it comes to what they sell. How do they demonstrate the quality of something while still ensuring it is affordable by your target audience and therefore will generate sales for your business? Nonetheless, settling on the right price is important to your marketing efforts.
Place: Where are you located? This doesn't only apply to brick-and-mortar stores. It also applies to the internet. If your business is performing its marketing or advertising on sites where your customer base isn't—you are doing your company a disservice. Consider social media platform audiences. The people you can reach on LinkedIn are very different than the people you can reach on Instagram.
Promotion: Very simply, this one comes down to the ways in which you plan to reach your target audience. Not only must this be done in the right way, but timing is also critical to your success. Thankfully, there are a lot of tools today to help make this one easy. As a marketer, it's your job to understand which tool is most likely to provide results that will resonate with your audience.
Opportunities to market your business
Now that you understand the 4 ps of marketing, it's time to further answer the question: what is marketing in business? To do this, you need to first know about the various types of marketing that exist in today's world.

Internet marketing: The idea here is simple—the business you are marketing must have an online presence. Often in the form of a website, ensuring your marketing for small business efforts include some kind of online home where customers can find you is necessary in today's world.

Email campaigns: There are millions of email users. An inexpensive way to market your products and services to them is by using a visually appealing email message or email campaign to capture their attention.

Social media marketing: With the explosion of platforms like Facebook, Instagram, and Twitter has come the capability of using social media platforms to capture the interest of your audience over time.

Search engine marketing: Different from SEO (though sometimes used interchangeably—don't make this mistake!) search engine marketing or SEM entails a budget. Through paying a search engine like Google, you can potentially allow for customers to see your online advertisement on the first page of search results or even just before they see a competitor's ad for the same product or service.

Print marketing: Mentioned earlier, print is still a fantastic opportunity to reach your potential audience. Print marketing can mean sending a direct mail piece like a postcard or flyer to someone's mailbox or advertising your product or service in a newspaper or magazine.

Video marketing: Originally commercials like those seen in the 90s, video marketing has gone beyond a hard sale into the territory of entertainment and even the education of its audience. It is often used to invoke emotions quickly and inspire fast purchase action such as the SPCA commercial.
To perform marketing for small businesses well, it's important to stay on top of the latest trends and research available for your industry. By doing so, you can begin to understand information critical to growing your business and meeting your goals.
Feeling overwhelmed? At Data™ USA we make marketing for your business simple with our professional marketing solutions. Whether you need a business list or a consumer list to get you started or you need help with copy, graphic design, or online advertising solutions, we're a one-stop shop for all your marketing needs.