You want customers and potential customers to have you top of mind when they're in need of what you sell. And to achieve this through your marketing strategy, you need brand awareness.
So, what's that?
Brand awareness is the difference between reaching for a Band-aid versus an adhesive bandage. Or a Coca Cola versus a soda. But it's deeper than simple recognition. Awareness is rooted in a specific feeling you have for something, eliciting a specific set of emotions.
The most direct way to build awareness is to ensure you stand apart from your competition.
Benefits of brand awareness
Today customers have the power to purchase a similar product from a variety of companies. So, it's important to set yourself apart in a crowded market through marketing strategies, ensuring your brand is thought of first when it comes time to buy. But there are several more benefits of brand awareness that go beyond a sale.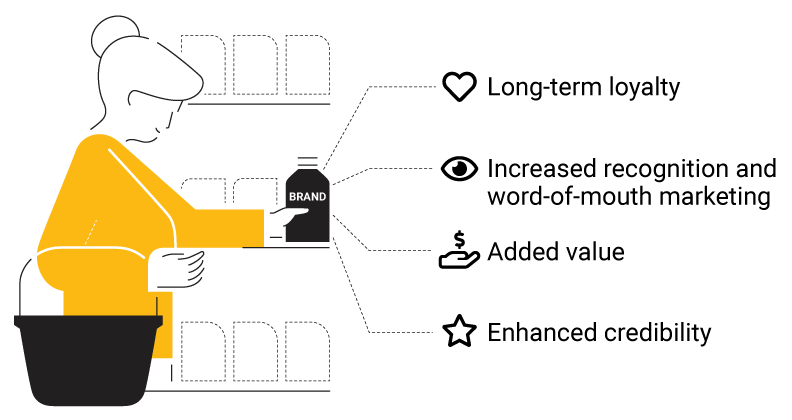 Long-term loyalty: Many products and services are purchased more than once. If they're made or done well, a customer will seek to purchase from the same brand again. Ensuring that your brand is easy to name and find, increases the likelihood that past customers will return to you.
Increased recognition and word-of-mouth marketing: When you are easily recognized by your target audience for being a brand that aligns with their needs, they'll choose you. And they'll tell everyone they know about you, too. Familiarity is paramount when it comes to making purchases, especially when audiences are faced with multiple choices. Clearly defining your brand to your audience is the perfect way to increase your visibility.
Added value: Tapping into the emotions of your prospects and customers is key to selling today. One way to do this is by recognizing the need today's audience has for clean, ethical products and services that also give back. Associate your brand with a firm set of beliefs and values and you'll never have to wonder whether or not your ideal customer can find you.
Enhanced credibility: With more and more businesses opening their doors every day, it's difficult for customers to know who to trust. However, when you have a well-established brand it's easier for newcomers to put their confidence in you.
Increase brand awareness with marketing strategies
It's one thing to talk about what branding can do for your business. It's another to implement marketing strategies that will make an impact. While it will take time to build awareness around your brand, you can implement the below ideas immediately to give yourself a competitive edge.

Segment your lists
No matter how much your audience loves you, no one wants to receive every message you send. While some customers are interested in an upcoming sale, others are more excited about new products or services. Use your email analytics to study your audience's behavior and determine segments based on that behavior. Then you can begin sending more targeted messages to list segments that are not only relevant for each audience, but also help build your relationship and ultimately may increase your earning potential.

Enhance customer care
When you're looking to build loyalty and stay top of mind for your customers, it's important to deliver an outstanding experience for them each and every time they shop with you. And there are multiple ways to do so. Everything from personalized touches to timely responses for their questions to seamless checkouts to consistent products can contribute to a great experience, positively shaping their perception of your overall brand.

Use consistent marketing
Use consistent branding in both your messaging and design when making connections with existing and potential customers. From your brand's voice to its tone to its color palette, it should be obvious even without your company's name on the email campaign or direct mail campaign that it's coming from you. Consistent marketing will help you repel the wrong customers—so you're doing business with all the right ones.

Create a compelling loyalty program
Nearly everyone loves to be rewarded. One easy way some customers look to earn rewards is by continuously purchasing products from their favorite brand. From airlines to hotels to bath and body products to grocery stores, thousands of businesses offer reward payouts to incentivize customers. Not only does doing so help increase the brand awareness, it also compels customers to shop with you again and again, increasing your long-term revenue.

Punch up your personality
Think of two or three of your favorite brands. Chances are, they each have qualities that you like. A unique brand identity will go far in helping you build your brand and stand out from other similar companies. Consider the unique identifiers of your company's values or beliefs. For instance, if you consider your brand to be "fun" then increase the amount of humor you use in brand awareness. Or if you consider yourself "unique" don't be afraid to use language or design that goes against the grain for your industry.
There are many avenues to raising brand awareness with your target audience through marketing strategy. And these examples are bound to give you a competitive edge.