Starting your own business can feel overwhelming. Luckily, plenty of entrepreneurs have done exactly that—and you can learn from their paths how to start a business of your own.
In fact, you may already have an idea that you want to pursue. And after you complete the basic blueprint of starting a business:
Market research
Deciding on a name
Creating a plan
Getting finances organized
Development
Obtaining licenses
It's time to market and advertise yourself.
Doing so is critical to keeping your business afloat. In fact, while many new business owners consider the route to starting a new business, they fail to consider a marketing strategy for that new business.
So, if you have the checklist above marked complete, your question shifts from how to start a business—to how to market the business you've started.
For some new business owners, that is actually the question they've wondered all along. They've already started the business—nothing is happening.
So now what?!
If this sounds like you, keep reading!
Marketing in business
They key of how to start a business from a marketing standpoint is to first understand all the ways in which you can market or advertise in the online and offline spaces.
In other words, what opportunities exist for you to connect with your audience—and keep connecting, so you remain top of mind when they need you?
In today's world, there are multiple ways to form these connections.
Online marketing tools
The internet can connect people from across the street or around the world. So, it's important to use the tools at your disposal online to market—even if it's a means to find local customers.
Here are a few ways marketing in business may be successful online.

Website
The online space's version of a business card, a website tells potential customers all about you and your business. From how you got started to what you sell to your pricing and customer feedback, a website is an excellent marketing tool every business should create as it gives your target audience peace of mind. A website can also grow with your business and this flexibility will help you continue to grow and thrive in your market.


Blogs
This written form of content marketing also referred to as articles can be long or short. They're a great way to share your knowledge about topics that relate to your products or services. Chances are that you'll be surprised at what your audience doesn't already know. While you may consider your hard-earned wisdom as common knowledge, don't dismiss it. Instead, write it down and post it for customers and potential customers to read.

Social media
Everywhere you turn, someone is building their business using social media marketing. You can benefit from these free marketing platforms too, no matter what your creative gifts are—writing, recording videos, or even taking photos. Every business should look into having a social media channel, but you don't need to be everywhere. The trick is to pick one or two platforms you like or know you will commit to regularly, then build a cadence that works for you.

Online advertising
You might not know this but your behavior online—from sites you visit to ads you click—is a driving force behind what pops up for you in online searches or even as you browse the internet. Using online advertising you can put your own products and services in front of potential customers who may already be searching for them.
Offline marketing tools
In today's tech-heavy world, many businesses neglect more traditional forms of marketing in business. Whether they fear these marketing types are outdated or they simply don't consider them, no business should be quick to dismiss the following marketing and advertising solutions.

Direct mail
As more businesses lean into robust email marketing strategies, it's the perfect time to reach your audience in an unconventional way. Exceptional postcards and well-designed envelopes containing beautiful brochures or flyers or letters still gain attention and interest from potential customers. And because it has been around so long, it's possible to use direct mail services for graphic design, messaging, and even deployment.

Lists
Every new business owner wants to know: where do I find customers, fast? While the above marketing and advertising solutions can help you obtain potential prospects over time, you may want something with more oomph. That's where a mailing list, telemarketing list, or an email list which has been responsibly sourced comes into play. Create one based on characteristics your ideal customer might have. Households with children, hobbies, or businesses within a certain ZIP Code are all perfect examples of how you might discover new leads.
Creating the perfect marketing strategy
By combining a variety of online and offline marketing and advertising efforts, you are formulating a marketing strategy. In addition to supporting the overall goals of your business, a marketing strategy should also lean into what makes sense.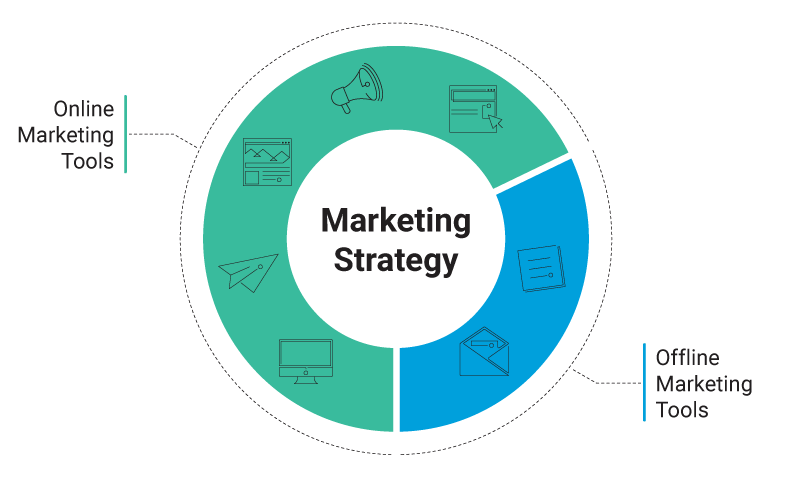 Often new businesses become overwhelmed with marketing and advertising their business because they feel it all needs to be done. In reality, new businesses have lean staff and even leaner resources. Doing it all at once simply isn't possible.
Perform research to see what types of marketing your competition is using. Here are some ideas:
Sign up for their email list so you can gain ideas for content.
Follow their social media channels and study what content they post most excites their followers.
Comb their website—how is it set up?
Do they have a blog? If so, is it active?
What search terms in Google bring up their online advertisements?
Decide on a reasonable order of adding things to your plate. Oftentimes, creating a website or an online presence is the most important piece of the puzzle.
This is usually followed by the creation of an email list as well as social media channels.
From there, a blog or some other form of regular, ongoing and fresh content is important to show customers your business remains active.
Once you have these foundational marketing parts in place and operating smoothly, look into additional forms of how to start a business with your marketing. Online advertising is often considered at this stage as there are so many ways to reach customers with it including social media and search engines.
Every year, Data Axle™ USA assists thousands of businesses deploy about 25 billion emails. Spending millions annually to collect and verify data, we ensure the information you're purchasing is up-to-date.