If you're like most businesses, you've continued to evolve through both booming economies and more difficult times. The truth is that no matter how prepared you are, you can't predict the obstacles your business will face—or how your company will need to respond to them.
Still, it's never too early to think about what could be coming over the next several months. Will the challenges and difficulties your business is facing now continue to prove difficult? Or will a new year bring new work and business obstacles and trends?
Between a sluggish economy, increased inflation, and the potential for another recession looming in 2023, it's natural for business owners to wonder, "How can we grow?"
But keep in mind that trouble on the horizon doesn't automatically mean difficulties for your business. Rather, the businesses that continue to grow and thrive despite troubled times do so because they put effort into the right improvements. And while there are dozens of business growth ideas that can help you despite a difficult economy, the following 5 tools to grow your business are some of the easiest to implement.
Amplify Your Brand with Social Media
For millions of people, time spent on social media is part of their daily lives.
According to Statista, the average amount of time people spend on social media per day is about 2.5 hours. Whether because it's free to use, it's a way to battle boredom, or something else, social media is here to stay.
And that's reason enough to use it as one of our 5 tools to grow your business.
Social media marketing is less than twenty years old, but it's an outstanding way to build your brand presence. Using organic or paid methods, your business can use social media to maintain connections with your audience, spread the word you exist, and potentially increase your sales.
Here are some popular social media channels you can use to grow your business: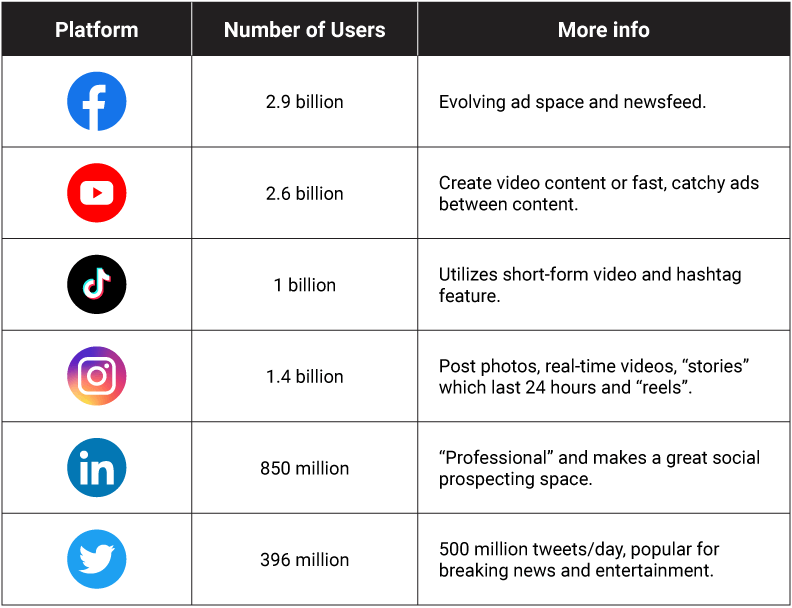 Facebook: Released in 2004, this platform boasts 2.9 billion users and continuously evolve their ad space and newsfeed to be more appealing.
YouTube: With 2.6 billion users, it's estimated that people watch roughly 1 billion hours of video per DAY through this platform. Consider creating video content or fast, catchy ads that get shown between content.
TikTok: Offering 1 billion users, this platform utilizes short-form video and a search by hashtag feature.
Instagram: Home to 1.4 billion monthly active users, use this social media platform to post photos, real-time videos, "stories" which last 24 hours before disappearing from your feed, and "reels" which are videos you can save to your profile.
LinkedIn: With around 850 million users, this social media platform has a reputation for being "professional" and makes a great social prospecting space.
Twitter: Offering 396 million global users, this platform hosts up to 500 million tweets every single day and it leaned into heavily by its users for breaking news and entertainment.
Integrate CRM Software
In order to grow your business, you not only need customers—you need the right tools to keep those customers organized. That is where CRM software comes into play.
CRM or Customer Relationship Management software will help you remember how each of your customers is unique.
Using a CRM, you keep all data related to each individual customer or prospects in a single space or profile. Track how often a customer makes a purchase or how much they spend. Write down their birthday or their anniversary or even the name of their pet in your CRM.
How does this help you grow your business?
It allows you to treat your customers like individuals rather than a sale or a number. That's because anyone in your company with access to the CRM can continue to build the relationship between your business and your customer.
Consider too that a CRM can help you track your marketing efforts, increase productivity, and ultimately grow your bottom line.
How?
Using a CRM you can keep track of who you contacted, how, and when, in addition to what purchases have been made (and when). In studying this data, you may discover new insights about your customers, further develop your products or services, and grow your business.
Focus on Customer Retention
When you are making efforts to grow your business, you may be focused on finding new customers. But did you know that statistics show by retaining customers you already have, you can actually increase your profits?
Customer retention measures customer loyalty, refers to how long a business maintains is customer base over time.  When your business boasts high customer retention it's likely that the majority of your customers are satisfied by the relationship they have with your company. From the value of your product or service to customer service, there are a variety of avenues you should utilize to retain current customers.
And if that isn't enough to convince you, then consider that it could be costing your business as much as five times more to acquire customers than it does to simply retain them.
Increase Your Digital Marketing Efforts
The world of digital marketing doesn't begin and end with social media—though these platforms certainly play a role. To grow your business, you should utilize the whole of digital media that your business has at its fingertips in order to better understand your customers, increase trust between yourself and your prospects, and even increase overall brand awareness.
There are some key categories you can utilize when it comes to digital marketing including:
One of the best things about digital marketing is that it is often low to no cost—so no matter how large or small your budget is in the coming months, you can make it work for you on a local, national, or even global scale.
Use Predictive Analytics and Automation
Whether your business is large or small, one of the best ways to maintain a competitive edge in challenging economies is through Predictive Analytics.
Automation software allows you to prepare and distribution digital marketing campaigns that are responsive and customized based on individual user behavior. This means that through advanced analytical techniques such as data modeling and machine learning, you can actually predict the future needs of your customers as well as their behaviors, ultimately leading to improved marketing outcomes for your business.
Does this sound too good to be true?
A report from the Predictive Intelligence Benchmark discovered that there was an increase in conversion rates for sessions influenced by predictive intelligence by as much as 22.66%.
For a great example of Predictive Analytics in action, look no further than the homepage of your Amazon Prime account. Based on data regarding the previous purchases a Prime user has made, such as a cleaning product, Amazon is able to personalize additional cleaning product recommendations, potentially increasing their revenue in the process.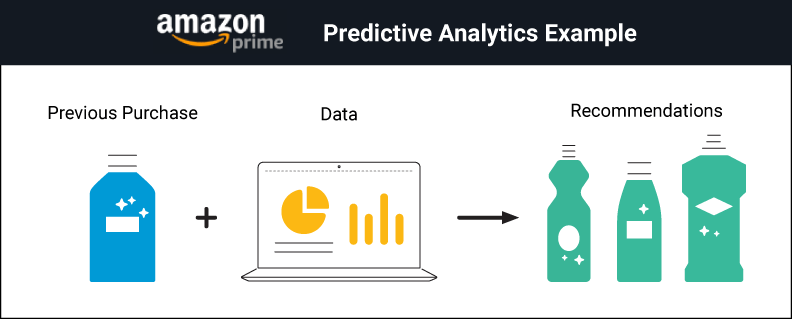 You want to continue to grow your business, even in tough economic times. Though 2023 appears to have challenges on the horizon, we have no doubt that the above five tools to grow your business will prove useful in the coming weeks and months.