When today's businesses think of marketing, their minds usually go to digital assets like email and online advertising. However, there is a lesser used (but no less effective) type of marketing many businesses have forgotten about.
Direct mail marketing.
Direct mail is your message physically delivered to someone's mailbox using the United States Postal Service or some other delivery service. You send direct mail in hopes of earning more revenue either due to people visiting your store online or stopping through your brick-and-mortar location.
From postcards to letters to catalogs and brochures, you have plenty of options when it comes to creating an effective piece of direct mail.
Before you think this form of marketing is too outdated, consider that 73% of American consumers say that they prefer being contacted via direct mail because they can read it whenever they want.
Why is direct mail marketing still effective?
Admittedly, there are things to love about online marketing. It can be fast as well as inexpensive, perfect for squeezing every last dollar out of your marketing budget. So, it might surprise you to learn that direct mail's response rate is nearly 5% higher than the response rate for email!
Additionally, direct mail has a better median ROI than either paid search or online advertising.
With a median ROI of 29%, direct mail falls only behind email marketing and social media marketing, the latter of which's ROI is 30%—only 1% higher than direct mail.
Why such great numbers on such a seemingly "old-fashioned" route of communication? Direct mail is:
1. Underused
The average person receives around 605 e-mails per week—but only around 17 pieces of direct mail per week. With less competition in mailboxes than in inboxes, direct mail marketing is perfect for gaining attention.
2. Interactive
Most people will at least skim through direct mail prior to tossing it into the trash. Given that this medium has less competition than its digital equivalent, it's more likely your message will be seen.
Today's direct mail pieces can also include interactive elements like a QR code. Or you can place a coupon code that needs to be scanned in-store, encouraging people to hold on to your piece. They'll place it on the fridge or a board, reminding them you're there when they're ready to buy what you offer.
3. Impactful
For many people, going online is a daily ritual. But around 7% of Americans don't use the internet, making this a mostly untapped demographic. Direct mail can reach anyone with a mailing address, giving it a powerful edge.
Not only that, but research shows that combining your digital and direct mail efforts can lead to 40% conversion rates. Meanwhile, about 68% of marketers have said that combining digital with direct mail has increased the number of website visits.
4. Creative
In addition to unique design elements like graphics and color palettes, there are many creative elements that today's direct mail pieces can include. And using such elements can create a delightful user experience.
Talk to your creative team about incorporating texture, cut-outs, unusual sizing or folds, or even something interactive.
Ensure Direct Mail Works for Your Business
Despite these glowing reviews for direct mail, your business can't send a direct mail piece and just expect that it will garner incredible results. In order to make direct mail work for your business, you need to follow some best practices.
1. Keep Your Direct Mail List Clean
When it comes to maintaining a direct mail list, the quality and accuracy of your list is key.
Data enhancement will ensure that your direct mail campaign reaches its intended audience. Don't make the mistake of thinking your direct mail list is immune to bad data. People move, change their name, update their contact preferences and so much more. Regularly utilizing enhancement ensures that your file doesn't contain unwanted data and it can also help you avoid duplication.
2. Determine The Right Direct Mail Piece to Send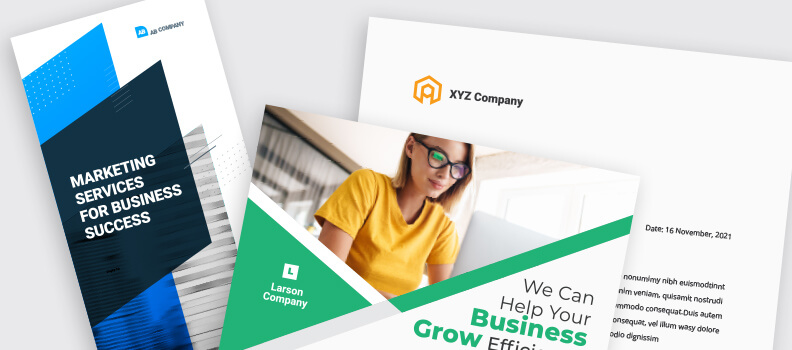 There are several different kinds of direct mail marketing you can send to customers. What will be the most effective? It really comes down to your target customer, but from letters to postcards to brochures to catalogs, you have a lot of options.
Before you choose, don't miss these statistics:
Postcard
A clean, 2-sided direct mail piece can be as large or small as you want it to be in order to get your point across. It's also good to know that 50.9% of recipients say they find postcards useful.
Catalogs
A beautiful, glossy catalog is the perfect way to showcase your most popular products and recipients love them, too! In fact, about 84% of catalog recipients report that it's easier to shop online when they have a catalog in hand.
Combine a catalog with an email for an amazing ROI. One study shows that there was a 125% increase in inquiries from customers who received both a catalog and an email.
Brochures
When a catalog is too large but a postcard simply isn't enough, a brochure could be the perfect direct mail marketing solution. And with average response rates hovering around 3.9%, brochures continue to give businesses the ROI they desire.
Envelope and Letter
When you want to get personal with your target audience, this combo is the way to go. And your customers will love it. On average, businesses that use this type of direct mail marketing see a 4.3% response rate to the envelope and letter combination, giving it one of the highest ROIs.
Catalog or Brochure
Glossy catalogs and brochures are the perfect way to share in-depth details about your products or services in addition to any upcoming savings. And with a 3.9% average response rate, they continue to be a popular choice among various retailers.
In addition to shapes and sizes, don't forget about how you prepare your direct mail piece. Recycled paper, chemical-free paper and even tree-free paper are more environmentally friendly ways to share your message via direct mail.
3. Create Memorable Copy
Direct mail marketing doesn't always give you a lot of room to get your point across. Even when you do have a lot of space, attention spans are limited. So how do you ensure yours is the piece that stands out in someone's mail pile?
Use the following copy components to express your point.
Headline
A short phrase that encourages your direct mail prospects to keep reading. Boring headlines don't attract notice—and you'll end up in the trash can. Your headline doesn't necessarily need to be witty or super creative—it just needs to be thoughtful toward your audience. Keep headlines to six words or less.
Subhead
These go directly under your headline and are meant to give more context to your reader. Try to keep this message to eight words or less.
Body
This is the meat of your direct mail piece—but it shouldn't feel long or tedious to read. Break up body copy as much as possible, use bullets if you can, and try to avoid bulk paragraphs. These are difficult to read, so most people don't!
CTA
What do you want your direct mail lead to do? Most direct mail marketing pieces include a phone number to call, a URL to visit, or both.
4. Partner with a Leader in Direct Mail AND Data
It's true that there are dozens, even hundreds, of companies that can provide you with direct mail. But given the importance of good data to your direct mail marketing efforts, teaming up with a company like Data Axle™ USA gives you a big advantage.
At Data Axle™ USA we're here to help you with all of your direct mail marketing campaign needs. From building a mailing list of Business or Consumer prospects to postcards, brochures, catalogs, and letters, to deploying campaigns, a helpful marketing partner is ready to assist you.