Are you ready to make a big splash this Small Business Saturday?
With the holiday season just around the corner, it's time to start increasing the amount of marketing you do. This will help your business get a head start and shine brightly among your competitors.
Below, we dive into the history of Small Business Saturday (happening Saturday, November 25, 2023) as well as some creative ideas to help set you apart in your industry, boost your exposure, and maximize your sales on this important shopping day.
Ready? Let's explore!
Small Business Saturday and its Significance
Small Business Saturday is an annual event that takes place on the first Saturday after Thanksgiving, with the aim of promoting and supporting small businesses in local communities.
This initiative was originally created by American Express in 2010 to encourage consumers to shop at small, independently owned businesses during the holiday season.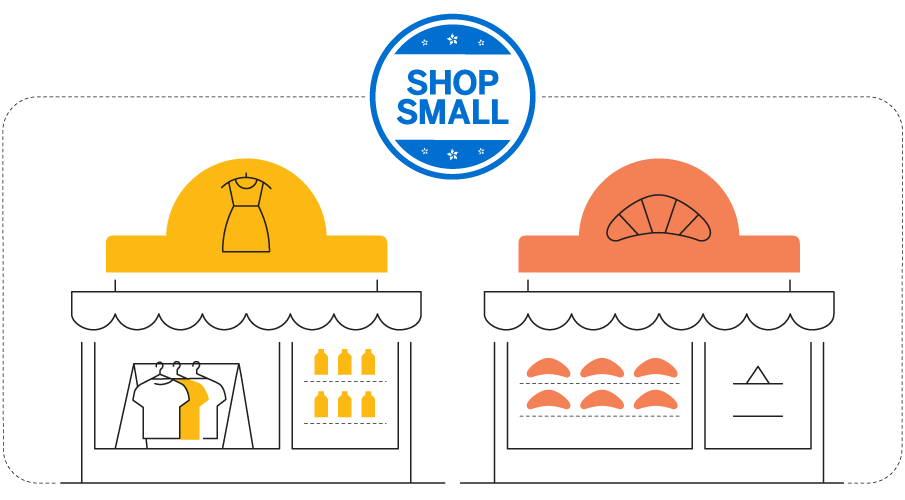 The idea behind this special day is to bring attention to the vital role that small businesses play in our economy and to promote shopping local over big box stores and online retailers. With more and more people turning towards online shopping and larger retail chains, it has become increasingly important for local small businesses to find ways to stand out and attract customers.
The significance of Small Business Saturday goes well beyond a single day of increased foot traffic and sales. It serves as a reminder for consumers to support their community by choosing small, locally owned businesses over bigger corporations.
According to a survey conducted by American Express in 2020, for every dollar spent at a small business in the U.S., approximately 67 cents stays within the local community. This includes supporting other local industries such as restaurants, services providers, and suppliers, creating a ripple effect that contributes towards building a stronger and more resilient community.
But that's not all!
According to the National Federation of Independent Business (NFIB), consumers spent an estimated $19.6 billion at independent retailers and restaurants on Small Business Saturday in 2019. This represents a 7% increase from the previous year's total of $17.8 billion.
Additionally, spending at independent retailers and restaurants on Small Business Saturday reached an estimated $23.3 billion, up 18% from $19.8 billion the year before and a substantial increase from the $19.6 billion spent in 2019, according to a survey by American Express and the National Federation of Independent Business.
One study by American Express found that small businesses that actively promoted their participation in Small Business Saturday saw an average increase of 23% in sales compared to those who did not promote it.
Furthermore, according to a survey conducted by Constant Contact, 97% of small business owners reported that participating in Small Business Saturday has had a positive impact on their business overall. Of those surveyed, nearly three quarters (73%) said they have seen increased customer traffic on this day.
Additionally, supporting small businesses also means supporting entrepreneurship and innovation. Many successful brands started off as small businesses with humble beginnings. By choosing to shop at these establishments, consumers are not only helping them grow but are also contributing towards fostering creativity and diversity within our cities!
Why Marketing is Crucial On Small Business Saturday
Marketing is an essential aspect of any business, but it holds particular significance for small businesses. In today's competitive market, where consumers are bombarded with hundreds of options for every product or service they require, it's important for small businesses to have a solid marketing strategy in place to stand out from the crowd. This is especially true on Small Business Saturday which is dedicated to supporting and promoting local and independent businesses.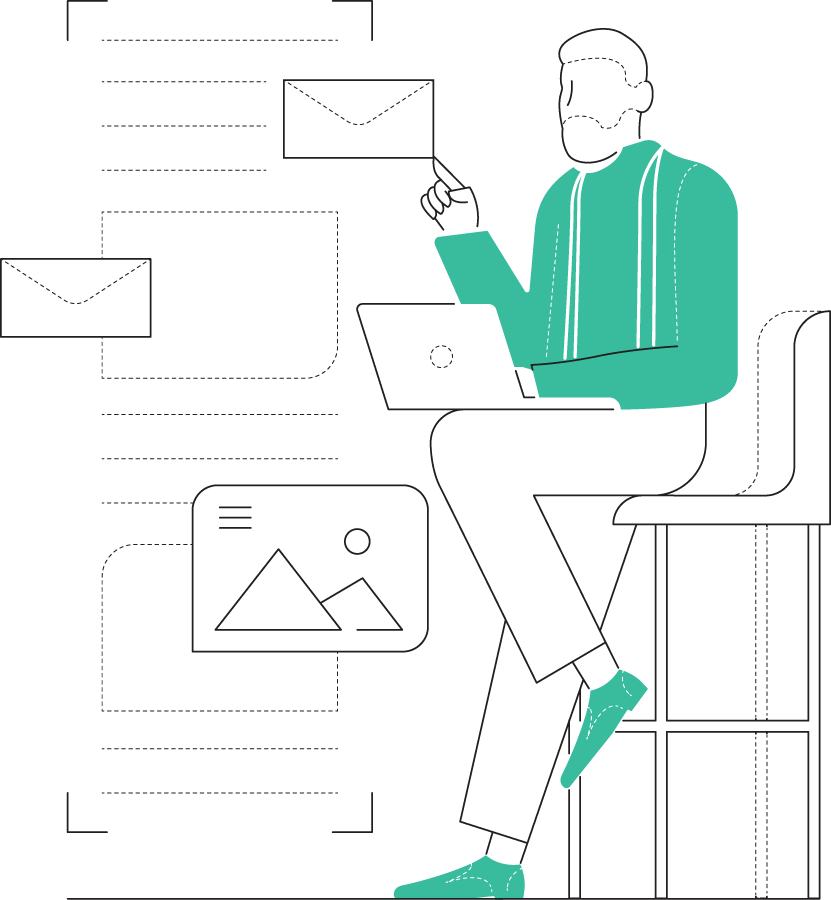 One of the main reasons why marketing is crucial for small businesses on this day is that it helps them increase their brand awareness. For many small businesses, Small Business Saturday might be the only time when they get significant exposure and foot traffic. Therefore, it's essential to capitalize on this opportunity by effectively promoting your brand through various marketing channels.
Moreover, marketing allows you to showcase your unique selling points (USPs) to potential customers. As a small business, you may have certain elements that set you apart from larger corporations – personalized customer service, locally sourced products or services, community involvement, and similar. By highlighting these USPs in your marketing efforts, you can attract new customers who best align with your business values and create loyal relationships.
The Importance of a Good Marketing Plan on Small Business Saturday
On Small Business Saturday specifically, having a strong marketing plan can help you compete with bigger brands that might offer similar products or services as yours. With intense competition during this busy shopping season, your business needs to cut through the clutter and grab consumers' attention with creative advertisements and promotions.
Effective marketing strategies will not only help you increase brand awareness, but they can also directly impact sales for this important shopping day. But how exactly does effective marketing contribute to better sales?
Let's take a closer look at specific strategies and tactics that have been proven to enhance sales during Small Business Saturday:

Collaborate with other small businesses
Partner up with other local small businesses to create a fun shopping experience for customers. You can offer joint promotions or even host a pop-up market where different vendors can showcase their products together.

Offer special deals and discounts
Everyone loves a good deal! On Small Business Saturday, offer attractive discounts or bundle deals that entice customers to make purchases from your store. You can also have limited edition products or exclusive offers only available on this day.

Host an event
Make Small Business Saturday more than just a shopping trip for your customers by hosting an event at your store. This could be anything from live music performances to DIY workshops related to your products or services.

Showcase local products
One of the main purposes of Small Business Saturday is to support and promote local businesses in the community. Take advantage of this by showcasing locally made products.

Send a direct mail piece
Create a direct mail piece and provide a tangible, personalized touchpoint that can capture the attention of your potential customers and fostering a sense of connection with your brand. Include a tracking code to add an element of interactivity, encouraging recipients to engage with your promotion and allowing you to gather valuable data on customer behavior and response rates.

Create engaging content
The first step to any successful marketing strategy is to create engaging content that resonates with your target audience. On Small Business Saturday, be sure to showcase your unique products or services through visually appealing content—both written and images! Blogs, social media posts, and more can be used to share behind-the-scenes footage, product demonstrations, or customer testimonials to give your followers an inside look at your small business.

Utilize hashtags on social media
Hashtags are a great way to increase the reach of your posts on social media platforms such as Instagram and Twitter. Before Small Business Saturday, research popular hashtags related to the event (ex: #ShopSmallSaturday #SupportLocal #SmallBusinessSaturday) and incorporate them into your posts. You can also create a custom hashtag specifically for your business on this day.

Try a multi-channel marketing campaign
Don't rely on a single channel to market your business this upcoming holiday shopping season. Instead, combine multiple channels for greater impact. In addition to social media posts, try online advertising or email marketing. By connecting with your audience on multiple channels, you stand a better chance of attracting their attention.
Needless to say, Small Business Saturday is not just another shopping day; it's an opportunity for small businesses to shine and thrive in a highly competitive market!
As we've explored throughout this blog, effective marketing plays a pivotal role in ensuring your business stands out and capitalizes on this important day. It's not merely about making a sale; it's about creating lasting impressions, building brand awareness, and fostering strong customer relationships. By strategically marketing yourself on Small Business Saturday, you can showcase what makes your business unique and why it's worth supporting.
Remember, the impact of this day extends beyond immediate sales; it strengthens communities, supports entrepreneurship, and contributes to the diversity and resilience of our economy.
Need help sharing your message this Small Business Saturday? At Data Axle USA we offer a variety of data-backed products and marketing solutions that will help you get started. Let's connect!