Everywhere you look online, someone appears to be marketing with social media. What's more, they're doing it in a way that seems to be attracting a lot of attention. And they have so many channels!
Meanwhile, you're feeling overwhelmed by your social media options. There are so many.
How do you know which one you should use for your business?
How do you use it in a way that will be effective?
Let's start at the beginning.
Social media is a marketing strategy that, by all accounts, is still relatively new to the market. Less than twenty years old, businesses have only recently begun using it as part of their overall marketing strategy.
Marketing with social media means you're using social platforms such as Facebook or Instagram, to sell or promote your brand. By doing so, you can help your business to:
Gain new interest
Educate others with your unique knowledge
Increase engagement levels with existing followers
Pinpoint new audience segments
Sell more products and services
Best of all, social media is a totally free marketing tool. While you can absolutely pay to advertise, you don't have to which gives businesses without big budgets leverage in the online advertising space.
Overview of today's popular social media platforms
One thing to keep in mind is that you do not need to sign up for every social media channel in existence in order to be successful with it. In fact, this is the exact opposite of what you should be doing.
By trying to be everywhere, businesses tend to do more harm than good to their overall marketing with social media strategy. Instead, do your best to choose one or two channels that best align with your business and the type of content you want to create.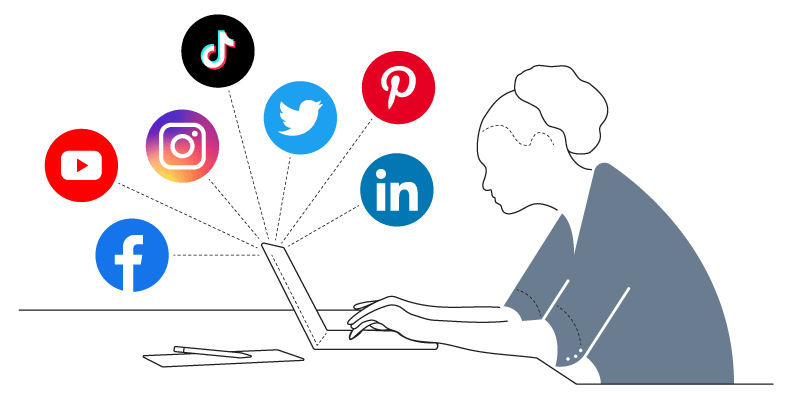 Facebook: Still the reigning social media champion, this platform boasts 2.7 billion users and generates around $86 billion in revenue. Facebook is tricky in that its demographic is constantly shifting. Nonetheless, it proves a productive advertising space for a variety of industries and company sizes. There are also multiple ways to use it including longer content posts, photos, and video.
YouTube: With 2 billion users, this video platform is highly popular with adults with 73% of them claiming to use it either by desktop or mobile. Another social media channel that offers extensive industry insights, users can find anything from the latest cat video montage to instructions on how to build an end table to makeup and fashion tutorials.
Instagram: Offering businesses a hearty 1.16 billion monthly active users, this image-based platform is extremely popular with ICA's that are under the age of 35. In recent years, it has gained popularity with coaches and influencers as well as a variety of small businesses. Hashtags are integral to discovering content across this platform.
TikTok: While offering only about 689 million users, this social media platform which offer short-form video sharing is rapidly growing in popularity, especially amongst younger generations including Generation Z. While offering a global reach, this platform leans heavily into localized content which makes it a great fit for neighborhood businesses.
Twitter: Offering 199 million daily users, this platform hosts up to 500 million tweets every single day. With 80% of its users being affluent millennials, it's the perfect platform to connect with adults who have reach. It's also perfect for businesses who are short-winded as tweets are limited to 280 characters, though the average length of tweets is only 33 characters.
Pinterest: From food to fashion to birthday themes, Pinterest offers your business roughly 416 million users that lean heavily female. It's essentially an online bookmark site that allows its users to "pin" or track things they like or may want to use in the future including recipes, books, outfits, and home decorating tips.
LinkedIn: With 740 million members and over 55 million registered businesses, this social media platform is an excellent place to form professional relationships with vendors or find employees. Leaning heavily into written content, this audience tends to have higher education and mostly consists of early professionals between the ages of 25 and 34.
Choosing the right social media platform for your business
In order to choose the social media platform that is best for your business, you must first have an excellent understanding of your target audience, your industry, and what exactly you want to achieve with your social media channels.
Before you started your business, you likely had an ideal customer in mind. Referred to in the industry as Ideal Customer Avatars (ICA's) or Personas, this is the profile you refer to when creating a new product or service for your business. It may include gender, age, and income or spending habits to name a few things.
When it comes to marketing with social media it's important to know where your ICA chooses to spend their time. After all, there is no point in being active on Facebook if your ICA would rather scroll Instagram.
Take time to compare your ICA to the platforms as they're outlined above. You can also look to see what social media platforms your competition is using—and how—to get a better grasp on what channels you can use.
The type of industry you work in also matters when picking a social media channel that you want to market on.
For instance, if you offer family photography then a platform that is known for its visuals, like Instagram, is probably best.
On the other hand, a freelance writer may choose to connect and engage on a platform where written content is favored, such as Facebook.
A neighborhood gym or dance studio may perform best on TikTok.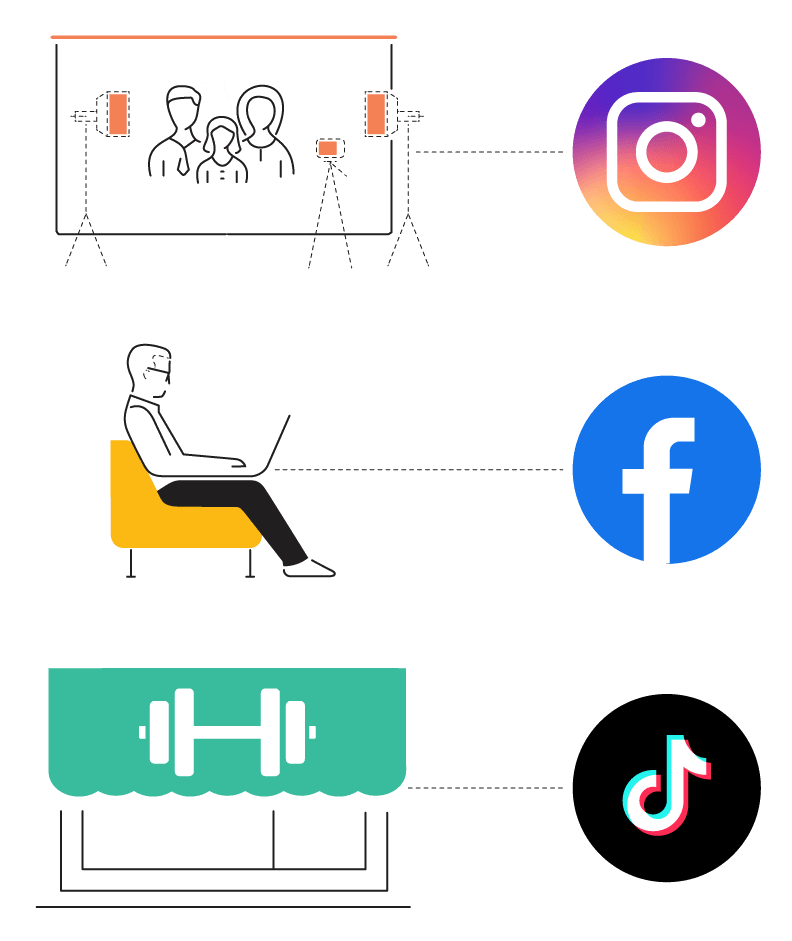 As far as what you want to achieve with marketing with social media, this is an important question that many businesses don't have answered prior to starting a channel. However, without knowing your goals, it will be impossible to use any platform to its full advantage.
Rather than setting broad goals like, "I want to make more money" or "I want to increase my visibility" strive for something more specific:
"I want to increase engagement on Facebook by 100 new followers in the month of May."
Ensure that your goal can be easily measured for success. You also want to decide upon a goal that is realistic and within a deadline. That is, while you want to stretch yourself don't set yourself up for failure—make your goals attainable within a reasonable amount of time.
In the end, your goals should exist as a way to boost business in some form or another. Especially when you're marketing for small businesses you want to ensure that social media can be a relevant part of your overall marketing strategy. If it isn't then you need to rethink your platform, your goals, or both.
Maintaining your social media platforms
As important as choosing the right channel for your business is its upkeep. Success of you marketing with social media efforts depends entirely on you, so decide exactly what you—or your team—has to dedicate to it. This is also known as a social media strategy and includes the answers to questions like:
How often will you post to your channel?
What kind of content gets posted?
On what days and at what times will you post?
Will you call attention to holidays?
Who will write the content/take the photo/create the video you'll use?
What are your goals and objectives for your channel?
What are growth expectations for your channel?
Once you can answer all of these questions with ease, it's time to get started with social media marketing plan. While it's important to remain flexible with your strategy, it's just as important to remain organized so that you can maximize your business's potential in the social media space.
Feeling overwhelmed by social media—or marketing for your business in general? At Data Axle USA we make marketing for your business simple with our professional marketing solutions. Whether you need a business list or a consumer list to get you started or you need help with copy, graphic design, or social media advertising solutions, we're a one-stop shop for all your marketing needs.