Lead generation is a crucial aspect of any business's growth strategy. It involves identifying and nurturing potential customers, or "leads," who are interested in your product or service.
By effectively generating leads, businesses can increase their sales and revenue, as well as improve their customer acquisition and retention efforts. Additionally, lead generation can help businesses to better understand their target market and tailor their marketing efforts to meet the specific needs of their customers.
Overall, lead generation is a vital component of any business's success, and should be a priority for any organization looking to grow and thrive in today's competitive marketplace.
Understanding the different types of leads and where they are in the buying journey will help you to create effective lead generation and nurturing strategies and as a result, increase the chances of converting them into paying customers.
43 Interesting Lead Generation Statistics
Lead Generation Overview
BrightTalk states only 34% of marketers spend less than half their budget on lead generation.
According to Ruler Analytics, 84% of marketers use form submissions to generate leads.
Lead Generation Institute shares that 80% of marketers consider their lead generation efforts only to be slightly or somewhat effective.
Pepper Content states that 70% of leads will delete their email instantly if it is not mobile responsive.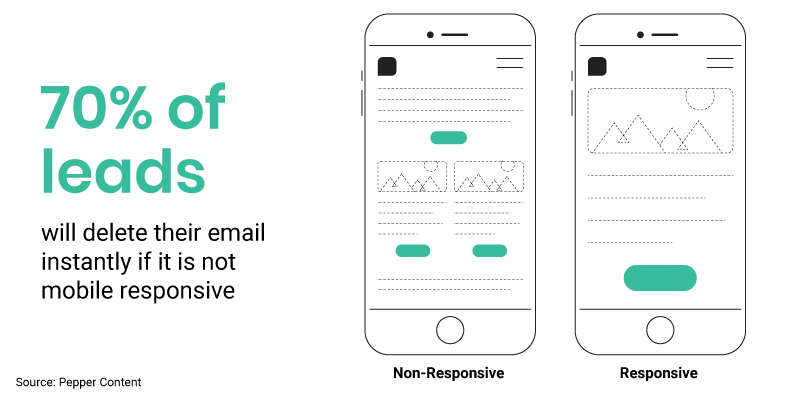 Salesmate states that 73% of B2B leads are not ready to make a purchase when they interact for the first time with your brand.
Small Biz Genius shared that when marketers target leads based on their position in the sales funnel, they have 73% higher conversion rates.
Lead Generation Channels
WebFX states that SEO leads boast a 14.6% close rate.
Salesmate shares that email gives a higher ROI than any other lead generation tool.
A study from Marketing Charts revealed 59% of B2B marketers think SEO has the biggest impact on lead gen.
LinkedIn is reportedly outstanding for lead generation for B2B businesses, with 80% of B2B leads coming from the platform according to QuickSprout.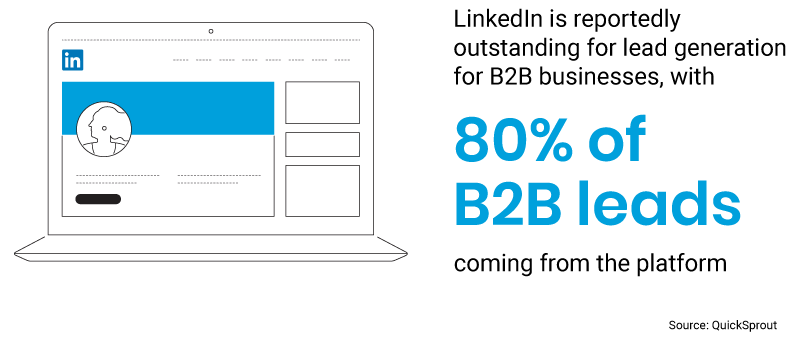 Social Media Examiner states that 66% of marketers generate leads from social media after spending only six hours per week on social marketing.
Ruler Analytics shares that around 50% of marketers use phone calls as a lead generation tool.
Social giant LinkedIn states that companies that post 15 blog posts a month generate around 1200 new leads per month on average.
Lead Generation Follow Up
Leads are 9x more likely to convert when businesses follow-up within 5 minutes according to StartupBonsai.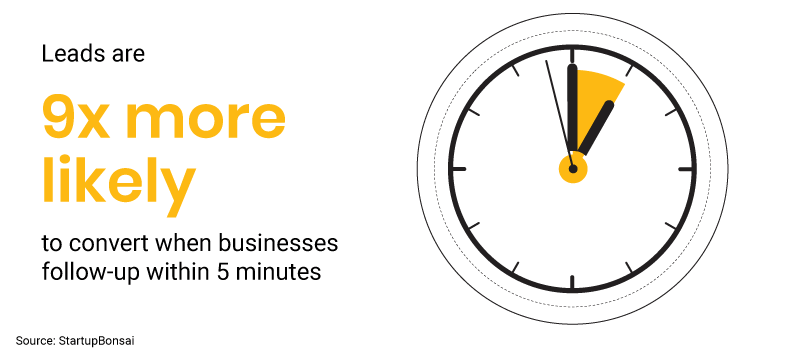 According to Salesmate, only 20% of sales-qualified leads are correctly followed up.
Lead Generation Challenges
According to Salesmate, lead generation is considered the most challenging task by 61% of marketers.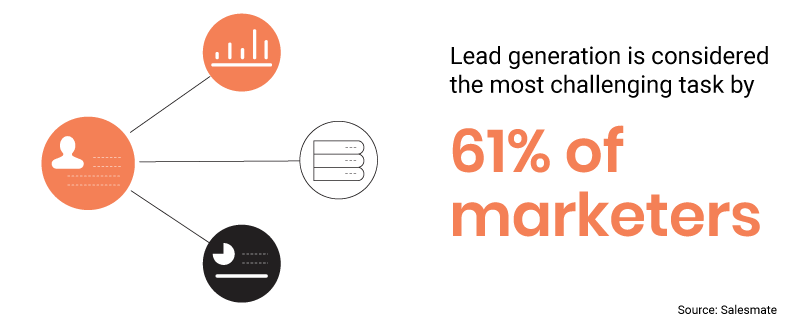 Having trouble generating leads? You aren't alone. According to Salesmate, 68% of B2B businesses struggle to generate leads.
Hubspot shares that less than one-fifth of marketers think outbound practices provide valuable leads.
Lead Generation Success
Startup Bonsai shared that 63% of leads who inquire about your business won't convert for at least 3 months.
79% of your leads won't ever convert to sales according to Startup Bonsai.
Salesmate shares that content marketing is 3x more effective in lead generation than outbound marketing.
Marketers are driving 451% more leads with automation according to Salesmate.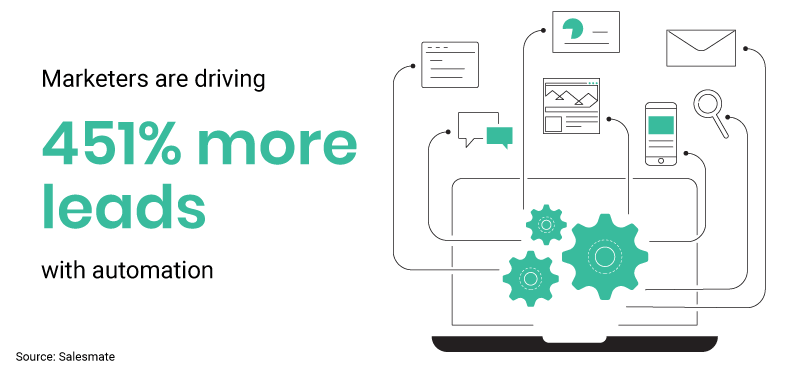 According to APSIS, 73% of companies are using event marketing to generate leads, whereas 67% are currently engaging in content marketing for lead generation.
Benefits of Lead Generation
Research by The Annuitas Group reveals that nurtured leads make 47% larger purchases, boosting the average order value and overall sales revenue.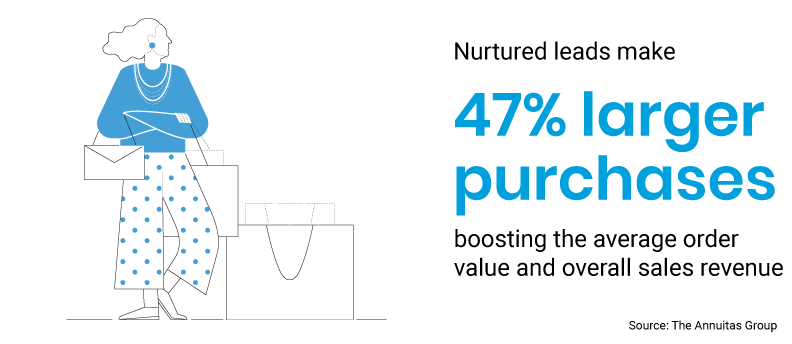 The Demand Gen Report highlights that businesses with effective lead nurturing processes have a 33% increase in opportunities for upselling and cross-selling.
A survey by Econsultancy found that 70% of businesses utilizing lead generation tactics gain valuable data and preferences from leads, enabling them to tailor their marketing efforts and product offerings to better meet customer needs and expectations.
According to CSO Insights, companies that excel at lead nurturing have 9% more sales reps making quota.
InsideSales.com reveals that by making just a few more call attempts, sales reps can witness up to a 3x increase in contact rates.
Best Practices for Lead Generation
A study by Salesforce indicates that 79% of marketing leads never convert into sales due to a lack of effective lead nurturing.
Research by Smallbizgenius reveals that lead nurturing emails generate up to 10x more engagement compared to regular marketing emails.
B2B marketers utilizing lead nurturing strategies witness a 45% increase in lead generation ROI, as reported by MarketingSherpa.
Jupiter Research reports that targeted and relevant emails generate up to 18 times more revenue compared to generic emails.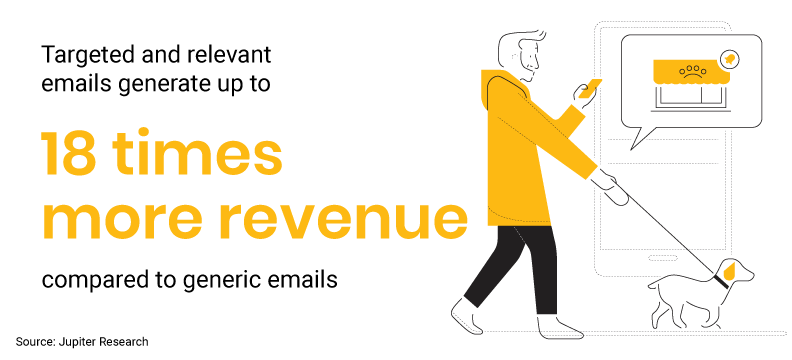 Sales professionals who use social selling strategies have a 50% higher chance of hitting or exceeding their sales quota, claims Liz Gelb-O'Connor.
Importance of Lead Generation
The Content Marketing Institute finds that 61% of marketers consider lead generation their most challenging marketing task.
A study by Heinz shows that 84% of B2B decision-makers start the buying process through referrals, emphasizing the significance of lead generation.
According to InsideSales.com, 35-50% of sales go to the vendor that responds first, highlighting the importance of timely lead follow-up.
According to MarketingSherpa, only 27% of leads sent directly to sales by 61% of B2B marketers would be qualified.
Companies with established lead generation and management procedures had a 9.3% greater likelihood of hitting sales quotas, according to CSO Insights.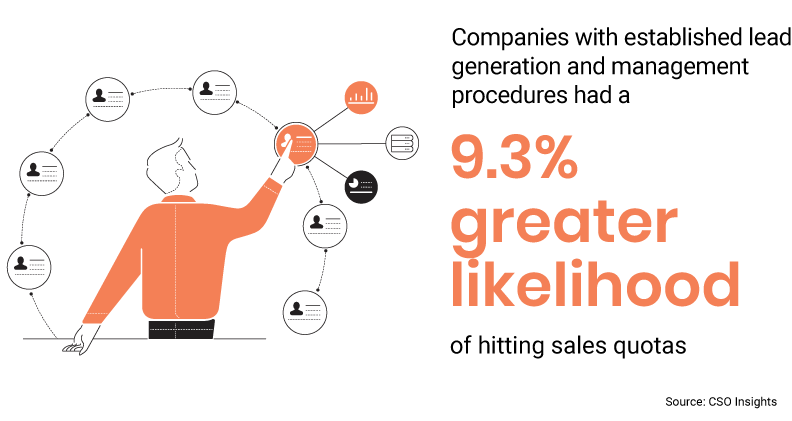 Performance Comparison of Lead Generation
SiriusDecisions reports that businesses with effective lead nurturing experience a 451% increase in qualified leads.
A study by Marketo reveals that nurtured leads result in a 20% increase in sales opportunities compared to non-nurtured leads.
Leads nurtured with targeted content witness a 20% increase in sales opportunities, as reported by DemandGen Report.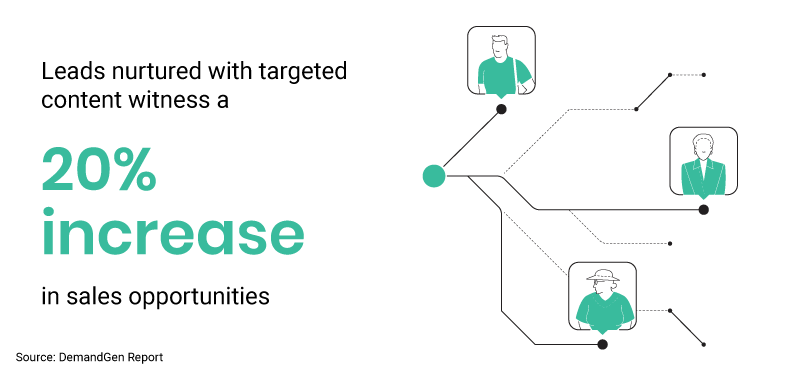 According to SiriusDecisions, B2B companies with closely coordinated marketing and sales efforts had a 24% faster three-year revenue growth and a 27% faster three-year profit growth.
According to MarketingProfs, businesses that closely coordinated sales and marketing efforts experienced 36% greater levels of client retention.
Final Thoughts
Overall, lead generation is a crucial aspect of any business's success, and should be a priority for any organization looking to grow and thrive in today's competitive marketplace. Investing in lead generation strategies and tactics will pay off in the long run and will lead to a sustainable business growth.