When was the last time you checked email from your phone?
Statistically, 47% of consumers use a mobile application for checking their email.
And it also shouldn't surprise you to learn that mobile accounted for 42% of all email opens as recently as 2019.
With billions of emails being sent every single day, it's essential for your business to optimize its email campaigns for mobile devices. But what are best practices? How do you ensure that the emails you're sending out meet optimization standards?
Let's discuss twelve ways you can optimize your next email campaign for mobile.
First Glance
1. Explain It In 3 Seconds or Less
Say what?
On average, you don't have long (around 3 seconds to be exact) to make an impression on your mobile email reader. Perhaps even worse news is that this stat only includes people who will read your email in the first place.
Yikes.
The best way to succeed is with a brilliant subject line. Keep it to three to five words to ensure its digestible within a short timeframe.
Struggling to come up with a good subject line?
Avoid passive verbs such as was, has been, and will be They weaken your message.
Power your message with inspiring or active words and verbs instead. Some examples are make, do, discover, and find.
2. Emojis Make a Difference
This one can be tricky because emojis don't always align with a brand's voice. Nonetheless, adding an emoji can boost email open rates by over 50%.
Instead of shying away from the use of emojis, try doing A/B tests with them in your subject lines. Emojis can be as simple as including a heart or a smiley face. You can also get clever, subbing out emojis for copy.
3. Write Meaningful Preview Text
This is the line of copy that follows a subject line on mobile devices. Acting almost like a subhead, it can give readers more details about what to expect when they click.
Many marketers make the mistake of leaving this line blank—which is a big mistake! When it comes to mobile email, any and all available space should be utilized to capture the attention of your audience.
Feeling stuck? Treat preview text like a subhead to your subject line. Consider what would be a good "add-on" or descriptor to your subject line.
Inside the Email
4. Horizontal or Vertical?
When it comes to reading email in a mobile device, consider that your readers may view it sideways. Therefore, it's important to ensure that whatever text or graphics you use look good in portrait view and landscape view so as to appeal to a wider mobile audience.
5. Use Readable Font Sizes
Don't try to cram more in with less. Small font sizes, while allowing for more copy, are nearly impossible to read on mobile devices.
While 12px font is considered average, email marketing best practices suggest using at least 14px font-size for your body copy. It's not unusual to see emails designed for mobile at 16px or even 18px.
6. Break Up Your Text
Turns out, the three second rule doesn't only apply to your subject line. It applies to your whole email. Even two longer sentences can appear like a paragraph on someone's mobile device—and that won't encourage anyone to read what you have to say.
Try keeping the copy for your email message short and sweet or about seven to ten words per sentence. Break sentences up line by line.
7. Use Minimal Images
Using images to help break up your copy is essential for email marketing. Also important is ensuring that images follow best practices or else your message could end up in the SPAM folder.
Emails that lean image-heavy tend to get sent to SPAM more often than those that are well balanced between copy and images. You'll also want to ensure that images are sized appropriately. Too small and they'll be difficult to see, too large and you can take up a lot of space in someone's inbox.
Any image you use, be it a jpeg, gif, or png should align with your branding.
The Wrap-Up
8. Include Buttons
Easily seen and clicked, a button makes it simple for mobile readers to take action. From guiding them to a webpage with more information to taking them to a form, buttons are a great way to enhance your email for readers.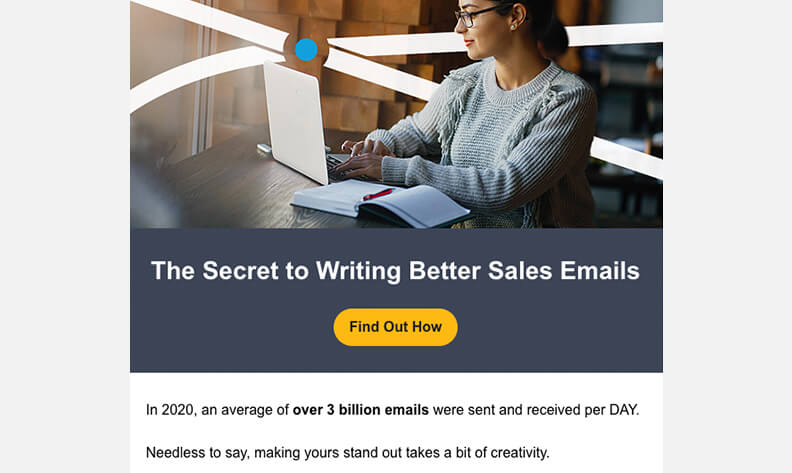 9. Limit Navigation
While popular, including various ways to navigate within email can backfire. Too many links that a user can accidently click while scrolling can lead to frustration—and even deleting your message.
Instead of adding clickable images, copy, or headers and footers, consider reducing the number clickable links you use—and make them obvious. A CTA button is an excellent example of how to make it clear you expect a reader to click.
10. Include Social Media
A popular way to stay in touch with customers when they're not on their email is through social media channels. Easily implement cross-channel marketing when you include links to one or two social media pages at the bottom of your email.
11. Test, Test, Test!
Even marketers who follow email marketing best practices need to test a message before sending it. To do this, send your email to yourself as well as additional team members.
What folder did your email appear in? Did the subject line pull you in? Once you open the email on your phone, is the text still readable? Is copy overwhelmed by imagery or are they well-balanced? Is your Call to Action clear?
Make modifications or adjustments as necessary to ensure your clients get an email developed just so for their mobile phones.
12. Measure Performance
Don't get so busy perfecting your email that you forget to analyze the results! There are always ways to make improvements to your mobile email marketing so be sure to set goals backed by highly targeted KPI's so you can determine what areas need more attention.
Optimizing your upcoming email campaign with these 12 helpful steps will not only help to connect you to your audience. It will also help you earn more revenue and meet your marketing goals.
Not already using email campaigns as part of your marketing efforts? In addition to attracting new leads, email marketing can help your brand build awareness and improve communication by reinforcing messages you may have shared digitally through direct mail, social media, or advertising.
At Data Axle™ USA we're here to help you with all of your email marketing needs. From building your own list of business emails to creating unique marketing campaigns, to deploying them and tracking their success, a helpful marketing partner is ready to assist you.