Celebrate 50 years of data and marketing solutions from Data Axle and our complete suite of products, including Data Axle USA.
With Data Axle's past experience powering our bright future, Data Axle USA continues to support both B2B and B2C-focused companies in their quest to find, keep, and better understand their customers.
How?
Every single day, companies use data to better understand individuals as well as entire businesses or industries. From in-car navigation systems to local non-profits, clean and accurate information is used to make lives easier around the world. And it is only in having accurate, reliable data, that a company can truly serve its customers.
Data Axle USA is proud to offer industry-leading data—and a host of additional products and services that have been built to meet the needs of our customers.
Of course, we haven't always been Data Axle USA. But while our name has changed, everything else about us has remained the same including our trusted marketing partners and customer support teams.
Data Axle USA's History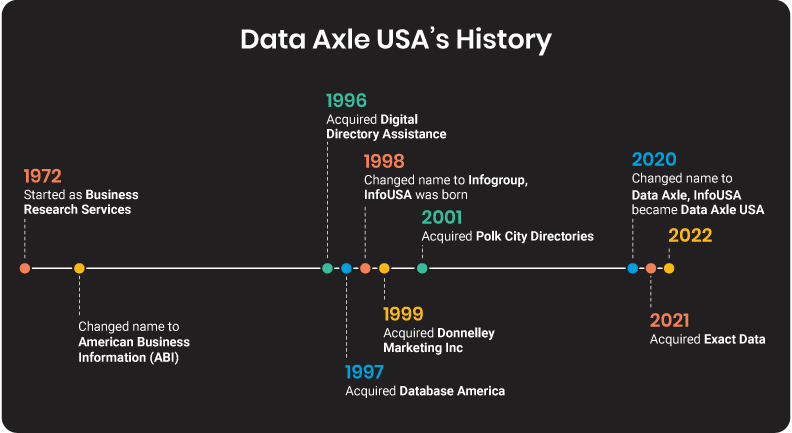 Prior to being known as Data Axle USA, we were called Business Research Services. At that time, our offerings were simple: We created lists which we provided to mobile home manufacturers.
After a few years, our name changed to American Business Information (ABI). Committed to keeping ahead of the curve for our growing customer base, ABI recorded the entire Yellow Pages to its database. But that wasn't all. In addition to giving customers accurate lead information, ABI wanted to offer marketing services that could help those same customers expand their operations.
It was in 1998 that ABI changed its name to Infogroup. And that was when what is presently known as Data Axle USA first came into existence as a product called InfoUSA.
As InfoUSA, we sold targeted marketing lists to companies while offering marketing services that could help them more easily find, acquire, and retain customers.
As for Infogroup, it was felt that this name better reflected the company's core service of providing businesses around the world with reliable information. Infogroup continued to grow and expand, flexing services to meet the needs and demands of its loyal customer base.
In 2020, Infogroup changed its name to Data Axle. Through this rebrand, the company remained committed to providing its customers the solutions they relied upon while simultaneously offering a streamlined product.
The new name is shared by all of Data Axle's present products including not only Data Axle USA but Data Axle Genie, Data Axle Reference Solutions, and Data Axle Polk City Directories. The name acknowledges that each solution is based on business intelligence derived from data.
At Data Axle USA, we're proud to be part of Data Axle's 50-year history which has included the acquisition of several competitors including:
Digital Directory Assistance (1996)
Database America (1997)
Donnelley Marketing Inc (1999)
Polk City Directories (2001)
Exact Data (2021)
Current Service Offerings
There have been a great many changes that Data Axle USA has faced over the last 24 years. But with our parent company behind us, we've continued to create just the right offerings for customers who are interested in growing and maintaining their business.
No matter what type of sales or marketing-related need a business has, our marketing partners have a solution.

Consumer Marketing Lists
Utilize our industry-leading database of 309 million consumers and reach customers who are in need of your product or service. Choose from over 175 attributes when building your list so you only make connections with your likeliest customers.
Search by:
Head of household
Estimated income
Households with children or pets
Interests/hobbies
Other detailed information

Business Marketing Lists
Discover new contacts using our industry-leading database of 17.3 million business contacts. Reach companies who are most in need of your products or services right as they are looking to purchase! A variety of search selections ensures you can quickly contact the right businesses.
Search by:
Job title
Number of employees
Fleet size
ZIP Code
Other detailed information

Direct Mail
Choose from popular mailing styles including postcards, brochures, or even letters. Our designers can customize a direct mail piece that is unique to your business. Don't have a mailing list? Let us help you create one that is exactly right for your current needs.

Email Services
Have our designers create a professional-looking email or email series that properly promotes your products or services. An inexpensive way to form better connections with your customers, choose contacts from your own email list or purchase a list of business email addresses.

Online Advertising
Share your message with your best prospects on websites they often visit with online display advertising. Our marketing experts can help you design your advertisements as well as your online advertising account through Google Ads™ and Bing™. Plus, as a Google Premier Partner™ we're qualified to help your company from start to finish.

Omni-Channel Marketing
Boost the response of your next marketing campaign when you pair two or more of our marketing services. Choose from things like acquisition-based email services, direct mail, online advertising, calling campaigns, and much more.

Data Hygiene & Enhancement Services
Ask us to consolidate your records, suppress unwanted files, append valuable information like email addresses and phone numbers, and increase your data's efficiency with hygiene services. Data Axle USA saves money, lowers postage costs, and increases mailing accuracy.

Business Listing Updates
Whether you have a single listing or hundreds of listings, a marketing partner is available to help you update your business listings quickly, easily, and all in one place. Data Axle USA can also distribute your online business listing for navigation systems, directory assistance, and leading search engines like Google.

Customer Analysis and Profiling
Find even more of your perfect customers when you use our innovative analytical solutions. Data Axle USA will provide you with insights into your ideal customer's demographic and firmographic information, behavioral information, and much more based on your client or prospect data.

API Solutions
Pipe consumer and business data from the Data Axle platform directly into your own products and applications to compliment your prospecting, product strategy, and other business goals.

CRM Integration
Eliminate 100% of your manual updates to your CRM. Using Data Axle for Salesforce or Data Axle for Microsoft Dynamics, you'll receive millions of fresh data points, leads, and contacts straight into your CRM.
It all comes back to the data
While one or all of these service offerings may prove helpful to you, the most important piece of the puzzle over the years has been quality data. Because without that, your business can't succeed—no matter how much you market or sell.
That is why Data Axle USA is committed to investing millions of dollars every single year and dedicating over 300 full-time researchers to help ensure every single business and consumer record in our database is kept up to date. In other words, when you purchase our mailing and email lists, you can expect to get the highest data quality for your sales, marketing, research, and reference needs.
Here is some additional information about how we put together our business and consumer databases:
Business Data
Gathered from a variety of public sources like daily utility connections, annual reports, user-generated feedback, new business filings, public directories, and even press releases. Our team stays on top of it all by making over 20 million calls each year to verify everything.
Consumer Data
Collected from over 100 different sources including real estate and tax assessments, bill processors, behavioral data, voter registration files, and other hard-to-find sources, Data Axle USA's Consumer Database goes through a full rebuild monthly, setting the standard for quality data.
Needless to say, we're proud of our long, 24-year history. But we're even more proud of the 50-year history we share with our parent company, Data Axle.